England vs India: Should KL Rahul be a part of the Indian Test XI?
The young man, though comparatively new to the international foray of the game, has already been able to carve a niche for himself.
Updated - Jul 29, 2018 5:17 pm
185 Views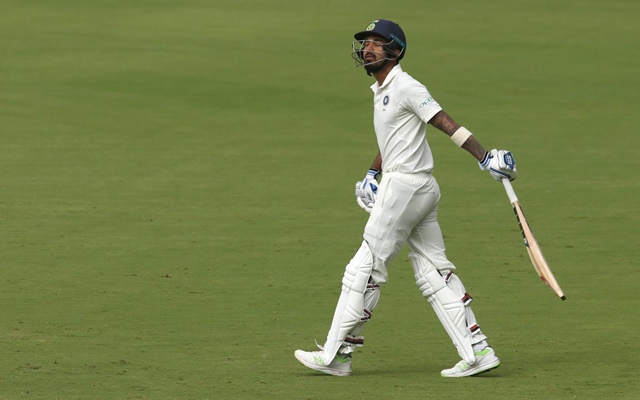 Follow us on Google News
Seldom do we come across cricketing talents equally equipped to excel in all three formats of the game. Kannaur Lokesh Rahul or KL Rahul, as he's more popularly known, is one such rare gem. The young man, though comparatively new to the international foray of the game, has already been able to carve a niche for himself. Be it in the Indian Premier League (IPL) or the rigorous Test matches, Rahul has showcased his fluency with remarkable ease.
However, one of the biggest challenges in the game of cricket as a batsman is to play on English turfs and play well. More so for the subcontinent batsmen. Now that he is almost on the verge of taking up this big task, there still remains a question mark on whether or not he'll find a spot in the Indian Playing XI in the upcoming Test series against England.
Rahul's ascent
At 26 years of age, he is still a young lad when it comes to experience in international cricket. Hailing from an extremely culturally and educationally equipped family, Rahul's talent came to the fore in the very formative years of his life when he became the highest run-grosser for the Karnataka first-class side in the 2012-13 season.
Interestingly, in an age where most players are first inducted into the limited-overs sides of their national teams before being able to create enough of an impression to land up in the longest and most difficult format of the game, KL Rahul's breakthrough came in the whites. His arguably best Test century was on his very debut tour of Australia in 2015 and since then there's been no looking back.
What propelled him into the limelight in a major way was Lokesh Rahul's awe-inspiring batting and wicket-keeping for the Kings XI Punjab (KXIP) in IPL 2018. In 14 games, he made 659 runs at an average of 54.91. In particular, his highest ever IPL individual score of 95 runs off 70 deliveries against the Rajasthan Royals forced the most languid of viewers to sit up and take notice. So is it high time that Rahul is given his due as a batsman in the whites?
Why KL Rahul deserves a chance
More than the runs he scores, it's a matter of the manner in which he plays. He isn't your typical docile batsman content with defending every ball that comes his way, nor is he unnecessarily aggressive that might make him misjudge the merit of a good delivery. What he is, is the right mixture of these two personas.
Rahul possesses an indomitable resoluteness and unshakable focus, combined with a fire in him to lead his team to victories single-handedly. Add to that the incomparable form that he is currently in, it'll be an abject waste of his purple patch if he's not given a chance to make use of it in the most crucial format of the game.
Take for example two of Rahul's innings against the same team, England. One saw him make 199 runs in 311 deliveries on a slow-paced M.A Chidambaram pitch in the fifth Test match of the series while the other witnessed him wreak havoc on the English bowling attack as he smashed 101 runs in just 54 balls. Batting technicalities aside, these two performances comprise in a nutshell why KL Rahul deserves to get a chance in the Playing XI in the upcoming matches on English soil.
Rahul needs his captain's trust to excel
It's his skipper, Virat Kohli who has to display the confidence in KL Rahul's abilities as a player and give him the chance to prove his mettle on what can be called the toughest obstacle that the young man will ever face. Kohli, in this case, can bank his faith on the scintillating form that Rahul has been in. England were wise enough to show their belief in keeper-batsman Jos Buttler after the mind-boggling streak of five successive half-centuries he put up for the Rajasthan Royals in the IPL earlier this year and bring him back into the Test side after two long years.
What needs to be kept in mind is that there have been ample instances of players fizzling out just for the lack of proper and adequate number of chances. Talented batsmen like Wasim Jaffer, who've been prolific in the domestic circuit have been unable to solidify their foothold in international cricket primarily due to the shortage of chances. This is something that needs to be avoided at all cost in Rahul's case. Although the chances of finding a spot in the playing XI in the first Test match look slightly, his probable participation in the following games will surely be something to look forward to.
Follow us on Telegram