Wasim Jaffer- The warrior who epitomized resurgence
The former Indian opener smashed an impressive double-century in the Irani Trophy.
Updated - Mar 29, 2018 3:12 pm
1.7K Views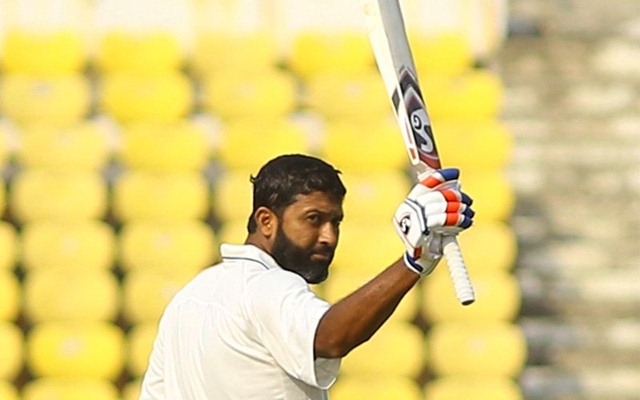 "Wine gets better with age"
The combination of the substances, which includes sugar and acids, and the chemical reactions between them gives it a pleasing flavor. The human body also goes through alterations, however, it is indirectly proportional to that of wine. The human body slowly but surely becomes prone to complications. Nevertheless, the drink gets better with the passage of time, one prime example is Wasim Jaffer.
Cricket is a physically and psychologically taxing sport, unlike other professions. The endurance that goes into the game demands strenuous physical activities, more so when age starts taking its toll. However, the indefatigable trooper of Indian cricket has made a mockery of all the above-mentioned specifications, defied the odds and has exemplified the 'meaning of life' in his own special way.
Jaffer might not be the most renowned figure in the country's glorious cricketing history, however, the name can't be dismissed out of sight by any stretch of the imagination. The colossus cricketer has entered the 40s, but the same has proved to be nothing more than mere numbers for the veteran. He has stupendously raised his game and recently won the Ranji and Irani Cup for Vidarbha.
"This season has been a revolution, the way we have played, I really enjoyed my cricket along, the runs that I have scored, we won the Ranji Trophy and the Irani Trophy with a great set of boys. It has ignited my love for the game and I feel I should carry on for another season and we want to follow it up next season as well. I think the passion to go out there and play is still there" an excited Wasim Jaffer told CricTracker over a telephonic conversation.
The Lion's Roar
Fitness becomes a major issue as one's career progress and something which is bound to diminish with the passage of time. However, instead of letting the issues dictate terms to him, he took the challenges by the scruff of the neck and conquered his weaknesses.
"Obviously, fitness is a very big issue which I have addressed over the years and luckily I have managed to stay fit. Cricket is the only thing that I know and something which I do well, so I don't want to let it go so easily and enjoy it as much as I can. Yes, we do have our fitness regime and I've had to do little a bit of dieting as well this season which I've never done before. Luckily, my body frame is such that I don't put on a lot of weight" a determined Jaffer mentioned.
"Last few years, when I came back from England, I put on a little bit of weight. Luckily, we have got a very good trainer in the Vidarbha team who looked after me really well. They have designed a very good diet and the fitness program for my needs. When you play you need to be fit and you don't want to look in bad shape and more importantly, you don't want to be hidden by your team. Also, you also have got pride to play for and you shouldn't look out of place" the middle-order batsman added.
In 2011, Jaffer emerged as the highest run-scorer in Ranji Trophy, surpassing the enigmatic Amol Muzumdar. In 2015, he became first Indian to breach the 10,000 run-mark in Ranji Trophy. Currently, he has 18,000 plus runs in first-class cricket. Pride of joy flowed from his voice while reminiscing them.
"Very happy, without a doubt. It doesn't happen overnight, you need to play so many years, so many games, and you feel very fortunate that almighty has given you the opportunity. I started very young and could play for Mumbai for so long. You need to play 15 to 20 seasons and I was fortunate enough to do it successfully for so many years." he mentioned.
Vidarbha's secret to glory
Vidarbha's batting has been top notch in the erstwhile edition of the Ranji Trophy.  Faiz Fazal, Sanjay Ramaswamy, and Ganesh Satish featured among the top ten run-scorers in the tournament. Meanwhile, Jaffer wasn't any pushover either as he finished with a staggering 595 runs at an average of 54.09. Quite expectantly, the Vidarbha cricketer was in awe of their batsmen's show in the series.
"Being senior players, the top five batsmen have to play their role, Faiz has been in tremendous form, Ramaswamy and Satish have had a great season. They and I are the four main batsmen. I would especially like to mention the openers regarding the kind of starts they have given and that is probably one of the reasons why we have done well. Most of the times they would get us through the new ball and give us good starts" he said while hailing the batsmen.
Moreover, being a senior player, he is ought to shoulder more responsibilities and Jaffer enacted his role with perfection. Meanwhile, Chandrakant Pandit, who had been exceptional as a mentor for the Mumbai, was roped in by Vidarbha and he struck the chords right away, which worked wonders for the eventual winners.
"Being a senior player, I tried to help the younger players, who are either not batting well or has some mental issues, then I go and speak and try to make things easy for them. Being a professional player you need to play and perform and with Chandrakant Pandit around, things have got a little easier as he addresses most of the issues himself. So, I try and make the atmosphere healthy and make the boys play to their potential and try and help them in whichever way I can" he said.
The rarest of rare step by the legend  
Cricket has been commercialized, mostly after the introduction of the T20 format. There's big money to be pounced on in every match which attracts several youngsters into the game. In a generation where money tends to grab the headlines more than the actual cricket on display, Jaffer parked the concept aside and expressed his gratitude to his team in the most elegant manner possible.
"I was really grateful for what Vidarbha did when I was injured last year. They respected my contract and paid me the amount that was due even without me not playing. So when I asked them to play me this season, I was happy to serve them without any match fees. I missed the last season because of the injury and therefore playing was more important than getting the money for me. I wanted to get into a side where I could enjoy my cricket and add value to any good team. I don't want to go in a team where there is no culture and vision of winning. There were few teams available and obviously, I have played for Vidarbha, so I know how they operate and they wanted me back as well" Jaffer said.
Faiz Fazal and domestic cricketers- The major concern for Jaffer
Pay disparity is a burning issue in the history of Indian cricket. While significant amounts are shelled out for the Indian cricketers, the domestic cricketers aren't paid enough and quite rightly, Jaffer has expressed his concerns over the issue while urging the Indian board to look after its domestic players.
"It's a very good move, but it could have been better. Domestic players need to earn 20 Lakhs and should be financially secured and BCCI, being one of the richest board around in world cricket can improve the structure of domestic cricket. There are not many jobs around for the domestic players. So if players play the whole season and earn 20 Lakhs, they would be more than happy" he said
The Mumbaikar is also concerned for Faiz Fazal's future with the Indian team. He has heaped accolades on the Vidarbha skipper, however, has also mentioned that he has to work out of his skin to play for Indian test team in the presence of the current bunch of Indian cricketers in Shikhar Dhawan, Murali Vijay, and KL Rahul.
"He is a very good player, he had a fantastic season, he scored runs consistently and he has become fit, which wasn't the case a couple of seasons ago. However, he addressed the issues sincerely and it's pleasing to see the way he goes about his business. I'm happy that he has scored 1000 runs in Ranji and Irani, which isn't a small feat. I definitely feel, he holds a chance and Test Cricket is the place where he could get it, but I don't know how's that going to happen because India has got three very good openers, Shikhar, Vijay, and Rahul and it's going to be a hard task to break into the side. All I can say, he needs to keep scoring big and wait for his opportunity" the veteran added.
Indian cricketers- Now and Then
Indian cricket has come of ages as the game has progressed. Fitness and out-fielding was a conundrum earlier, however, the tables have turned and the Men in Blue currently boasts of some of the best fielders in the business. Also, the other departments- bowling and batting have grown incredibly as well and quite expectantly, Jaffer is delighted to see the national team weave its magic across the globe.
"Times have changed and teams are much fitter. Since the arrival of T20s, fitness plays an important role. It wasn't an issue and has started to come into Indian cricket only after 2002-03. However, the manner in which the Indians field and the way the fitness issue has been looked after is amazing to see. We field even better than some of the other teams, which never happened earlier. We out-bowled South Africa in their home-ground, which was amazing to watch and we have got some amazing batters. Cricket has changed quite a lot and we have accepted it and it's heartening to see the Indian team as the top-ranked team in Tests, ODIs, and T20Is. We want them to do well away from home as well" Jaffer said
The Indian endeavor
Wasim Jaffer made his debut for India back in 2000 against the likes of Allan Donald and Jacques Kallis. Thereafter, he played 31 Tests for India in which he mustered 1944 runs at a rather mediocre average of 34.10. He scored five tons in his career, however, due to inconsistent form, he couldn't extend his international career and played his last game against the same opposition in 2008. However, the cricketer has no regrets regarding the same.
"I feel every cricketer has some regrets every now and then, which is human nature. There are some games that you want to score runs, there are some series where you feel you could have scored more runs. Obviously, I would have liked to play for India more successfully. In the Australian tour, had I scored few runs there, my script would have been different, but I believe everything happens for a reason. I'm a firm believer in destiny and working hard for your goals as well, and leaving the rest to almighty" Jaffer affirmed.
Jaffer's indelible moment
However, playing for the Indian team has been Jaffer's fondest memory of his playing career. There are several cricketers competing for eleven places and breaking into a side isn't a piece of cake by any means. Jaffer as expressed how he felt jubilated after fulfilling his dreams of donning the Indian colors.
"I think playing for India has to be the best memory since starting from such a humble beginning where my dad always wanted one of his sons to go and represent the Indian team and I was the one who could do it. They have spent so much time, effort and money on me, they all worked so tirelessly for me. When I was able to represent the Indian team that has to be the proudest moment. I was the 225th Test cricketer for India and felt very fortunate after the achievement" he added.
Talking about memories, Jaffer has played exceptionally enough and has carved a niche for himself in the psyche of the Indian cricket fans. The current domestic season has just come to a close, however, the next few months for the start of the next season will be worth a wait, simply because the name of one participant is 'Wasim Jaffer'.