Independence Cup – A spring of hope
The Independence Cup will be keenly observed by the Boards of Sri Lanka and West Indies.
Updated - Sep 11, 2017 11:21 pm
153 Views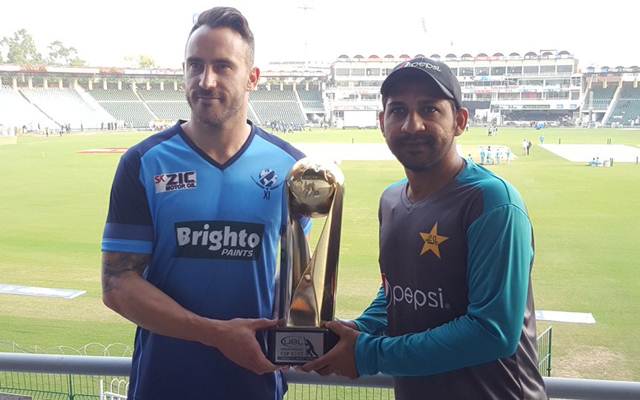 Follow us on Google News
Before embarking upon writing this piece, I am trying to paint a picture inside my head imagining Gaddafi Stadium packed to the rafters witnessing an international cricket match. Even merely contemplating this thought is giving me goosebumps so it's not hard to comprehend what the upcoming Independence Cup means to me and for a nation which thrives on cricket.
The sight of our young guns performing on home soil seemed like a distant dream but not anymore and the prospect of seeing the recently crowned ICC Champions Trophy winners is something we are all looking forward to.
It will be exciting to see Fakhar Zaman take the attack to Morne Morkel and Shadab Khan rip one past the bat of Hashim Amla through his feisty leg spin bowling.
Optimum security
For the first time in almost a decade, a series backed by the International Cricket Council is taking place in Pakistan which is why it is hoped that it will have a more meaningful impact as compared to Zimbabwe's tour of Pakistan back in 2015 when this was not the case.
I don't want to be pessimistic about this but the arrangements should be of the optimum level as a lot is at stake. Everything will come under the microscope with the entire cricketing fraternity watching and especially the Sri Lankan and Windies authorities who would be closely monitoring things before giving the nod to send their teams over to Pakistan so you can imagine that there is no margin for error. Things must fall in place in the perfect possible manner.
Benefit for the youngsters
Cricket has a strong influence on a nation which has a historic connection with the game and especially the younger lot. The young kids seeing their heroes play in front of their eyes develop a sense of belonging towards the sport and partially playing a role in motivating them to something similar for their country. You never know if one of those kids goes on to become the star of the future, hence highlighting the importance of watching the action live at the stadium.
We all are well aware of the fact that children do turn up for matches in South Africa, Australia, England etc which pains me even further as the children in Pakistan are deprived of this opportunity for almost a decade. It is about time the misery end and Pakistani fans are once again able to witness cricket in their own backyard on a regular basis.
Going forward
Hopefully, the tours by World XI, West Indies, and Sri Lanka will culminate successfully and will give Pakistan Cricket Board enough leverage to convince teams to visit Pakistan for full tours. This should be the next big step as holding just T20s will not get us anywhere. The fans deserve to witness Test and ODI cricket as well.
Also, it is essential that we shift to other cricketing centres in Pakistan rather than just limiting ourselves to Lahore in order to give equal opportunities to people across the country to witness the action unfold. PCB is keen to hold at least four PSL games in the next season in Karachi which is a step in the right direction as cricket gradually spreads all over the country and hopefully, it will be a stepping stone on bringing international cricket to other areas of Pakistan.
Improved security situation
Although the attack on the Sri Lankan cricket team back in 2009 is regrettable but continuing to cite that as a reason to bar international cricket from Pakistan is increasingly unfair now. With passing time the security situation in the country has considerably improved, PSL final in Lahore was a glaring instance in that regard.
However the decision to visit Pakistan should be left entirely to the choice of the player but one should bear in mind, unfortunately, such terror attacks are randomly occurring in most parts of the world. I see little point in singling out Pakistan and restricting cricketing action here unless high-level security isn't provided to the visiting teams.
Hope reignites
For obvious reasons, the home fans would want the Men in Green to win but maybe they won't be too concerned about who bags the honours at the end of the series on this particular occasion. This series is not simply about just winning and losing but more importantly about a sport, which is the lifeblood of this nation, returning home.
There is absolutely no doubt over the passion Pakistanis have for the game but the unfortunate events of March 2009 seemingly buried alive international cricket in Pakistan and the tour of World XI might just be the spring of hope Pakistan cricket has long been waiting for.
I'm impatiently waiting for the moment the umpire calls 'play' at the Gaddafi Stadium in Lahore on Tuesday evening, are you?
Written by Mohammad Muneeb Farrukh
Follow us on Telegram