India vs New Zealand ODIs: A look at the past series
India's limited-overs cricket rivalry with the Blackcaps has been quite absorbing and this will be the 14th time the two sides will meet in a bilateral series starting from 1975-76.
Updated - Jan 22, 2019 3:59 pm
224 Views
The Indian cricket team will take on New Zealand in a five-match ODI series on their soil between January 23 and February 3. India's limited-overs cricket rivalry with the Blackcaps has been quite absorbing and this will be the 14th time the two sides will meet in a bilateral series starting from 1975-76.
There is not too much of difference in the track records in ODIs between India and New Zealand. While the two teams have played 101 matches overall, the Men in Blue have a 51-44 lead while one match was tied and five remaining inconclusive. In the history of their bilateral rivalry, too, India have a lead as they have won seven of the 13 series played so far on either country's soil while New Zealand have won four. Two series ended in a draw.
This is the seventh time that India will play a bilateral ODI series in New Zealand. The last time India went to NZ for a 50-overs series was in 2008-09 and they won the five-match series 3-1. New Zealand last won a bilateral ODI series against India in 2002-03 when they beat the Asians 5-2 in a 7-match series. That series though faced a lot of backlash over the wicket conditions.
Here we take a brief look at all the ODI series that India and New Zealand have played till date:
New Zealand beat India 2-0 (2) in New Zealand; 1975-76: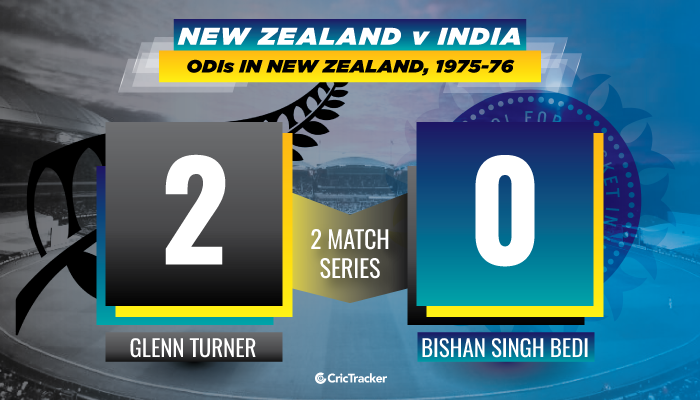 This was the first-ever ODI series between the two teams and Glenn Turner's New Zealand won both the games against India one-sidedly. Led by Bishan Singh Bedi, India lost the first match by 9 wickets in Christchurch while they lost the second game in Auckland by 80 runs under the captaincy of Srinivas Venkataraghavan. On both occasions, the visitors were bowled out for 15-odd runs.
New Zealand beat India 2-0 (2) in New Zealand; 1980-81: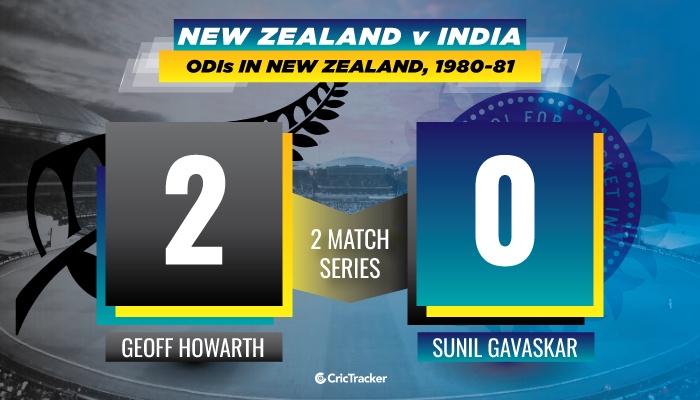 India went to New Zealand in 1980-81 for three Tests and two ODIs and they lost both. The result of the ODI series was a repeat of 1975-76 with India losing both their games. The Kiwis were led by Geoff Howarth this time and India, as like in the series before, were led by two captains in two games.
The first one saw India led by Sunil Gavaskar in Auckland and they lost it by 78 runs. Gundappa Viswanath led India in the second match in Hamilton and they lost it by 57 runs. India's batting let them down in this series as well.
India beat New Zealand 4-0 (5) in India; 1988-89:
India reciprocated when the Kiwis came to India for their first bilateral series in 1988. India were led by Dilip Vengsarkar in the five-ODI series while the visitors were captained by John Wright. India won the first match in Vishakhapatnam by 4 wickets; the second match in Cuttack by 5 wickets; third match in Indore by 53 runs and the fourth match in Vadodara by 2 wickets.
The fifth and final game in Jammu was abandoned because of heavy rain. Mohammad Azharuddin was the top scorer for India in this series with 205 runs while Kiwi skipper Wright was their best with 152 runs. Krishnamachari Srikkanth was the surprise package in this series with 11 wickets and he took two five-wicket hauls to reach that.
New Zealand drew India 2-2 (4) in New Zealand; 1993-94: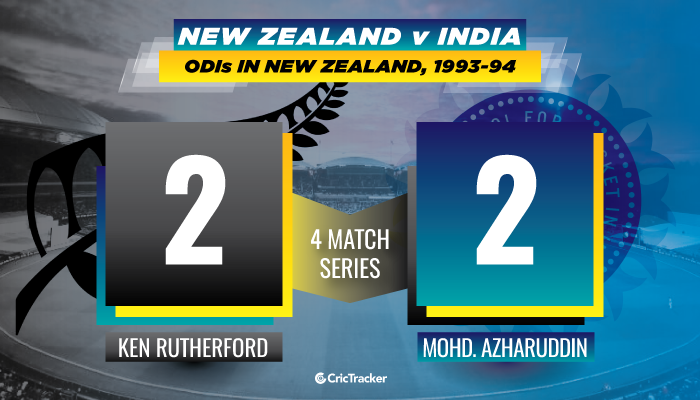 Under the captaincy of Mohammed Azharuddin, India returned undefeated from New Zealand in a ODI series for the first time. They started poorly by losing the first game in Napier by 28 runs but won the next two in Auckland (7 wickets) and Wellington (12 runs) before the hosts, led by Ken Rutherford, levelled it in Christchurch by winning by 6 wickets.
It was in the second game in Auckland that Sachin Tendulkar went out to bat as an opener for the first time and hammered 82 off 49 balls to take India past the target in 23.3 overs. Tendulkar never looked back as an opener thereafter. New Zealander Shane Thomson was picked as the man of the series.
India beat New Zealand 3-2 (6) in India; 1995-96: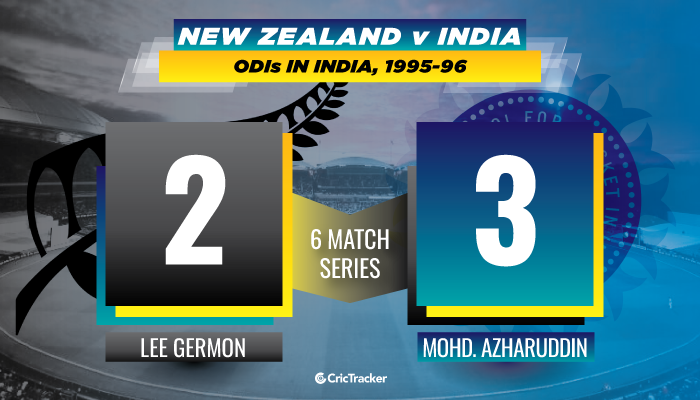 Led by a debutant wicketkeeper-captain Lee Germon, the Black Caps had a tremendous start to the five-match ODI series in India winning the first game in Jamshedpur by 8 wickets. Azharuddin's India struck back in the second match in Amritsar winning it by 6 wickets.
The third game in Margaon was abandoned because of rain, turning the series into a five-match affair. India made it 2-1 in the fourth game in Pune with a 5-wicket win but New Zealand came up with a massive score of 348/8 in the fifth match in Nagpur (in those days, 348 in ODIs was a gigantic score), defeating India by 99 runs.
The series decider in Mumbai turned out to be an anti-climax as the visitors were bundled out for 126 and India won by 6 wickets to win the series 3-2. Manoj Prabhakar was adjudged the man of the series with 145 runs and seven wickets. Late Kiwi legend Martin Crowe played his final international match in this series.
New Zealand drew India 2-2 (5) in New Zealand; 1998-99:
Stephen Fleming's Black Caps won the first game in Taupo by 5 wickets in D/L method despite a century from Rahul Dravid and Azharuddin's India squared in Napier by winning by 2 wickets (this match saw as many as eight run-outs).
The third match in Wellington was washed out by rain even after an innings was completed in the 32-over affair. The visitors then took a 2-1 lead in Auckland with a 5-wicket win but the Kiwis rode a magnificent century from Chris Cairns in Christchurch in the final game to win by 70 runs and level the series 2-2. Dravid ended as the highest scorer of the series with 309 runs.
India beat New Zealand 3-2 (5) in India; 1999-2000: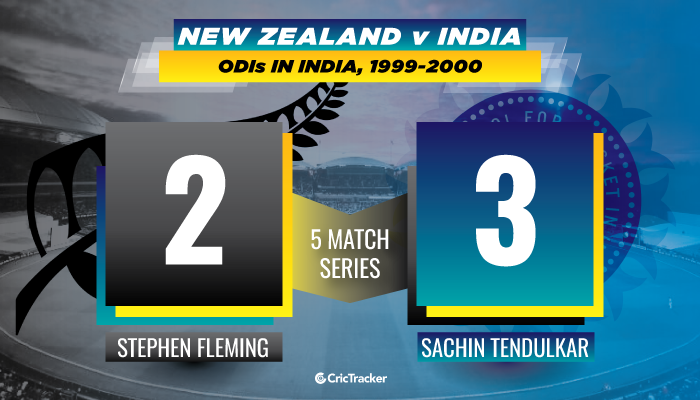 Led by Fleming, the Kiwis won the high-scoring first match by 43 runs in Rajkot in which both teams scored over 300 runs. India demolished the Kiwis by 174 runs in the second game in Hyderabad after scoring a mammoth total of 376 for 2 with skipper Sachin Tendulkar slamming an unbeaten 186.
India won the third match in Gwalior by 14 runs with Man of the Series Sourav Ganguly hitting a century to go 2-1 up. New Zealand made it 2-2 in Guwahati with a 48-run victory before a solid bowling performance by the hosts in Delhi won them the decider by 7 wickets. This was India's third straight ODI series victory over NZ and the fifth consecutive series against the same opponent in which they remained unbeaten.
New Zealand beat India 5-2 (7) in New Zealand; 2002-03: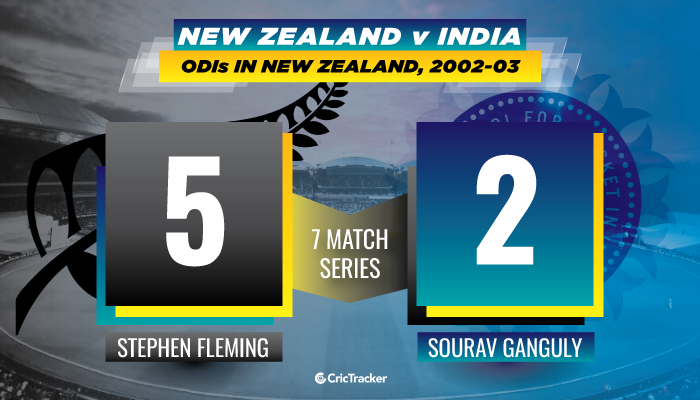 NZ registered their victory in a bilateral series over India after a gap of 22 years and it was quite a lop-sided series that the Kiwis won 5-2. Played just ahead of the 2003 World Cup, the Kiwis led by Fleming won the series straightaway by outsmarting Sourav Ganguly's India in the first four games in Auckland (by 3 wickets), Napier (35 runs), Christchurch (5 wickets) and Queenstown (7 wickets).
India were let down by their poor batting but the tour remained ill-famous for its 'sub-standard wicket' controversy. The visitors pulled two games back – in Wellington by 2 wickets and Auckland by 1 wicket – but NZ won the final match in Hamilton by 6 wickets. Virender Sehwag finished with 299 runs to become the highest scorer in the series.
India beat New Zealand 3-1 (5) in New Zealand; 2008-09: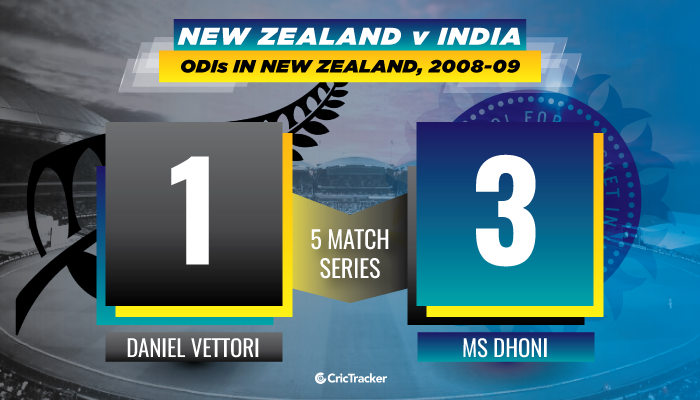 This series was historic in the sense that India won their first bilateral ODI series in New Zealand and Mahendra Singh Dhoni was at the helm of the visiting side. India won the rain-hit first game in Napier by 53 runs (D/L method) and after the second game in Wellington got cancelled mid-way because of rain, Dhoni's men bagged the third and fourth games in Christchurch (by 58 runs) and Hamilton (10 wickets by D/L method), respectively, to win the series.
Daniel Vettori's side pulled one back in Auckland, winning the final match by 8 wickets after bowling India out for a paltry score of 149. Virender Sehwag scored 259 runs in the series to be adjudged the man of the match but this series will also be remembered for Sachin Tendulkar's 133-ball of 163 in Christchurch in which he missed a golden opportunity to score a double hundred as he retired hurt.
India beat New Zealand 5-0 (5) in India; 2010-11:
India registered the first-ever whitewash in an ODI series against New Zealand and it came under the captaincy of Gautam Gambhir. The hosts started off with a victory in Guwahati by 40 runs and then they went on to win in Jaipur (by 8 wickets), Vadodara (9 wickets), Bengaluru (5 wickets) and Chennai (8 wickets).
The Kiwis led by Vettori never looked comfortable against a heavy Indian batting order as the Indians scored hundreds in four out of five games. Gambhir himself slammed two in the series to end up as the man of the series. Ravichandran Ashwin took 11 wickets in the series for India.
New Zealand beat India 4-0 (4) in New Zealand; 2013-14: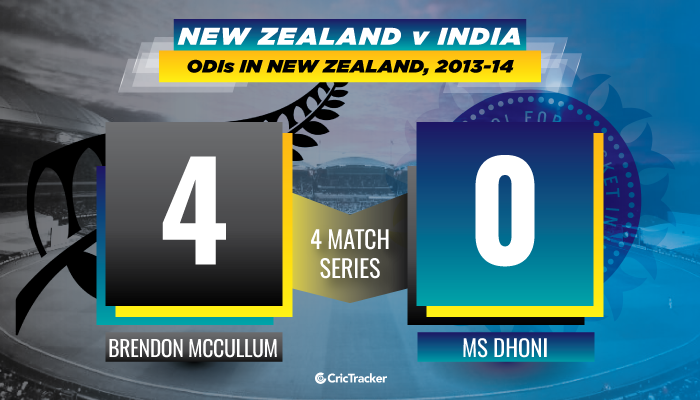 The Black Caps recorded their biggest win over India in an ODI series in 2013-14 when Brendon McCullum's side drubbed Dhoni's boys 4-0 with one match getting tied, thanks to Ravindra Jadeja's heroics. The Kiwis won by 24 runs in the first game in Napier and they backed it with a 15-run win (D/L method) in Hamilton.
India almost pulled off a win in Auckland despite a poor start to chasing a target of 315 but could only manage a tie. The hosts then won the third and fourth matches in Hamilton and Wellington by 7 wickets and 87 runs, respectively, to make it 4-0. Virat Kohli was the highest scorer for India in the series (291 runs) with one hundred while Mohammed Shami was the highest wicket-taker with 11 scalps.
India beat New Zealand 3-2 (5) in India; 2016-17: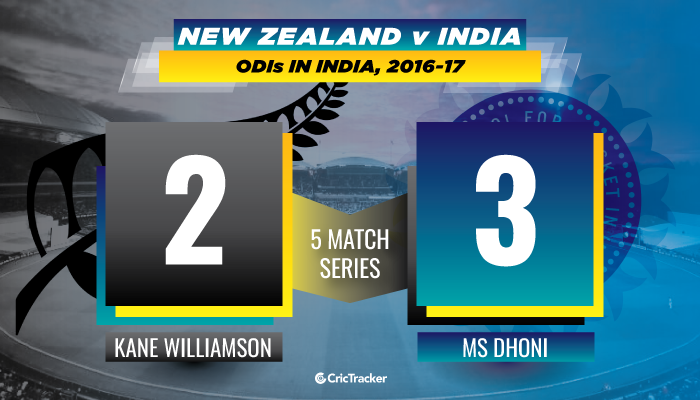 This series played in India was one of the more competitive ones in some time. The two teams were tied at 2-2 after four games with India coming on top in the decider. Led by Dhoni, India were off to a win in Dharamsala by 6 wickets but the Black Caps led by Kane Williamson levelled it in Delhi by winning by 6 runs. An unbeaten 150 by Kohli, India's Test captain by then, saw the hosts winning the third game by 7 wickets in Mohali and NZ once again bridged the gap, winning the fourth match in Ranchi by 19 runs.
It was down to the wire but the fifth game in Vishakhapatnam proved to be a complete anti-climax. Chasing India's score of 269, New Zealand were bundled out for 79 with Amit Mishra taking five wickets for 18 runs. While Kohli was the highest scorer in the series with 358 runs, it was Mishra who was chosen as the man of the series with 15 scalps.
India beat New Zealand 2-1 (3) in India; 2017-18: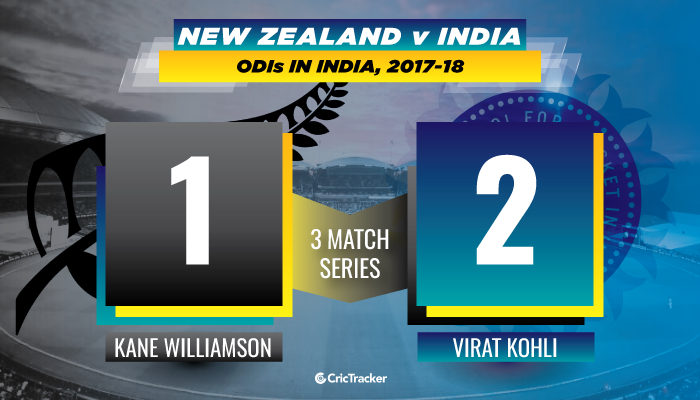 Captain Kohli will be looking to win his second series against New Zealand in the ODIs this year since he already has won one in 2017-18 at home. Kohli scored a hundred in the first game played in Mumbai but NZ went on to win it by 6 wickets, thanks to Tom Latham's counter century. The hosts struck back in the second game in Pune, winning it by 6 wickets after Bhuvneshwar Kumar's splendid show with the ball and Shikhar Dhawan's performance with the bat.
The final game in Kanpur was a run-feast as India banked on Rohit Sharma's 147 to post 337 and New Zealand gave the chase all the down to eventually lose by 6 runs. Williamson was the Black Caps captain in this series and Jasprit Bumrah was the player of the series.