IPL 2018: 5 Benched players most teams will have their eyes on for the transfer window
Let's talk about the question that's been plaguing almost everybody's mind. What exactly is a mid-season transfer window and how will it work in the IPL?
Updated - Apr 26, 2018 3:44 pm
92.2K Views
Follow us on Telegram
The 2018 edition of the Indian Premier League (IPL) seems to have more twists and turns than an Agatha Christie novel! Apart from the mind-boggling cricketing action, several new features like the Decision Review System (DRS) have been added to the tournament to make it a more intriguing affair. One of the most interesting additions to IPL 2018 is the mid-season transfer window for cricketers, which will take place very soon over a period of roughly 5 days.
While most teams have been able to pinpoint their strengths and follies in the past couple of weeks and been able to settle on a more or less core composition for their playing XI, a transfer window opens up several possibilities for each one of the franchises. Lagging teams can expect to amp up their weak playing zones and franchises dealing with player injuries can look for possible replacements. With the transfer window period fast approaching, let's take a look at the top 5 benched players most likely to attract the attention of other teams.
What is a mid-season transfer window?
First, let's talk about the question that's been plaguing almost everybody's mind. What exactly is a mid-season transfer window and how does it work? Essentially, a mid-season transfer window is a feature of major international football leagues that have been adopted by the IPL Governing Council for the 2018 edition of the tournament. According to reports, the short transfer window will accommodate shifting of uncapped players and capped players who've played no more than 2 matches for their original franchise till the half-way mark of the ongoing season.
The process is expected to give a fair chance to the benched players, who might not get a chance to play at all for their current franchises and can benefit from the transfer, in case some other team is keen to rope in their services. Secondly, a slump in viewership figures has generally been noticed in the fourth and fifth weeks of an IPL season over the years. Thus, scheduling a transfer process in that period of time will help to generate viewer interest, thus benefiting the tournament. Further, it'll have additional benefits like providing teams with alternatives for injured players and reimbursement of hefty money amounts for their costly benched players.
So, who're the front-runners for the mid-season transfer process? Let's take a look at the top 5 players who can be lapped up by interested franchises.
1. Moeen Ali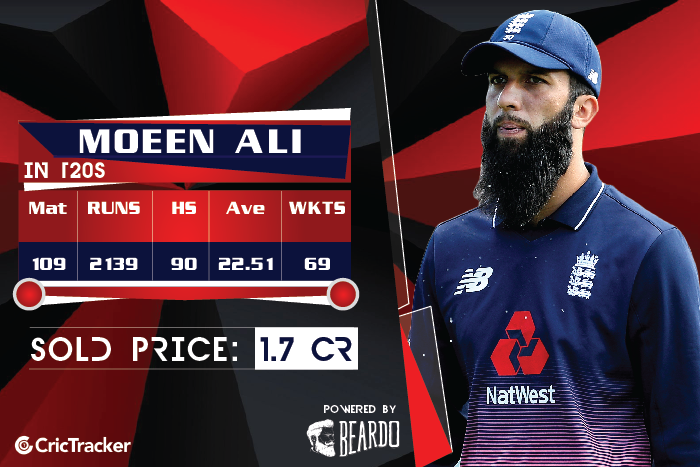 England all-rounder, Moeen Ali created a buzz when he was roped in by the Royal Challengers Bangalore (RCB) for INR 1.7 crores. However, 5 matches down the line, the star all-rounder has been unable to find a place in the RCB side. The reason for this might be the strong overseas participants that the RCB already has. With the likes of AB de Villiers, Quinton de Kock, Chris Woakes, Corey Anderson and Brendon McCullum being in the same side and only 4 overseas players allowed in the Playing XI, chances are lean for Ali to find a spot in the side in near future.
But Moeen Ali is a talent that most IPL teams would kill to possess. A top-class Test player, the 30-year-old is equally prolific in the shortest format of the game. He has 202 runs to his name in 22 T20Is for England at a decent strike-rate of 112.85. On top of that, Moeen Ali can be used as a handy off-break bowling option, thus making him an ideal all-rounder for batting in the lower-middle order for a team like Rajasthan Royals (RR), who seem to be a little short in that particular department.
Follow us on Google News