IPL 2018: Chennai Super Kings – Approaching Milestones
Approaching milestones of the Chennai Super Kings' players to be looked out ahead of the IPL 11.
Updated - Mar 31, 2018 8:47 pm
468 Views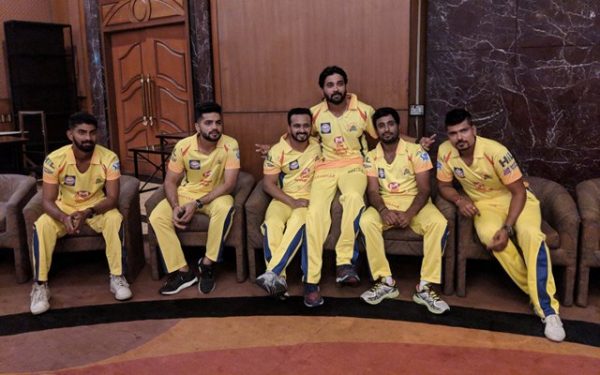 Chennai Super Kings return to the IPL after serving a two-year ban and are set to resume under their captain MS Dhoni once again. They retained Suresh Raina and Ravindra Jadeja along with Dhoni and managed to bring back the likes of Faf du Plessis, Dwayne Bravo and Murali Vijay who played for them in the past. CSK filled the squad with experienced campaigners and will be hoping to add a title for the first time after 2011 with the magic of Dhoni.
Approaching milestones of Chennai Super Kings' players to be looked out ahead of the IPL 11:
IPL milestones:
47 – Number of wickets for Imran Tahir in the IPL. He needs three more wickets to complete 50 wickets in the league.
---
49 – Karn Sharma is one wicket away from reaching the milestone of 50 wickets in the IPL.
---
86 – Number of catches Suresh Raina took in the IPL. He needs 14 more catches to become the first fielder with 100 catches in the IPL.
---
150 – Ravindra Jadeja (138 matches) and Harbhajan Singh (136 matches) are closing in to complete 150 IPL matches as a player.
---
893 – Runs Kedar Jadhav scored in the IPL so far. He needs 107 more runs for completing 1000 runs in the tournament.
---
Twenty20 cricket milestones:
44 – Shardul Thakur needs six more wickets for completing 50 wickets in the Twenty20 format while Lungi Ngidi (43 wickets) needs seven more wickets for the same milestone.
---
97 – Karn Sharma needs three more wickets for completing 100 wickets in the Twenty20 format.
---
197 – Imran Tahir and Ravindra Jadeja featured in 197 T20 games apiece. Both the players need three more appearances to complete 200 caps in the T20 cricket.
---
390 – MS Dhoni needs to hit ten more fours for completing 400 fours in the Twenty20 format.
---
3727 – Runs scored by Murali Vijay in the T20 format so far. He needs 273 runs for reaching the 4000-run milestone in this format.
---
3855 – Faf du Plessis needs 145 more runs to complete 4000 runs in his Twenty20 career.
---
Professional cricket milestones:
9887 – Runs scored by Ravindra Jadeja in the professional cricket. He needs 113 more runs to complete 10000 runs across all formats.
---
21825 – Runs Suresh Raina scored in his professional career so far. He needs 175 more runs for completing 22000 runs across FC, List A and T20.
---
23821 – Shane Watson needs 129 more runs for completing 24000 runs in his professional career.