IPL 2019: Match 7, RCB vs MI- Funniest memes from the Match
De Villiers' unbeaten knock of 70 runs went in vain in the end.
Updated - Mar 29, 2019 12:03 am
8K Views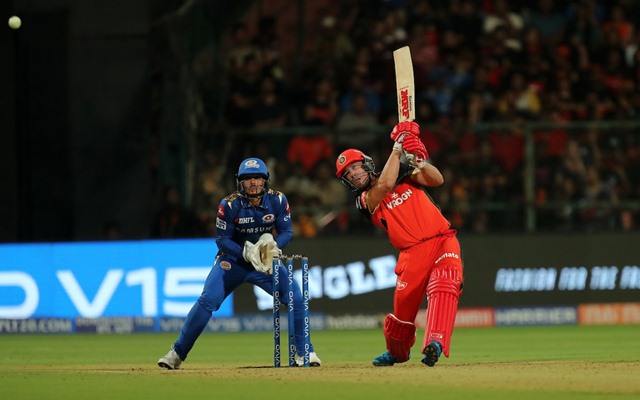 Well, the controversy and the Indian Premier League (IPL) go hand in hand definitely. The last-ball thriller at the Chinnaswamy Stadium saw the Mumbai Indians winning against the Royal Challengers Bangalore (RCB) eventually. However, Lasith Malinga had bowled a no-ball in the last delivery and the umpire clearly missed it to hand the match to the tourists. Visibly, Virat Kohli wasn't impressed with the call and he lashed out at the umpires.
Chasing a total of 188 runs, Moeen Ali and Parthiv Patel gave a quick-fire start to their team. But the former was run-out thanks to an exceptional throw from Rohit Sharma. Virat Kohli then came out to play some exquisite strokes which was not a surprise at all. But he operates at a completely different level when it comes to batting and he once again managed to stamp his authority.
But the fact that the match down to the wire and RCB were still in the hunt was all due to AB de Villiers. He dished out some brilliant shots to remain unbeaten on 70 off 41 balls. Unfortunately, it wasn't enough for the RCB and the fact that the umpires didn't spot the no-ball proves that the luck wasn't on the RCB's side on the day.
Hardik and Rohit propel Mumbai
Earlier, Rohit Sharma stormed back to form while opening the innings along with Quinton de Kock. The South African looked scratchy on the day despite hitting a couple of lusty blows. But the MI skipper was in his zone. He pulled into the stands while his front foot drives were an absolute treat to watch. But just when one felt that Rohit will get going, Umesh Yadav got better of him.
Suryakumar Yadav, batting at three, adapted well to the situation and dished out some enterprising strokes. He scored 38 runs off just 24 balls but Yuvraj Singh once again won the hearts. He smacked three consecutive sixes off Yuzvendra Chahal and looked set to hit the fourth one as well. But Mohammed Siraj pulled off a stunner at long-on to cut short his knock of 23 runs.
Wickets fell in a hurry then even as Mumbai seemed to be struggling in the death. However, Hardik Pandya was in the house. He took full toll of some poor bowling from the RCB and slammed an unbeaten 32 from 14 balls with three sixes and two fours which propelled Mumbai Indians to 187 runs for the loss of eight wickets after 20 overs. Eventually, the score was just enough for the tourists as they registered their maiden win of the season.
Here are some of the best memes:
ABD used be like:#RCBvMI pic.twitter.com/tSUpxGvJMU

— mSalman (@mohdsalman064) March 28, 2019
Pandya
From inside & Outside 😂#RCBvMI pic.twitter.com/aJhy3uKsKQ

— Himanshu Laddha (@HimanshuLaddha3) March 28, 2019
#RCBvMI
Stuart Broad to yajuvendra chahal pic.twitter.com/FYpl6MV3mi

— Vivek Mishra 1557 (@vishwavivek52) March 28, 2019
When AB devilliers hits the ball😀#RCBvMI pic.twitter.com/t2pXCJqlUA

— अरे यार .. (@TrollDevendra) March 28, 2019
When you meet the guy who gave the idea to buy back Malinga as player after being a mentor pic.twitter.com/mUS0DMKzI3

— Denz (@MadMart05) March 28, 2019
Just In : Had told Malinga to allow Dube to hit 6 1st ball so ABD feels confident on him & doesnt hesitate to give back the strike incase he goes at non strike & later we would be able to stop him from getting the boundaries as it wont be easy to stop ABD.

– Rohit Sharma #RCBvMI pic.twitter.com/OAbNvq8jAZ

— TIMES HOW ˢᵃᵗᶦʳᵉ (@TiiimesHow) March 28, 2019
Nobody:

Johnny Bravo: #RCBvMI #IPL2019 pic.twitter.com/PyDYNUgbBt

— good boy 🇮🇳 (@sharma_harender) March 28, 2019
Stuart Broad To Vintage Yuvi While He Hits Just 3 sixes To Chahal😂😂#RCBvMI pic.twitter.com/4p1TYBGUiF

— Manya Kaka (@KakaManya) March 28, 2019
AB De villiers right now #RCBvMI pic.twitter.com/2U3xGhVIpy

— Adarsh Shukla (@LagbhagAdarsh) March 28, 2019
Revenge Taken by Bumrah! #RCBvMI pic.twitter.com/fh1lhev4H6

— Sumit Kumar (@AmazzingBieber) March 28, 2019
Meanwhile AB de Villiers ❤️😭 hitting 6s 4s.#RCBvMI #RCBvMI pic.twitter.com/mAEzktwBDK

— om rajpurohit (@omrajguuru) March 28, 2019
Chahal to Siraj after he caught Yuvraj Singh on his 4th delivery 😂#RCBvMI pic.twitter.com/YSLD1nJIyZ

— Ankita Bhat (@ankitabhat02) March 28, 2019
Hardik Pandya After Quick Fire Knock#RCBvMI #IPL2019 pic.twitter.com/nPI4maObb2

— Gaurangsinh Rajput (@GaurangsinhR) March 28, 2019
Just In : Was enjoying the sixes from Yuvraj but after the 3rd six I realized he is not in our team but the opponent's team & ran towards Chahal to tell him to take his wkt else we would definitely lose if he goes bonkers.

– Virat Kohli after #RcbvMi match pic.twitter.com/3M4jIG5QEm

— TIMES HOW ˢᵃᵗᶦʳᵉ (@TiiimesHow) March 28, 2019
When you see yuvi hitting 3 sixes in a row #RCBvMI

Nostalgia 😍😍😭😭 pic.twitter.com/h53UM6AVql

— mustafa (@Mustafa_JKh) March 28, 2019