IPL 2019: Shane Warne tears into Ravi Ashwin after he 'Mankaded' Jos Buttler
He also said that the Indian cricketer will be remembered for his "low act".
Updated - Mar 26, 2019 2:05 pm
9.9K Views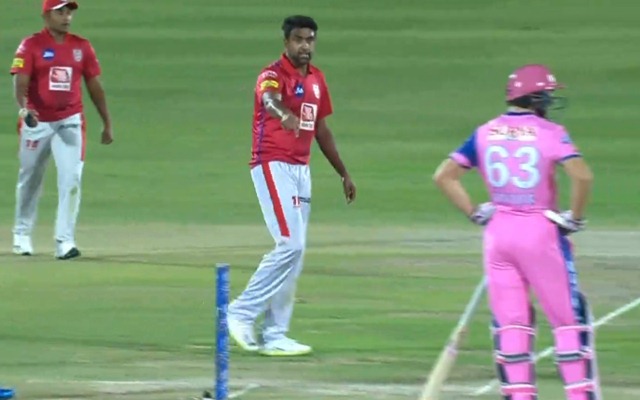 The Indian Premier League (IPL) 2019 will perhaps remain a memorable one for a controversy that struck it just on the third day. Kings XI Punjab (KXIP) captain Ravi Ashwin ran out Rajasthan Royals (RR) batsman Jos Buttler at the non-striker's end after he strayed out of the crease and the incident left the cricketing world sharply divided. While some said the Indian off-spinner did nothing wrong and was well within the limits of the law, others felt he tainted the game through something that they found unethical.
RR brand ambassador Shane Warne was also livid over Ashwin 'Mankading' Buttler that saw the visitors losing their way in the match in Jaipur that they looked favourites to win at one stage. Chasing 185 in 20 overs, the RR were 108 for 1 in the 13th over when the controversial episode took place. Rajasthan eventually managed 170 runs to lose their opening match in this IPL by 14 runs.
Warne, who captained the RR to their only IPL title win in 2008, came down heavily on the 32-year-old off-spinner after he got rid of the Englishman, who scored 69 off 43 balls and looked set to take his side home, in an unusual manner. There was a verbal exchange between Ravi Ashwin and Buttler but since law permits such a dismissal, the latter was given out and the Kings' captain remained unapologetic over his act.
Warne attacks Ashwin in a series of tweets
The former Australian wizard slammed Ashwin in a series of tweets saying he was disappointed with the latter both as a captain and person. He said Ashwin showed no intention of delivering the ball and hence felt it should have been called a no-ball. He asked the BCCI to look into the matter.
He also called Ashwin's act on the ground 'disgraceful' and 'low act'. Moreover, he said that the Indian cricketer will be remembered for his actions. The former RR captain also said that the 'win at all costs mentality' needs to be done away with and its integrity should be maintained to set an example for young boys and girls taking up the game. He also said that he thought Ravi Ashwin had the 'integrity and class'.
Here are Warne's tweets
So disappointed in @ashwinravi99 as a Captain & as a person. All captains sign the #IPL wall & agree to play in the spirit of the game. RA had no intention of delivering the ball – so it should have been called a dead ball. Over to u BCCI – this a not a good look for the #IPL

— Shane Warne (@ShaneWarne) March 25, 2019
As Captain of your side – you set the standard of the way the team wants to play & what the team stands for ! Why do such a disgraceful & low act like that tonight ? You must live with yourself & FYI – it's to late to say sorry Mr Ashwin. You will be remembered for that low act https://t.co/jGif2TOnjI

— Shane Warne (@ShaneWarne) March 25, 2019
Last point on the embarrassing & disgraceful act of @ashwinravi99 ! This win at all costs mentality has got to stop & the integrity of the game along with the spirit of the game must be of the most importance, as we need to set examples to the young boys & girls playing cricket !

— Shane Warne (@ShaneWarne) March 25, 2019
Sorry – one more thing to add. If Ben Stokes did what Ashwin did to @imVkohli it would be ok ? I'm just very disappointed in Ashwin as I thought he had integrity & class. Kings lost a lot of supporters tonight. Especially young boys and girls ! I do hope the BCCI does something

— Shane Warne (@ShaneWarne) March 25, 2019
[interaction id="5c992236f511671d359f6271″]