IPL Auction 2018: The strategy RCB should go in with
The bottom line for RCB, in my opinion, is to admit the mistakes they have made in the last decade and see this auction as their best opportunity to right those wrongs.
Updated - Jan 23, 2018 1:51 pm
1.1K Views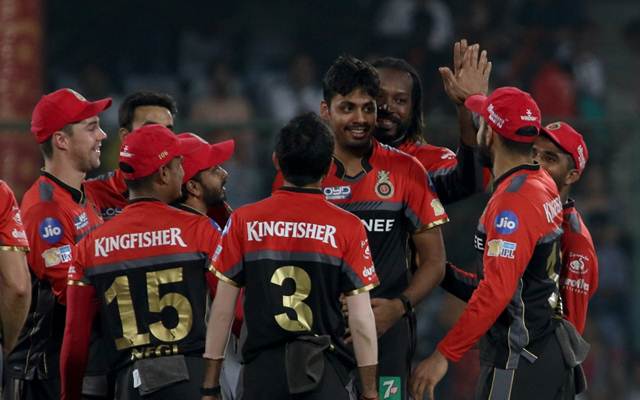 One team that should have had at least one Indian Premier League (IPL) Trophy in the last decade is Royal Challengers Bangalore, who boasted of a terrific batting line-up and a team that consisted of players like Chris Gayle, Virat Kohli and AB de Villiers that combination a bowler sees in a nightmare.
Funnily, that's what they lacked themselves- a decent line-up that was capable of defending the big scores their batsmen set. And, that alone has been one of their major drawbacks in the last ten years resulting in the absence of a title. They have reached the finals three times, which does say that they haven't been all that bad with their success rate but the fact that they have fallen short all these times is a stain that they would like to clean in the new edition.
Two of the three calls were expected in the IPL Retention when the management retained skipper Virat Kohli for 17 crores and AB de Villiers for 11 crores. The third retention, however, was what caught the eye of the people because of how bold and bizarre it was. They retained uncapped Sarfaraz Khan for 3 crores (1.5 cr goes to the player) ahead of Yuzvendra Chahal, KL Rahul, Samuel Badree and Kedar Jadhav.
While the management insists that the decision was purely a means to back young talent that RCB had previously nurtured and to embody their 'Play Bold' moto. However, the decision was more economical than it was talked about. Kohli became the costliest player ever in the IPL history with his 17 crores, and bringing in Sarfaraz was their only way of avoiding being the team with the smallest purse. Now, they have three quality players and 49 Cr. left in the purse.
Bulking the batting still priority?
Whatever the reason, Sarfaraz is a good buy at that price. He may not have played last year but his T20 prowess is no mystery and the youngster is one for the future. Yet, this meant that their first priority, their first instinct was to preserve their batting strength and not to save Chahal, their best bowler, and the second leading wicket-taker in the tournament for two consecutive years.
RCB is likely to go after him in the auction with their Right to Match (RTM) but if their gamble at the retention did any good to them will only be understood when they have successfully brought Chahal back into the RCB family. They will be prepared for the bidding war that will most definitely take place for the leggie.
It is safe to say that if the management is on the same page as the fans, they must have reserved around 8-10 Cr only for Chahal's cause. That is what he could be worth. Who they use their second RTM on will be interesting to see but every RCB fan who is ready to welcome any change that will better their chances of having a trophy, will secretly be hoping that the side lets go of Gayle.
He's a T20 star, a force to reckon with and absolute carnage when it is his day. But how often do "his days" come now? The last thing the side needs now is inconsistency, or dependence on a player for a crucial situation, only to end up on the receiving end. Again, he may still go big at the auction, RCB may perhaps even put in their ring while bidding but a certain RCB fan will be crumbling inside if they end up wasting another fortune on someone who can't give the side the assurance that they need.
So, what ideally should be the priority?
Naturally, bowling, their biggest problem is what should ideally be addressed first in the auction. Again, I don't think the trick to building a good line-up would be breaking the bank on big names for this side. They have done it far too often and it has seldom brought them good. Tymal Mills last year was signed for 12 Cr and contrary to all expectations, he did not justify the price tag at all.
RCB really needs to go low-key and confine their bold moves and flamboyance to the field only. If they are able to replicate that in the auction, don't be surprised if they end up with the same luck this time too. They need to invest in players that, firstly, are not sought by all teams too. Fast bowlers in the Indian scene that have the heart to bowl at a ground like Chinnaswamy are a priority.
In a nutshell, going after Mitchell Starc will be pointless but good underrated options can be Jaydev Unadkat who was brilliant for India in the Sri Lanka T20 series with a base price of 1.5 Cr, or perhaps one among the U-19 pace sensations Kamlesh Nagarkoti and Shivam Mavi both at a base price of 20 Lakhs. Even though going after either of them will be experimental, it is a good idea to invest in them early. They invested in players like Sarfaraz and Avesh Khan too, after all.
Overseas…
Jofra Archer has become popular after his stunning success and exhibition of athleticism in the ongoing Big Bash League. If the RCB scouts, the management or even Virat is keeping track, they will know that this player can be an asset. His base price is only 40 Lakhs but we can expect a bidding war as he's the one player to watch out for.
Ideally, RCB could really prosper with someone like Ben Stokes in their side but considering his success in the previous edition and the cost at which it came, the buyers should keep an eye on their budget. Andrew Tye can be a fairly good option for the side but in matters of players like these, RCB supporters tend to keep lower expectations from the buyers.
However, with the arrival of Gary Kirsten at the helm, things should change. Decision making, tactics and strategy would be better worked if Kirsten is at the table too. Daniel Vettori doesn't have much backing his decision-making ability so far but along with Kirsten, Andrew McDonald, Trent Woodhill and Ashish Nehra, the combination of skills and experience could well bring something positive for RCB, finally.
A solid opener
RCB also needs to grab a player or two that can do what Gayle could in an ideal situation, but with better consistency. Kohli will be opening again and someone like Evin Lewis, Colin Munro or even Short could give the skipper some relief that he needed for nearly two seasons at the top of the order.
However, Lewis will attract a bidding war and Munro, too, based on his recent form deserves the attention of multiple franchises. Short had a splendid BBL season but whether scouts regard success in other leagues and in different conditions as something worthy of consideration has been a question in itself.
Middle order
KL Rahul should be back via RTM and should strengthen the batting line-up and continue keeping wickets. His presence was definitely missed last season. There are multiple options for players that can help the batting line-up but RCB should only be looking at players that are capable of batting out of tough situations. I see a finisher in Sarfaraz so it should be him, supported by a batting all-rounder in the lower order.
Bottom line?
The bottom line for RCB, in my opinion, is to admit the mistakes they have made in the last decade and see this auction as their best opportunity to right those wrongs and finally get the trophy home. If the buyers go in with that belief, they could finally get a balanced squad, which is the common point in successful teams like Mumbai Indians, Kolkata Knight Riders and Chennai Super Kings. RCB plays quality cricket, most times better than these teams, but an imbalanced team can only get you so far.
Keep following www.crictracker.com for more updates on IPL 2018 & other important cricketing news around the world today!