Jasia Akhtar, Kashmir's first top-level female cricketer eyes a spot in the Indian team
Akhtar is also the only J&K woman cricketer who has attended the India camp and could soon break the jinx by playing at the highest level.
Updated - Jan 5, 2019 7:36 pm
223 Views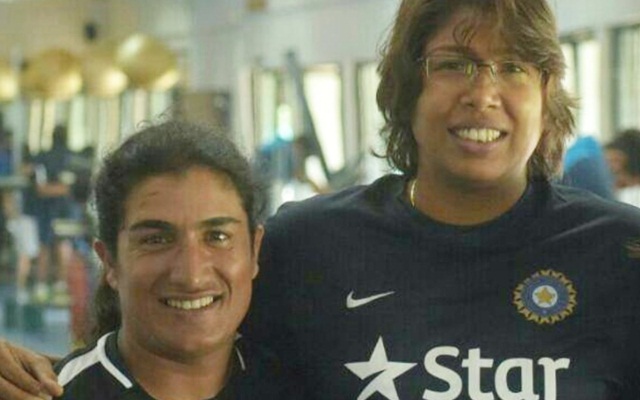 Soon after the conclusion of Indian Premier League (IPL) auction last month, cricket enthusiasts across Jammu and Kashmir have been full of praises for Rasikh Dar– the teenage fast-bowler who became the youngest cricketer from the state to get an IPL bid. Soon after, there is even bigger news for the fans which will double the joy. Jasia Akhtar- the renowned female cricketer who hails from South Kashmir's Shopian made her for India Red team in the ongoing Women's Challenger Trophy, becoming the only female cricketer from Jammu and Kashmir to reach this feat.
The tourney started on Thursday at Andhra Pradesh with three teams viz India Red, Blue, and Green taking part in it. The squads for the same were released by the BCCI a couple of weeks ago after senior selection committee held a meeting in New Delhi. Surprisingly, for most in Kashmir where cricket is no less than a commodity alike sport, Jasia is unknown and the reason we all know is- no attention given to women's cricket, perhaps.
Meanwhile, for Jasia, these things least matter as she sleeps every night with the dream of waking up to that blue jersey on her shoulders. "I really am feeling happy to be in the India Red squad, which in a way means reaching an inch closer to my dream of playing the international cricket," she told CricTracker in an exclusive chat.
Joined Punjab cricket for the dream
Due to the messy set-up in Jammu and Kashmir Cricket Association (JKCA), the 30-year-old had to leave her native state and join Punjab Cricket team to fulfil her dreams and has been playing for PCA since 2011.
"I had no choices but to leave my own state due to a lot of reasons, JKCA being unsupportive particularly. Thankfully, I impressed the selectors here and am playing for Punjab Cricket Association since 2011," she said.
Akhtar, an attacking right-handed batsman is also the only J&K woman cricketer who has attended the India camp and could soon break the jinx by playing at the highest level.
"Like every professional, I want to play for India and make my state proud. I have been chasing this dream since decades and I think, I'm reaching closer to it with each new day," Akhtar said in jubilation.
She idolizes India's batting powerhouse and skipper Harmanpreet Kaur and mentioned that without the support of some like-minded women, she would have not made it big,
"In my early days, I didn't know what to do and how to deal with the things but all thanks to Meenu Slathia and a few others. She sent me to a camp in Bangalore which became the turning point of my career," she revealed.
Mismanagement in JKCA
Slathia is the only high level-certified cricket coach from J&K but has also been a victim of the unprofessional approach of JKCA. Jasia while describing the sorry state of affairs at home said that despite being talented, women cricketers get no attention whatsoever.
"Undoubtedly, there is a lot of talent in J&K but nobody is there to take care of it. We don't have proper stadiums and other important infrastructure. My message to female cricketers of J&K is to work on fitness and play as much as you can and there is no shortcut to success," Jasia said signing off.
Female cricket needs a lot of work in the whole of India and in a state like Jammu and Kashmir, it needs special attention. With Jasia's selection in the India Red side, the administration should come up with some initiatives to motivate the women cricketers of the state.