Jimmy Neesham advises James Faulkner after 'boyfriend' post
James Faulkner came up with the edited version of the picture to reveal that 'he is not a gay'.
Updated - May 2, 2019 1:09 pm
8.5K Views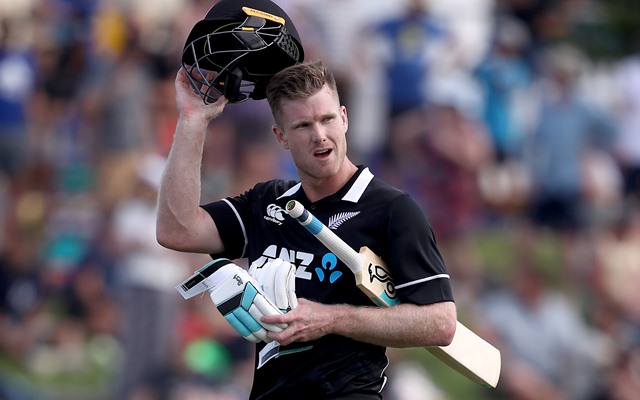 Follow us on Google News
Not only the fans but New Zealand star Jimmy Neesham also thought that Australian cricketer James Faulkner was gay after the latter's confusing post on social media. On his 29th birthday, Faulkner had raised a lot of eyebrows with his choice of words when he posted a picture of him sitting alongside his mother and another male friend.  Faulkner had referred his friend Rob Jubb as 'the boyfriend' while adding the hashtag #togetherfor5years.
Not very surprisingly, many believed that the allrounder used the occasion to announce that he was gay. The post drew nearly a thousand comments, including Australian teammates David Warner and Glen Maxwell. In fact, Maxwell had also congratulated Faulkner for his "courage", thinking that his teammate had come out of the closet.
But just hours later, Faulkner had taken to social media once again to dismiss the speculations. The World Cup-winning star denied being the first Australian professional cricketer to reveal publicly that he's in a same-sex relationship while also thanking for the overwhelming support. He had also edited his post, replacing "boyfriend" with "best friend". Cricket Australia had also issued a public statement, apologising for the confusion due to Faulkner's post.
Neesham's advice to Faulkner
When it comes to having fun on social media, Neesham is definitely the best in the business. The New Zealand allrounder knows how to get involved with the fans and the followers in order to enjoy some banter. And the social-media expert has now delivered some words of wisdom for his Australian rival, asking him to be more careful while posting on social media.
"It's one of those things that can happen, isn't it?" Neesham told Newshub. "I think you have to be very clear about what you're saying on social media. I think people can definitely take things the wrong way or take things the way they think will get the most clicks. People take things the way they want to take them, I think, occasionally.
"Obviously, James has not been entirely clear on what he meant, but I think everyone will move forward and sort of forget about it. I saw the post in the morning and didn't really think much about it to be fair. It isn't really a significant thing for me if he's gay or if he's not gay, it doesn't really bother me."
"You do [have to be careful] in the age that we live in. A lot of things are taken as offensive when they're not meant to be offensive. Obviously, a lie gets around the world before the truth has a chance to get its pants on, so I think you have to be pretty careful about the way you word things. Certainly, you have to think about things before you put them up," he added.
[interaction id="5cc2f633bb6fb0930d179460″]
Follow us on Telegram