Latest IPL 2020 Points table, Orange and Purple Cap holders after CSK vs MI game
After MI vs CSK clash, the defending champions are back again on the top of the points table.
Updated - Oct 26, 2020 11:38 am
423 Views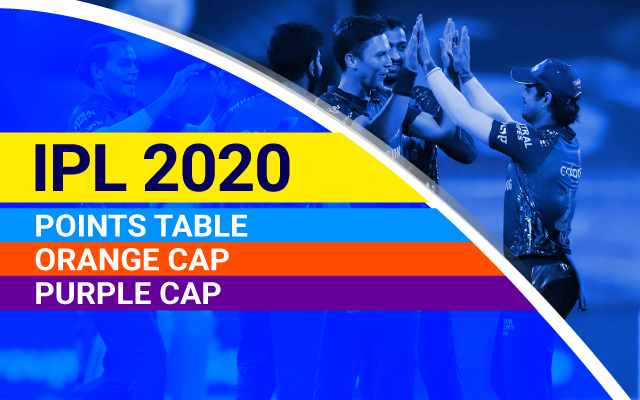 The 41st match of the Indian Premier League was played between arch-rivals Chennai Super Kings and Mumbai Indians. The three-time champions were already having a nightmarish season before things turned worse for them. MI crushed them by 10 wickets and 46 balls to spare. Batting first, CSK kicked off on a terrible note where they lost their five wickets within power play only. They could only post a meagre 114 on the board.
Young Sam Curran proved to be the one-man army as he smashed 52 off 47 to push the team's limits. None of the batters apart from him could bring anything respectable on the table. Trent Boult was named as the player of the match as he victimized batsmen with his deadly pace attack. He conceded just 18 runs to pick four crucial wickets. Jasprit Bumrah and Rahul Chahar picked two wickets each for the Mumbai Indians.
Kishan displayed some brilliant stuff for MI
In order to hunt the target, the spectacular opening stand of Quinton de Kock (46* off 37) and Ishan Kishan (68* off 37) proved to be enough. Their heroics finished the game for MI in style- and Kishan walked the field with all the courage to prove the decision of sending him as an opener, perfect. All the bowlers of CSK failed terribly to pick even a single wicket today.
Who has Orange and Purple Cap?
After CSK vs MI clash, the defending champions are back again on the top of the points table. They are followed by Delhi Capitals at the 2nd place. 3rd and 4th slots in the points tally are sealed by Royal Challengers Bangalore and Kolkata Knight Riders.
KL Rahul continues to own the Orange Cap as he has huge 540 runs in his bag. Next in line is Shikhar Dhawan, with 465 runs under his belt. Mayank Agarwal and Faf du Plessis sit in the 3rd and 4th positions in the same race.
Talking of the Purple Cap, Kagiso Rabada remains the proud owner with 21 wickets to his credit. Jasprit Bumrah has 17-wickets on his name so far. Trent Boult and Mohammed Shami have 16 wickets so far in the game.
List of top run-scorers in IPL 2020 – Orange Cap Holder
| | | | | | | | | | | |
| --- | --- | --- | --- | --- | --- | --- | --- | --- | --- | --- |
| Sr No | Player | Team | Matches | Innings | Runs | Average | SR | 4s/6s | 100/50s | Best |
| 1 | KL Rahul | KXIP | 10 | 10 | 540 | 67.50 | 135.67 | 46/19 | 1/5 | 132* |
| 2 | S Dhawan | DC | 10 | 10 | 465 | 66.42 | 149.03 | 51/10 | 2/2 | 106* |
| 3 | M Agarwal | KXIP | 10 | 10 | 398 | 39.80 | 155.46 | 39/15 | 1/2 | 106 |
| 4 | Faf du Plessis | CSK | 11 | 11 | 376 | 41.77 | 138.23 | 36/10 | 0/4 | 87* |
| 5 | Q de Kock | MI | 10 | 10 | 368 | 46 | 143.19 | 34/16 | 0/4 | 78* |
| 6 | V Kohli | RCB | 10 | 10 | 365 | 60.83 | 126.59 | 20/9 | 0/2 | 90* |
| 7 | S Iyer | DC | 10 | 10 | 335 | 37.22 | 131.37 | 24/13 | 0/2 | 88* |
| 8 | D Warner | SRH | 10 | 10 | 335 | 37.22 | 124.07 | 28/8 | 0/2 | 60 |
| 9 | J Bairstow | SRH | 10 | 10 | 326 | 32.60 | 129.36 | 27/13 | 0/3 | 97 |
| 10 | D Padikkal | RCB | 10 | 10 | 321 | 32.10 | 124.41 | 31/6 | 0/3 | 63 |
List of most wicket-takers in IPL 2020 – Purple Cap Holder
| | | | | | | | |
| --- | --- | --- | --- | --- | --- | --- | --- |
| Sr No | Player | Team | Matches | Innings | Wickets | Average | Best |
| 1 | K Rabada | DC | 10 | 10 | 21 | 14.33 | 4/24 |
| 2 | J Bumrah | MI | 10 | 10 | 17 | 17.23 | 4/20 |
| 3 | T Boult | MI | 10 | 10 | 16 | 19.81 | 4/18 |
| 4 | M Shami | KXIP | 10 | 10 | 16 | 20.37 | 3/15 |
| 5 | Y Chahal | RCB | 10 | 10 | 15 | 18.33 | 3/18 |
| 6 | J Archer | RR | 11 | 11 | 15 | 19.26 | 3/19 |
| 7 | R Chahar | MI | 10 | 10 | 13 | 19.92 | 2/18 |
| 8 | Rashid Khan | SRH | 10 | 10 | 15 | 18.25 | 3/12 |
| 9 | Anrich Nortje | DC | 9 | 9 | 12 | 23.25 | 2/33 |
| 10 | T Natarajan | SRH | 10 | 10 | 11 | 31.00 | 2/24 |
Here's the IPL 2020 points table in detail:
| | | | | | | | |
| --- | --- | --- | --- | --- | --- | --- | --- |
| Position | Team | Matches | Won | Lost | NR | Points | NRR |
| 1 | MI | 10 | 7 | 3 | 0 | 14 | 1.44 |
| 2 | DC | 10 | 7 | 3 | 0 | 14 | 0.77 |
| 3 | RCB | 10 | 7 | 3 | 0 | 14 | 0.18 |
| 4 | KKR | 10 | 5 | 5 | 0 | 10 | -0.82 |
| 5 | SRH | 10 | 4 | 6 | 0 | 8 | +0.09 |
| 6 | KXIP | 10 | 4 | 6 | 0 | 8 | -0.17 |
| 7 | RR | 11 | 4 | 7 | 0 | 8 | -0.62 |
| 8 | CSK | 11 | 3 | 8 | 0 | 6 | -0.73 |