Pictures of Pakistan cricketers removed from the Mohali Stadium
Pakistani team played World Cup semifinal against India in 2011 in Mohali.
Updated - Feb 17, 2019 7:30 pm
40.5K Views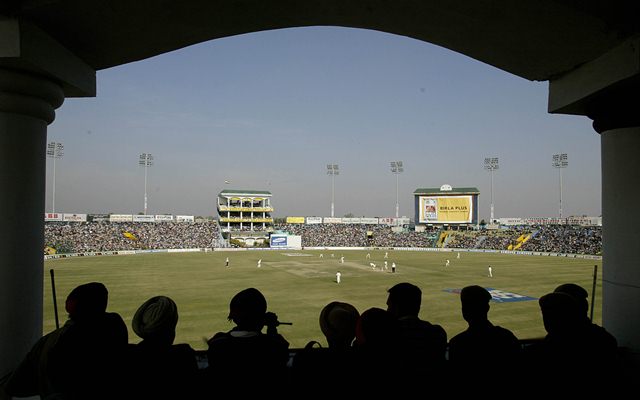 Follow us on Google News
On 14th February, a terrorist attack on the Indian army convoy resulted in the death of more than 40 CRPF jawans. Pakistani terrorist organization, Jaish-e-Mohammed took the responsibility of the cowardly attack on the brave soldiers. Since then, people all over the country have expressed their anger towards the incident. Everyone is trying to do their bit in order to show solidarity with the martyrs and their families.
Even cricketers have come forward to urge the government to take revenge for this cowardly attack on the forces. One of the steps suggested to take revenge is to isolate Pakistan which might force them to consider their stand. India stopped playing bilateral series with Pakistan a long ago, but now Punjab Cricketer Association(PCA) has taken a step further. The state association has decided to remove photographs of Pakistani cricketers from Mohali.
Earlier a lot of photographs of Pakistani cricketers could be seen at the various points in the stadium. PCA treasurer Ajay Tyagi claimed that 15 photographs of Pakistanis have been removed from areas like reception, hall of fame and gallery. He said that this is just a small step taken to show solidarity with the brave soldiers. Tyagi pointed out that there is a lot of anger among the public and PCA is committed to respect their stand.
PCA to show solidarity with the forces
"As a humble step, the PCA has decided to show its solidarity with the families of martyrs of the Pulwama attack. There is so much anger in the nation against the heinous attack and PCA is no different in this," Tyagi said as quoted by Hindustan Times.
Pakistani team played World Cup semifinal against India in 2011 in Mohali. On that occasion, the team led by Shahid Afridi suffered a 29-run defeat against India who eventually won the tournament. PCA treasurer confirmed that Pakistan prime minister Imran Khan is among the cricketers, whose pictures have been removed. Along with Imran Khan, other pictures are of cricketers including Afridi, Javed Miandad, and Wasim Akram.
Follow us on Telegram