Rating 10 best umpires of all time in cricket
Not just the cricketers, some of these umpires to have received great love and appreciating from the fraternity over the last few decades.
Updated - Oct 23, 2019 2:00 pm
37K Views
We live in a generation where technology is the most preferred option to determine on-field decision-making in any sport. There are some people fearing a fact that the art of umpiring or refereeing could soon be buried six feet under the ground, with science and technology doing bulk of the work.
The cricketing world is certainly in a spot of bother with regard to umpiring quality, which might've tampered the result of the 2019 ICC World Cup. Yet, that shouldn't throw a carpet and hide how brilliant some people have been in those roles in cricket's glorious history.
Controversies were and will continue to be a part of umpiring because they too are humans after all. In the last few decades, some umpires have defied odds and portrayed metronomic accuracy in decision making, which uplifted the spirits of various others who wanted to make it big in this profession.
Here are 10 names from the cricketing world who will be remembered as the finest on-field officials of all time.
10. Darrell Hair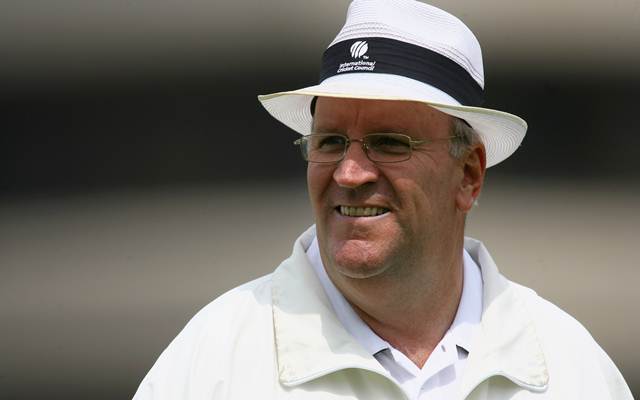 One of the most under-rated, yet very renowned umpires the game has witnessed, Darrell Hair was one of the original members of the ICC Elite Panel in 2002. The Australian made his debut as an umpire in 1992 during the Test match between India and Australia at the SCG, Sydney.
A dark chapter of his career came in 1995 where he no-balled Muttiah Muralitharan 7 times in three overs for throwing. He was a very bold and unbiased official, who worked hard to ensure the game was played fair and square. Another one of the incidents where his boldness made headlines was in 2006, when Pakistan refused to take the field after the ball-tampering accusations against England and the umpires Billy Doctrove and Hair forfeited the match, declaring England as winners.
Hair was an on-field official for 78 Tests, 139 ODIs and 6 T20Is during his 16-year career. He stands 9th on the list of most International matches officiated by any umpire. He last stood in the middle during a T20I game between Kenya and the Netherlands.