Roger Federer recognising me was a huge fan boy moment, says Virat Kohli
He also talked at length about how he spends time with Anushka Sharma when they're away from home.
Updated - Jan 27, 2019 2:48 pm
911 Views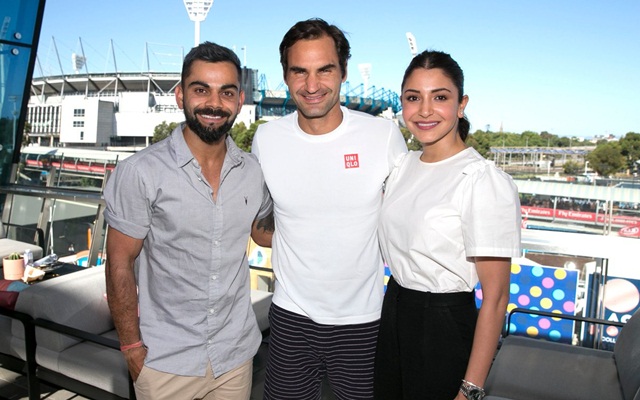 Indian skipper Virat Kohli opened up on his marriage life and said how he and his wife Anushka Sharma enjoy the little things. Kohli, who will be rested after the third ODI against New Zealand for the remainder of the tour, spoke at length on how the couple spends their time out when they're away from home.
In a recent interview, he talked about how they love getting away from all the spotlight just to spend some personal time. Virat Kohli and Anushka Sharma have been one of the most popular celebrity couples in the world and it has been pretty difficult for them to stay away from the limelight.
"Look me and my wife like to do normal things. We just like to go out for walks. If we are in place like Napier, it's beautiful. (One of the nights), We were at the Marine parade, enjoying full moon sitting on the bench and just talking.
It's actually the simplest thing that gives us joy purely because we are always in the public eye and we are always doing things in-front of people. To get away and not known by anyone is something that we both like, " Kohli told Sky Sports in an interview.
Spending time with Federer was beautiful
The Indian captain also met Tennis legend Roger Federer in Australia and spend some valuable time discussing each other's professional lives. Kohli also pointed that it was a great moment for him to see the 20-time Grand Slam champion recognising him.
"Amazing (feeling). I have met him a couple of times before, the fact that he remembered me was like 'waoh', the fan boy in Kohli was there to be seen. He (Federer) told me that he met me in Sydney couple of years back during an exhibition match and I was like "waoh he remembers me".
I can't explain that feeling. I have seen him play since I was a child and he is a great man and a great human being. He kept asking me questions and I could talk to him about mindset. It was a beautiful time spent," Kohli recollected.
Kohli recently has had a wonderful time in his cricketing career. He remained unbeaten as a captain in all the three series on Australian soil. Moreover, he was fantabulous with the bat in hand, to say the least. He will also be a crucial element in the upcoming 50-overs World Cup in England and Wales.