Sachin Tendulkar has decided a special gift for Virat Kohli if he breaks his ODI hundreds record
Kohli has always maintained that it is Tendulkar who inspired him to take up the sport.
Updated - Apr 23, 2018 5:47 pm
4K Views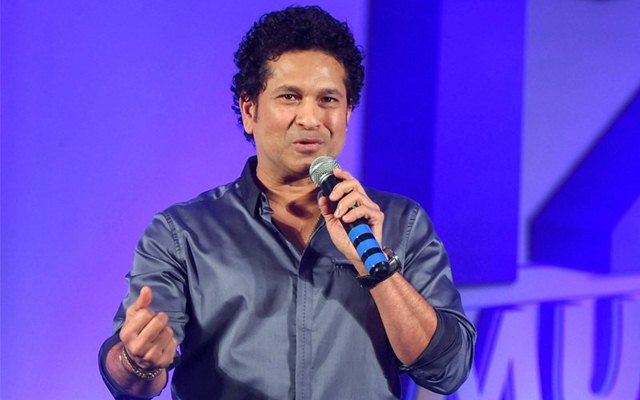 Follow us on Google News
Virat Kohli is to the current generation what Sachin Tendulkar was in the 1990s and early 2000s. Whenever Team India plays a game, the opposition has a separate plan, in fact, a set of plans just to deal with one batsman, he is termed a batting masterclass every time he steps on the field, records just seem to tumble as he goes about what seems to be usual business to him.
At 29, he already has 35 ODI hundreds to his name and that after featuring in just 208 ODIs. His amazing conversion rate and unbelievable consistency sets Kohli up to break Sachin's record for the most centuries in ODI cricket. Master Blaster scored 49 hundreds having featured in 463 ODI matches.
Tendulkar was at the Mumbai launch of Boria Majumdar's book Eleven Gods and a Billion Indians, he was asked if he'd send Kohli 50 bottles of champagne if the current Indian captain manages to break ODI centuries record. Tendulkar said that rather than sending him bottles, he will take one bottle to Kohli the same day and share it with him.
"I will go and share a bottle with him if he breaks my record. I won't send him champagne bottles; I will go there and share it with him" Tendulkar said at the event.
Kohli idolizes Tendulkar
Kohli has on several occasions expressed how he looked up to the legend while he was growing up and how the master's game inspired him to take up the sport and sparked the dedication that has brought him where he is today.
The Delhi lad was also present at the book launch event in Kolkata and said that the impact Tendulkar had on his career is immense and he values that a lot.
"I don't have too many people who are very close to me. That is just the way life has gone on for so many years. Because naturally when someone has stuck by me in tough times, I value that person a lot. I continue to do that. The impact he has had in my life growing up…. I understand the importance of it," Kohli said.
"If someone can inspire you like that and you end up becoming someone and you feel like there is no greater pleasure than that. So that (handing his father's threads over to Tendulkar) was just a gesture of thank you to the guy who has inspired me to do what I am doing. For me, the human connect is paramount.
"Incentives, gains … these things do not matter to me. If someone is honest with me, that's what matters," he added.
[interaction id="5adc807a647b0fa42650d633″]
Follow us on Telegram