The darkness encircling MS Dhoni
Maybe it's equivalent to infusing life in the 'dead' for the veteran.
Updated - Nov 20, 2018 9:52 pm
1K Views
Follow us on Google News
"I didn't know I was a slave until I found out I couldn't do the things I wanted,"
The words from Late American writer and social reformer Frederick Douglas depict his travails during the time when he roared to greatness as a leader and redefined freedom in Massachusetts and New York. Parallels can't be drawn between a cricket pitch and an abolitionist movement, but the enormity of the personalities can be compared, the other being Indian keeper MS Dhoni.
For Douglas, it was September 3, 1938, for Dhoni it was September 13, 2007. While Frederick escaped slavery in Maryland and carved a reputation as a prominent name, Dhoni arrested the Indian cricket team's slump after the 2007 World Cup debacle in the West Indies. Back then even his under-construction house was attacked and fans demolished a wall of the building.
As far as slavery is concerned, Dhoni has lately been a slave to a monster called 'situation', we all have been at some point of our life, crying for help, yet not getting a semblance of assistance, fear possessing every vein of the body and mind. The fact that the veteran has remarkable support, acting as a ventilator to his gradually fading career, has kept the 37-year-old on his feet.
Exuberance, aplomb and dynamism
Rishabh Pant, who is thought to be Dhoni's successor and Dinesh Karthik in the second half of his career, takes the park with a positive mindset with confidence oozing out. The 21-year-old from Uttarakhand, at times, sweeps himself off his feet, something which depicts his unflustered mind. His shots are pretty much reminiscent of how Dhoni used to wield the willow.
31 October 2005- The Sri Lankan bowling may be a tad shoddy in 2018, but it was a tough nut to crack during 2005 when the likes of Chaminda Vaas, Muttiah Muralitharan and Farveez Maharoof dominated. For Dhoni, it wasn't. His numbers in his 183 not out at the Sawai Man Singh Stadium in Jaipur is for all to see, but the brutality that was on display is still unfathomable.
12 February 2012- That night at Adelaide Oval, Australian speedster Clint McKay picked up the likes of Gautam Gambhir, Virender Sehwag and Virat Kohli- three of the most prized wickets one could ask for. However, all that was neutralized by one blow from Dhoni over long on, who played the shot leaning backwards. India snatched victory from the jaws of defeat.
11 July 2013- A couple of years ago in 2011, Dhoni took India past the finishing line in the World Cup line and Sri Lanka wasn't expected to have fond memories when Dhoni played. It wasn't any different in Port of Spain as the veteran bashed right-arm fast bowler Shaminda Eranga into oblivion to score 16 runs (6, 4 and 6) off the last over and save another day for India.
All this while, the Jharkhand-born cricketer made a name for himself as someone, who hardly succumbed to the pressure exerted by opposition, someone for whom the panic button didn't exist by any means. He was a master of his own destiny- The Man with the 'Midas Touch'. The name Dhoni was synonymous to belief, shatterproof. Sometimes, a 'One Man Army' as well.
The question was 'Until When?', as they say, 'Every Good Things Come To An End'.
Inhibition, fear and then….. BOO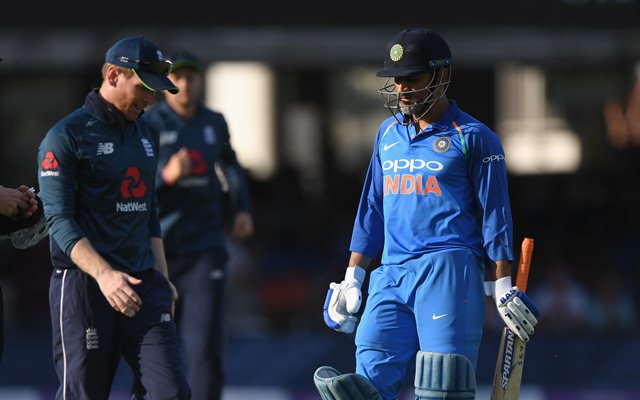 27 August 2016- 43 from 25 balls- The knock from Dhoni in Florida in the first T20I seems incredible to the naked eye. But, did it serve the purpose? No; Dwayne Bravo had the last laugh, halting the batter's surge in the last ball of the match. Surprisingly, Dhoni was caught in the same short third man where he was dropped on the first delivery of the over. A 'RARE' instance.
28 September 2018 (Asia Cup)- Another day, another final, Dhoni was in the middle with India in trouble, hopes were pinned on him. He came to bat at number 5 against Bangladesh, huffed and puffed, crawled to 36 off 67 at a strike-rate of 53.73 (the lowest among Indian batsmen, who passed the double figures). Even this time, Dhoni didn't have the last laugh, Mustafizur Rahman did.
The biggest of them all
14 July 2018- Not one of Dhoni's most memorable days- forget about the runs he scored (37 from 57 balls at a time when the required rate only saw an escalation). What panned out in between is something even the pessimists wouldn't have expected that too at the Lord's Cricket Ground. He was booed for the 'bizarre' knock- something he would've experienced the first time.
What's in store?
The World Cup is merely six months away and Dhoni, potentially being out the T20I plans, doesn't have a lot of cricket to play. Over the last few months, he has been pushed down and down the batting order, even the team is seemingly starting to lose faith in Dhoni- the batsman. Nevertheless, would it be able to protect Dhoni and ensure that he goes into retirement without further criticism?
India won't be playing at Lord's in the World Cup unless and until they qualify for the final on July 14. Hence, chances of him going back to the venue is a long shot. But being his last World Cup, can he defy the odds and give a glimpse of his glorious past in the quadrennial event?
Mike Shinoda, the songwriter and pianist from Linkin Park, in his song 'Promises I Can't Keep' related:
I had so much certainty
Till that moment I lost control
And I've tried but it never was up to me
Maybe, Dhoni's losing control, he is encircled by darkness.
Maybe it's equivalent to infusing life in the 'dead'. Maybe, it's curtains for him.
Or is it?
Let's wait and watch…
Follow us on Telegram