Top Stories: Things that made news in the cricket world today
All the news stories that hogged the headlines today.
Updated - Oct 4, 2020 10:55 pm
516 Views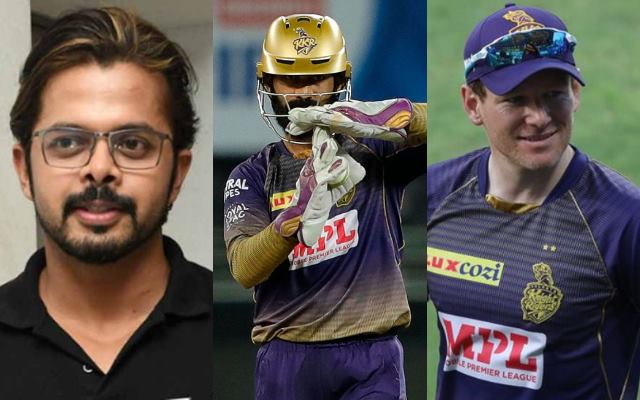 Follow us on Google News
Sreesanth feels Eoin Morgan should lead KKR instead of Dinesh Karthik in IPL 2020
The Kolkata Knight Riders (KKR) skipper Dinesh Karthik is under the scanner since Saturday's game against the Delhi Capitals (DC).
While his form with the bat is a huge concern for the franchise, the fans are not happy with Karthik's captaincy at all.
Chasing 229 against DC, he came ahead of Eoin Morgan and ended up scoring only six runs off 8 balls.
I weighed almost 95 kg after my injury, was on bed rest for 60 days: Mohammed Shami
One of the lowest points of Shami's career was in 2015 when he suffered a career-threatening knee injury.
Earlier this year, the speedster had revealed that he had played in the 2015 World Cup in Australia and New Zealand with a fractured knee.
He was also the second-highest wicket-taker for India, scalping 17 wickets from 7 matches in the mega-event.
IPL 2020: Gautam Gambhir wants Dinesh Karthik to bat down at No.6 below Eoin Morgan
Following KKR's thumping loss at Sharjah, their former skipper Gautam Gambhir has suggested them to make a batting change.
While Gambhir wants Narine to bat lower down the order, he believes skipper Karthik should come in the middle after Morgan and Russell.
Gambhir also questioned Karthik's move to hand the ball to leg-spinner Varun Chakravarthy the 19th over.
'It would be wrong that the players stay on a similar pay' – Stuart Broad on potential pay cuts amid COVID-19 pandemic
England fast bowler Stuart Broad reckons that it would be unfair if the players stay on the same pay at a time when the England and Wales Cricket Board (ECB) is undergoing a financial crisis.
Back in July, England became the first country to resume international cricket, hosting Ireland, West Indies and Pakistan for full-fledged Tests, ODIs and T20I series.
Despite cricket being played, the ECB estimated an initial loss of 100 million pounds (USD 127 million) due to the restrictions imposed, keeping in mind the COVID-19 pandemic.
I would never drop Shane Watson because entire CSK batting order looks so rusty: Gautam Gambhir
Chennai Super Kings (CSK) is one influential team that is struggling hard to find back its rhythm in IPL 2020.
The three-time champions looked all good when they kicked their IPL 2020 journey on a winning note by defeating defending champions Mumbai Indians in the tournament opener.
However, their outings after that have been quite forgettable, and they are struggling to display a good game.
Pakistan decide their preliminary squad for series against New Zealand and Zimbabwe
Pakistan's cricket team is done with finalizing their preliminary squad for their series against Zimbabwe and New Zealand.
However, the official announcement on the same thing will be made in the next week of October.
The squads of two teams, that are Pakistan and New Zealand, will be made public around the same time so that COVID-19 SOP's are followed properly.
After Women's IPL in the UAE, Indian women side likely to tour Sri Lanka
The Indian women's cricket team is most probably set to travel Sri Lanka as BCCI is trying to arrange dates for the same.
The women's team is scheduled to begin their bilateral events from the Lanka tour after the successful completion of women's IPL, which will be held in UAE from November 4-9.
An official from the Indian cricket board stated that women's team may tour the island nation post-WIPL, but a big issue related to quarantine prevails.
IPL 2020: KKR's Eoin Morgan reacts to batting at no.6 against DC in Sharjah
Though he isn't currently the top run-scorer for the Kolkata Knight Riders (KKR) in the 2020 Indian Premier League (IPL), Eoin Morgan can be deemed as their most fluent batter thus far.
After faltering against the Mumbai Indians (MI), England's limited-overs captain has found his mojo with the bat in hand.
At present, he has 136 runs at an average and strike-rate of 68 and 151.11 respectively.
IPL 2020: Fans bash Virender Sehwag after he makes an insulting remark on SRH's batting
Former Indian cricketer Virender Sehwag has been brutally criticized by fans for making an insulting comment on Sunrisers Hyderabad (SRH).
The former India opener has always been known for being unfiltered and speaking his mind out.
In the latest turn of events, he made a bold remark on SRH before their batting show against defending champions– Mumbai Indians.
'Why are they not giving enough batting to Eoin Morgan?' – Aakash Chopra bashes KKR team management
The 16th match of the Indian Premier League saw Kolkata Knight Riders' defeat in hands of Delhi Capitals by 18 runs.
The opening stand of KKR failed as they didn't fetch anything good for the team.
In the same light, former Indian opener and commentator Aakash Chopra has questioned the batting decisions of KKR as they failed to chase the target.
Follow us on Telegram