Top Stories: Things that made news in the cricket world today
All the news stories that hogged the headlines today.
Updated - Jul 5, 2020 8:02 pm
264 Views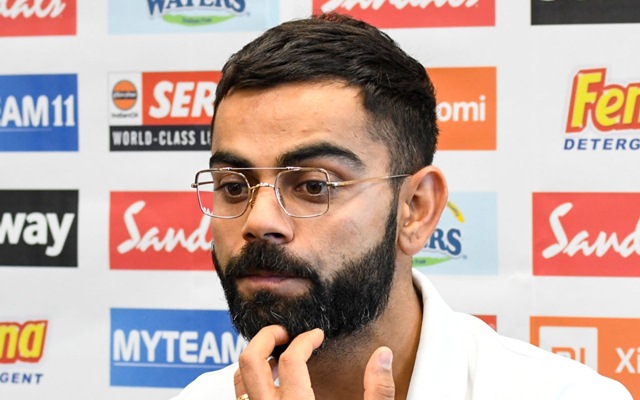 Complaint filed against Virat Kohli for breaching BCCI's conflict of interest norms
A complaint has been sent to BCCI's Ethics Officer Justice DK Jain alleging Kohli has breached board's conflict of interest norms.
The complaints against Kohli has been made by same Sanjeev Gupta, who had filed conflict of interest complaints against Sachin Tendulkar, VVS Laxman and Rahul Dravid.
According to the complaint 'Kohli holds two posts, one as the player and captain of the Indian team and other as a Director of Sports marketing company which contracts fellow Indian cricketers'.
Azharuddin can be a reason behind Younis Khan holding a knife against Grant Flower's throat: Rashid Latif
Flower, who is currently serving as the batting coach of Sri Lanka, sparked a controversy with his allegation.
When the Zimbabwean was asked about the tricky characters which he came across his coaching career, he took Younis' name while revealing the incident on a Podcast.
Younis, who had an illustrious career with Pakistan, was recently appointed as the batting coach of the national side ahead of the England series.
BCCI official reacts after Virat Kohli comes under 'conflict of interest' scanner
Recently, Madhya Pradesh Cricket Association's member Sanjeev Gupta had accused the Indian skipper Virat Kohli of breaching the Lodha Panel recommendations.
In the mail to BCCI's Ethics Officer DK Jain, Sanjeev had stated that there is a 'conflict of interest' by the Indian captain.
Gupta in his complaint to DK Jain said that Kohli is managing two major positions, leading the Indian team and being the director of a sports marketing company which is not acceptable as per the Lodha Committee.
Former Sri Lanka Sports Minister offers ICC more evidence to prove 2011 World Cup final was fixed
Former Sri Lanka Sports Minister Mahindananda Aluthgamage had stunned the cricket universe by claiming that the 2011 World Cup final between India and Sri Lanka in Mumbai was fixed.
At the iconic Wankhede Stadium, the Men in Blue, led by MS Dhoni, had won the final by six wickets in hand. This was the first instance of a nation clinching the coveted trophy on their home soil.
But the Special Investigation Division of the Police didn't find any evidence and they had to close the investigation for the time being.
Ricky Ponting was not focussing on the ball but getting out just by watching my face: Harbhajan Singh
Indian off-spinner Harbhajan Singh recently talked about his rivalry with arch-rival Ricky Ponting.
Harbhajan revealed that the former Australian captain was so terrified by his deliveries that the latter had stopped concentrating on the ball.
Bhajji holds the record of dismissing Ponting for the most number of times in Test cricket i.e 10 times.
'Money is not going to Sourav Ganguly or Jay Shah' – BCCI treasurer slams people for calling IPL a 'money-making' machine
IPL has often been termed as a 'money-making machine' for the hefty amount of money involved in the tournament.
The tournament has changed the face of T20 cricket but it's looked as a mere business by many individuals.
Many have suspected personal financial gains being the motive of the BCCI to host the tournament this year.
'What Ben does is a bit like Virat' – Nasser Hussain feels Stokes can be an excellent captain for England
It's not an usual sight to see an animated Stokes on the field, a trait which is quite similar to India stalwart Virat Kohli.
Both Kohli and Stokes are known for their never-look-back attitude while being in action.
They never shy away from expressing themselves while being involved in a thrilling encounter.
Sledging Virat Kohli while he's batting is a no-go-zone for the bowlers: Josh Hazlewood
Australian pacer Josh Hazlewood revealed that his team would try to avoid any confrontation with Indian skipper Virat Kohli as sledging works as a fuel for him.
It is generally believed that sledging Virat, while he is on the crease, is a bad decision as it brings out the best in him.
Indian team is expected to tour Australia for a four-match Test series and a three-match ODI and T20 series later this year.
Pakistan Test side can stop India's winning momentum in India: Brad Hogg
Former Australian leg-spinner Brad Hogg believes that Pakistan cricket team is capable of overpowering the Indian cricket team in India.
Team India has been ruthless at home especially in the longest format of the game. India has not lost a single Test series after the 2012-13 season while playing at home.
Also, India was thrashed in just one Test match in this period while facing teams like New Zealand, Australia, England, and West Indies.
Sri Lanka wicketkeeper Kusal Mendis arrested after car he was driving hit and killed 64-year-old
Sri Lankan cricketer Kusal Mendis has been arrested by Sri Lankan police in Horethuduwa for hitting a pedestrian by his vehicle at 5 am on Sunday.
The 64-year-old civilian was riding a bicycle in the Colombo suburb of Panadura when he got injured by Kusal's car.
The fatal accident resulted in the civilian's death before he could be admitted to a hospital.
Team meetings used to happen just to discuss how to get Sachin Tendulkar out: Nasser Hussain
Sachin Tendulkar, during his playing career, was a nightmare to the opposition team. He was technically strong and once set, was almost impossible dislodge thanks to his immense concentration.
No wonder the opposition teams used to specifically come up with a strategy for the master blaster.
They knew then that the half of the Indian team would crumble if they get Sachin out.