Top Stories: Things that made news in the cricket world today
All the news stories that hogged the headlines today.
Updated - May 8, 2020 8:54 pm
136 Views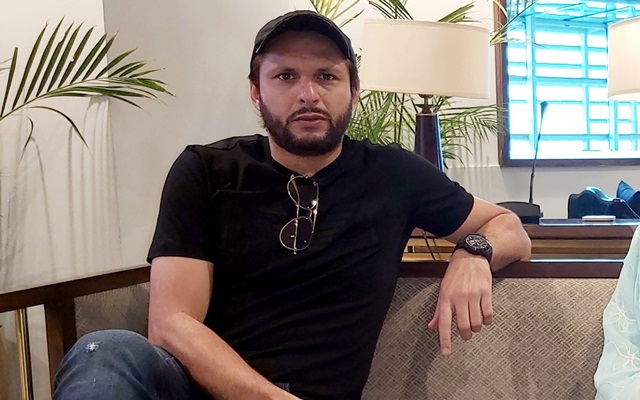 Follow us on Google News
Shahid Afridi picks his all-time World Cup XI; snubs players like Sachin Tendulkar and Imran Khan
Shahid Afridi, the former Pakistan cricketer was involved in a Live Instagram session with a known Pakistan anchor, Sana Bucha on Thursday evening.
During the interaction, he talked about his daily life in lockdown, impact of COVID-19 and topics related to cricket.
In the meantime, he also picked his all-time World Cup XI in which he snubbed some of the big players like Sachin Tendulkar, Imran Khan.
'We all are used to playing in front of so many passionate fans' – Virat Kohli reacts to the idea of playing matches behind closed doors
The coronavirus pandemic has taken a toll on all major sporting events.
Amid such trying times, many members of the cricketing fraternity have suggested the idea of playing matches behind closed doors.
Current Indian skipper Virat Kohli, who has recently been spending his quarantine time on social media, shared his opinion over the same.
I am of course missing him: Kuldeep Yadav feels MS Dhoni should make a comeback to play for Team India
MS Dhoni, the former Indian skipper played his last international game back in 2019 World Cup against New Zealand in the semi-finals.
After that, he went on a longer than an expected sabbatical.
Earlier in March, he was all set to play for CSK in IPL 2020 but BCCI had to postpone the tournament for an indefinite period due to COVID-19 outbreak.
Pune-based museum buys Azhar Ali's bat for 1 million PKR in auction to raise funds amid COVID-19 outbreak
Many cricketers have also joined the battle against the pandemic and have done their bit to raise funds amid the COVID-19 debacle.
Many prominent cricketers including Virat Kohli, Rohit Sharma and Suresh Raina had donated a hefty sum to PM-CARES Fund to raise money for the poor and the needy.
Pakistan Test skipper Azhar Ali had also followed the suit by auctioning two of his prized possessions.
Cricket at the highest level will probably finish for me in 2 or 3 years: Moeen Ali
England all-rounder Moeen Ali wants to play as much international cricket as he can in the near future
He feels that only two or three years of cricket at the highest level is left in him and desires to play for England across all the three formats.
Moeen was dropped from the Test during the Ashes last year and hasn't played in the whites for his country since then.
Saeed Ajmal responds after Rana Naved claims that players underperformed against New Zealand in 2009
Rana Naved hogged the headlines recently after stating that a number of senior players deliberately underperformed during the 2009 ODI series against New Zealand in the UAE.
Rana's comments raised a few eyebrows as he said that a few players underperformed just because they were unhappy with Younis Khan's captaincy.
Naved also claimed he pulled out of the tour because he didn't want to be a part of the conspiracy by seniors against the then skipper Younis Khan.
Mushfiqur Rahim feels Bangladesh have the ability to be in top six in Test cricket
Bangladesh is always rated as one of the underdog teams in international cricket.
They often come up with some surprising performances and rather have been on top of their game in the limited-overs formats.
But in the past decade, their performance graph is full of inconsistency when it comes to playing the Tests.
PCB reveals why Umar Akmal was handed a three-year ban from international cricket
Umar Akmal hogged the headlines in the previous month as he was banned by Pakistan Cricket Board for three years from all forms of cricket
Under the PCB's anti-corruption code, a player is required to immediately report to a team manager or the officials of the anti-corruption unit after he receives any match-fixing approach.
PCB has now released a detailed insight into batsman Umar's corruption case, explaining why he was handed a ban of three years.
I would be happy if I become even half as good as MS Dhoni: Alex Carey
It's not a secret that MS Dhoni has been hailed all across the globe for his finishing ability and on-field awareness.
Since breaking into the national side as a young boy from Ranchi, Dhoni has established himself as one of the most accomplished cricketers of the modern era.
Be it his lightning-quick stumpings or death overs-slogging– MS Dhoni has proved his mettle on multiple instances
Aakash Chopra picks his greatest T20 batsman of all time
Aakash Chopra, the former Indian cricketer-turned-commentator is quite an active personality on social media platforms.
He too often comes out with interesting trivia, quizzes and analysis of matches for the fans.
On Thursday, he gave his list of top six all-time greatest T20 batsmen in the history of international cricket.
'Why hasn't RCB won the IPL ever?' Rohit Sharma responds
The Royal Challengers Bangalore (RCB) has one of the biggest fanbase in the Indian Premier League (IPL).
Having Virat Kohli and AB de Villiers in the same team is a luxury and once even Chris Gayle was also the part of the RCB.
Though the team hasn't won even a single IPL title in 12 years, the players which the franchise possesses in the team makes it one of the strongest in the tournament.
Follow us on Telegram