Twitter makes a meme material out of the Ravi Shastri-doppelganger
No doubt some of the tweets were damn funny and people had a good laugh over it.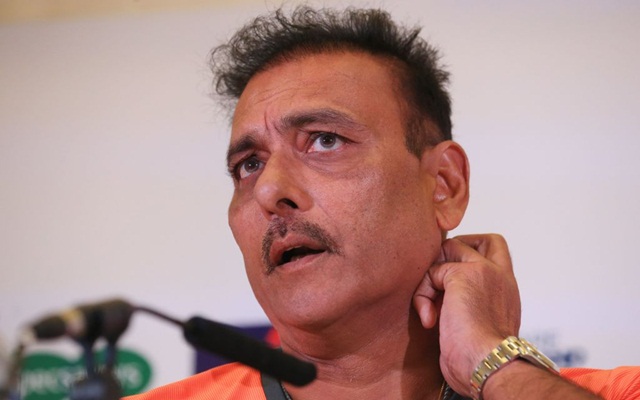 Twitter went abuzz recently when someone captured a picture of a commoner who resembled Ravi Shastri. Travelling in a local train, this Twitter user posted an image of a passenger who seemed like a doppelganger of the Indian cricket coach. In no time, the picture went viral and the whole social media was filled with memes and trolls surrounding the picture.
Ravi Shastri has always managed to be in the middle of controversies. He was heavily criticised after the England tour where the visitors lost 4-1. While the matches were really close and the results could've gone anywhere, the scoreline didn't speak so. Recently, Ganguly also criticised the manner in which he was brought to the helm in his letter to the BCCI.
However here, it was for a totally different reason that Shastri was at the centre of the butt of jokes. The Indian coach has also been known to be an excessive drinker since his playing days. Hence, people didn't take much time using the reference. Others continued to add some really hilarious captions as one by one, everyone joined the chorus.
Shastri becomes a butt of jokes
For some reason or the other, Shastri has always been a social media favourite for memes. Even during his days as a commentator, he was trolled for his ever repetitive 'tracer bullet' and 'going down the wire' comments. No wonder then too, he became a famous meme. Sometime ago, even Virat Kohli's social message along with his wife was taken as a joke on Twitter. He went on to tweet further that everything for people nowadays has become meme content.
While the Indian captain or the coach may disapprove of such vile comments, Twitter sure had a lot of fun. No doubt some of the tweets were damn funny and people had a good laugh over it.
Here are some of the funniest memes on Ravi Shastri's doppelganger:-
Reaction of RaviShastri when it's match day and Virat kohli isn't playing #INDvWi pic.twitter.com/LTp7FNfc7a

— @muthayyab_ali (@immali14) November 4, 2018
When you realized indian cricket team is very good even without you.. pic.twitter.com/n0fWIdB7Qf

— Faizan Hamid (@TheSRKExpress) November 4, 2018
When BCCI refuse to pay your travel allowances pic.twitter.com/MdgZl71925

— DJ 🎧 (@djaywalebabu) November 4, 2018
when bcci refused to pay your liquor bills. pic.twitter.com/0PtrOQ0HFX

— capt. (@thephukdi) November 4, 2018
When you "got window" seat in local train and unknown aunty saying "Beta muje window seat par bath jane do" you be like:- pic.twitter.com/xYjTP9tvVd

— Pranjul Sharma 🌞 (@Pranjultweet) November 4, 2018
When you get a window seat but later realize that you got a wrong Mumbai Local. pic.twitter.com/ww7i3OjeJO

— Thain Thain Chikna (@Madan_Chikna) November 4, 2018
The tall stature of a man can only be judged by the fact how grounded he is.

Here is Ravi Shastri Ji, travelling in Mumbai local train.

Still you doubt his character.

😁😀#IndvWI #HappyBirthdayVirat #happydhanteras pic.twitter.com/sB0J8Dkscf

— Baklol Bhoora (@BaklolBhoora) November 5, 2018
Ravi shastri if rohit becomes permanent captain 😂😂😂#MakeRohitIndianCaptain pic.twitter.com/iKP5WOjCJL

— R E B E L (@Gadhvilaxman) November 4, 2018
When Virat Kohli prefers to celebrate his birthday with Anushka Sharma.. pic.twitter.com/yydh6t2AaC

— Sameer Allana (@HitmanCricket) November 6, 2018
#RaviShastri
When someone says 'To reach Virar take the local' and you hear ' To reach Virat take the local' pic.twitter.com/kWGsGwn0MC

— Faking News (@fakingnews) November 5, 2018
When BCCI ditch you from main coach.#IndvWI pic.twitter.com/lBGm3j2wHi

— Bad Hindu Jokham (@docjokham) November 4, 2018
When BCCI ask Cricket Australia to ban Alcohol on Australian tour.#INDvWI #INDvAUS pic.twitter.com/zaDpUYh2CQ

— Tabrez (@its_tabrez_) November 4, 2018
when BCCI is in talk with Anil Kumble pic.twitter.com/3t7Ccm5Rn8

— अय्यया सुकू सुकू (@DoubleDoor19) November 5, 2018
When the BCCI sends you back home after your diwali night bar bill exceeded the team's budget. pic.twitter.com/TQuec5YGCr

— Vinod Ramnath (@NaanumEngineer) November 6, 2018