Twitter Reaction: Washington Sundar turns the tide in RPS favour with decisive spell
Sundar's 3/16 helped RPS get a tight grip on the 1st qualifier against Mumbai Indians at Wankhede Stadium.
Updated - May 17, 2017 12:12 am
5.9K Views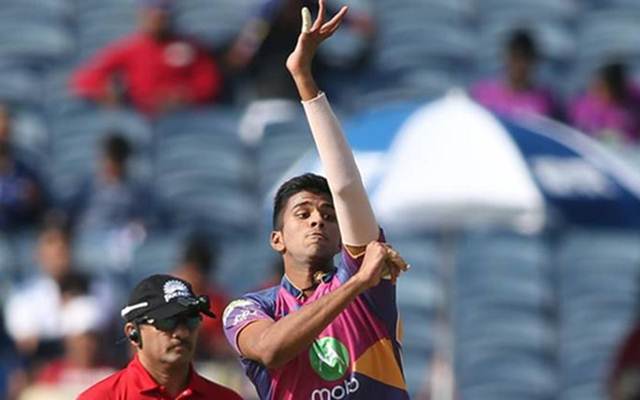 Mumbai Indians did a reasonable job with the ball till Dhoni razed McClenaghan and Jasprit Bumrah in the final two overs to take RPS's score to 162/4. The score looked good on a slow Wankhede pitch where batsmen struggled to time the ball. In pursuit of 163, Mumbai's innings was off to a good start till a 17-year old Washington Sundar ran havoc.
After reaching 35 for no loss, Lendl Simmons lost his wicket courtesy a freak run-out. Parthiv Patel struck one firmly down the ground only to hit the stumps at the non-striker's end before it touched the fingers of the bowler, Shardul Thakur. Simmons had backed too much and had no chance to return back to the crease and had to make the long walk back to the dugout for a sluggish 5 off 13.
Washington Sundar joins the party
After conceding 8 runs from his first over, Sundar was called back by Smith to bowl the 6th over. This was a good move by Smith as teams tend to target the final over before the fielding restrictions are lifted so he was taking a gamble with Sundar's fast off-spinners. The 17-year old first removed Rohit Sharma off the first ball of the over. Rohit was looking to sweep the off-spinner but the ball was too quick to play that shot and the MI skipper was struck on the pads right in front of the stumps. The umpire raised the finger but the replays suggested that Rohit had hit it. It was a big break for RPS as Rohit could have taken the game away from them.
Rayudu walked into bat at No. 4. The Man of the Match of the last game did the big mistake of taking the rookie spinner lightly as he decided to pull one that wasn't too short only to find the safe hands of Steve Smith at short mid-wicket. Sundar's double strikes turned the game in RPS's favor and Mumbai from then on was left way too behind in the game.
Sundar was not done yet, in the next over he got the big fish Kieron Pollard in identical fashion to Rayudu's dismissal except that Pollard hit it off the front foot. Smith was alert again at short mid-wicket to take another low diving grab to reduce Mumbai Indians to 51/4 after 8 overs.
Sundar finished his spell off brilliantly by giving just 4 runs in his last over, which was the 13th of the game. His outstanding figures of 3/16 were worth its weight in gold and might eventually help Pune to get into the finals.
Here are the best twitter reactions to Sundar's outstanding spell:
Washington bowled consistently fast (speed range: 99.0kph-102.9kph) and stump-to-stump. Simple but very effective. #IPL pic.twitter.com/waymes9lAY

— Freddie Wilde (@fwildecricket) May 16, 2017
Has Washington Sundar won Rising Pune the match with his effort?https://t.co/fM7cM98q4Y #MIvRPS #IPL pic.twitter.com/gZHhXobZMb

— ESPNcricinfo (@ESPNcricinfo) May 16, 2017
Ati Sundar, Washington !

— Virender Sehwag (@virendersehwag) May 16, 2017
Washington Sundar is no Napoleon Einstein, but it's still a terrific name.

— Hassan Cheema (@mediagag) May 16, 2017
Sundar actually Washed a ton#MIvRPS

— Professor GyaanCho™ (@thehasnainraza) May 16, 2017
A 17 year old Tamil kid owning Ambani & his team that too on their own territory.

The name is Washington Sundar ? #MIvRPS

— Yokesh (@ImYokEsH) May 16, 2017
Washington Sundar (17 years, 223 days) is the youngest to take a 3-wkt haul in IPL history, beating Kamran Khan (18y, 44d) #MIvRPS

— Bharath Seervi (@SeerviBharath) May 16, 2017
Washington Sundar is just 17, and he's delivering it on a big day in front of Dhoni & Sachin. And here, I'm.. ??

— CSK Gautham ? (@gauthaCm) May 16, 2017
Sanju Manju just said Washington Sundar as Washing Sundar. Trust Sanju Manju as it will be Washing Powder by the next match! #IPL #RPS

— Keh Ke Peheno (@coolfunnytshirt) May 16, 2017
Least runs conceded by bowlers having an age less than 20 in an IPL match:

15 Kamran Khan
16 Piyush Chawla, WASHINGTON SUNDAR*#MIvRPS

— Umang Pabari (@UPStatsman) May 16, 2017
Washington Sundar (17 years, 223 days) is the youngest to take a 3-wkt haul in IPL history, beating Kamran Khan (18y, 44d) #MIvRPS

— Bharath Seervi (@SeerviBharath) May 16, 2017
What a brilliant spell from Sundar. 4 overs 3-16, ATI SUNDAR! #MIvRPS #IPL

— Vibhor (@dhotedhulwate) May 16, 2017
Washington Sundar's 3/16 is going to be match winning ??? #MIvRPS

— Samreen Razzaqui (@SamreenRazzaqui) May 16, 2017
What a spell this for Washington Sundar! #MIvRPS #IPL

— HoldingWilley ? (@holdingwilley) May 16, 2017
3/16 for Washington Sundar! Terrific bowling! #MIvRPS

— Nikhil Mane ??? (@nikhiltait) May 16, 2017
Washington, you Sundar, I
mean, beauty. 4-0-16-3.#MIvRPS

— Ankit Pandey (@Cricket_Ankit) May 16, 2017
0️⃣0️⃣1️⃣0️⃣6️⃣1️⃣W0️⃣0️⃣W0️⃣1️⃣0️⃣1️⃣1️⃣1️⃣0️⃣W1️⃣1️⃣0️⃣1️⃣0️⃣1️⃣

Washington Sundar recorded his best figures in #IPL: 4-0-16-3 #MIvRPS

— TheField (@thefield_in) May 16, 2017