'Lord Riyan is BACK!' - Twitter flabbergasted as Riyan Parag returns in must-win game for RR against PBKS
In six matches, Parag has got a meagre 58 runs at a poor average of 11.60.
Ahead of the must-win clash against Punjab Kings (PBKS), Rajasthan Royals (RR) announced a rather peculiar change in the setup as Riyan Parag is set to take the field for the franchise. Notably, the Men in Pink lock horns with Shikhar Dhawan's Kings at the Himachal Pradesh Cricket Association (HPCA) Stadium in Dharamsala on Friday, May 19.
With a playoff spot at stake, the Royals' think tank decided to back out-of-form Riyan Parag to feature in the XI against the Kings. For the uninitiated, the inaugural champions announced four major changes in the setup as Dhruv Jurel, Ravichandran Ashwin, Joe Root and KM Asif are dropped in place of Devdutt Padikkal, Riyan Parag, lethal pacer Trent Boult and Navdeep Saini.
At a crucial point in the season, Rajasthan decided to play Parag as confirmed by the skipper, who won the toss and elected to field first. It is worth noting that Parag has endured a rather forgetful season, as he has failed to contribute with the bat and instead displayed dismal performances thus far.
The 21-year-old batter has made six appearances in the top-tier league this season and has only managed to get a meagre 58 runs at a poor average of 11.60. In his last outing, which was on May 5 against the defending champions, Gujarat Titans, Parag headed to the pavilion with a score of four runs.
While his return to the XI could be a massive gamble considering that it is a must-win encounter, it remains to be seen if Parag can turn the tables around and fire for the Royals. Meanwhile, Ashwin is out of the reckoning with a back spasm, whereas Saini plays his second match for the franchise in their 14th assignment.
Rajasthan are placed sixth on the IPL Points Table with 12 points in 13 matches and require a big win to up their Net Run Rate (NRR), so as to make a strong case for the playoffs. With the inclusion of Parag in the XI, netizens have been left flabbergasted with the move.
Here is how Twitter reacted to Riyan Parag's inclusion in Royals' must-win game-
07:30 PM · May 19, 2023

Rajasthan Royals
@rajasthanroyals
🚨 4 changes 4 tonight's Halla Bol @ Dharamshala. 🔥 Jaiswal Buttler Sanju DDP Hettie Riyan Boulty Saini Zampa Sandeep Yuzi
twitter.com/i/web/status/1…

07:35 PM · May 19, 2023
Riyan parag playing again 😭😭?? This franchise will never learn 🤡🤡 Why does the captain back him so much
07:33 PM · May 19, 2023
Peeyush Sharma
@peeyushsharmaa
Shankar Raika
@ShankarRaika51
07:42 PM · May 19, 2023
07:48 PM · May 19, 2023
Riyan parag, DDP and Navdeep saini in the same XI 😭😭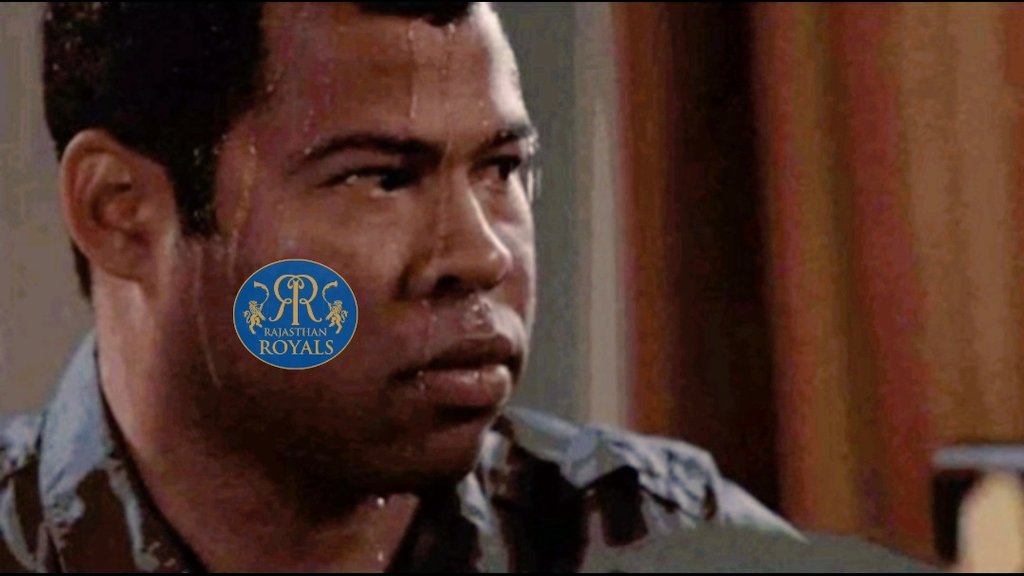 07:20 PM · May 19, 2023
Riyan Parag is back… I pity Sanju, Buttler, Yashaswi, Yuzi and all other hardworking players… it's a sin to be playing under this corrupt management.
@rajasthanroyals
07:35 PM · May 19, 2023

Rajasthan Royals
@rajasthanroyals
🚨 4 changes 4 tonight's Halla Bol @ Dharamshala. 🔥 Jaiswal Buttler Sanju DDP Hettie Riyan Boulty Saini Zampa Sandeep Yuzi
twitter.com/i/web/status/1…
Sɯαƚαɳƚɾα Jαιɳ❤️
@itz_SKJain
07:31 PM · May 19, 2023

Rajasthan Royals
@rajasthanroyals
🚨 4 changes 4 tonight's Halla Bol @ Dharamshala. 🔥 Jaiswal Buttler Sanju DDP Hettie Riyan Boulty Saini Zampa Sandeep Yuzi
twitter.com/i/web/status/1…

Vikas Padiyar
@VikasPadiyar1
07:30 PM · May 19, 2023

Rajasthan Royals
@rajasthanroyals
🚨 4 changes 4 tonight's Halla Bol @ Dharamshala. 🔥 Jaiswal Buttler Sanju DDP Hettie Riyan Boulty Saini Zampa Sandeep Yuzi
twitter.com/i/web/status/1…

\/@®$|-|@🇮🇳
@Varsha57392072
07:29 PM · May 19, 2023

Rajasthan Royals
@rajasthanroyals
07:28 PM · May 19, 2023