Twitter Reactions: Delhi Capitals choke SRH in the 156-run chase in Hyderabad
SRH lost 8/15 in the chase and slumped to their third consecutive defeat.
Updated - Apr 14, 2019 11:50 pm
1.9K Views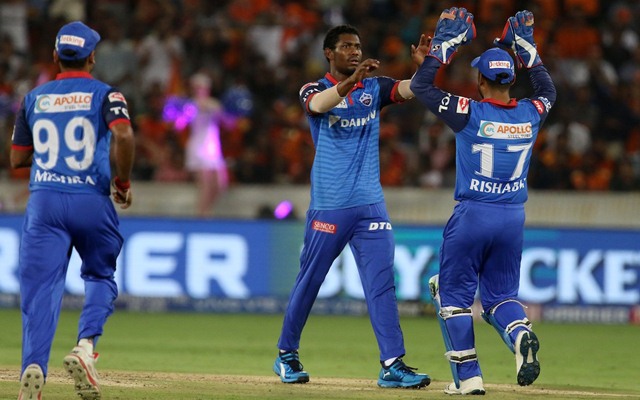 Follow us on Telegram
The Sunrisers Hyderabad (SRH), like the Kolkata Knight Riders (KKR), have lost three on the bounce now. The break didn't work wonders for them and a few changes to the playing XI led to the Orange Army going down in a hap in the chase. Delhi Capitals (DC) had challenged them in their own den and the visitors, despite posting an under-par total bowled beautifully with all the heart to win their fourth away game of the season
After losing the toss, the Capitals openers Shikhar Dhawan and Prithvi Shaw couldn't give the team a good start. Khaleel Ahmed, playing his first game of the season, sent back both of them in the first two overs of his spell. Colin Munro and Shreyas Iyer came together at 20/2 and stitched a decent 49-run stand for the third wicket. Just when the Kiwi batsman was looking dangerous to take the game away from the home team, the SRH debutant Abhishek Sharma snaffled him.
Rishabh Pant came out and along with Iyer, kept the team ahead as the Capitals looked set for a good score. But when they tried to force the pace, both the batsman were dismissed in the space of three balls. They struggled to get the final flourish and eventually finished on just 155 runs for the loss of seven wickets after 20 overs.
SRH middle-order once again succumbs to pressure
The SRH openers Jonny Bairstow and David Warner looked to be running away with the game in the chase. The former once again was in good nick and slammed 41 off 31 deliveries in the 72-run opening stand. Everything was going by now for the Orange army. But the first wicket slowed down the proceedings even as Kane Williamson was dismissed by Keemo Paul.
The ball got older and is became tough to score. Warner also struggled during his 51-run knock in the middle and his wicket triggered an exceptional collapse. From being comfortable at 101/2, they stunningly went down to 116 all-out as the Capitals won the game by 39 runs. The run-scoring became difficult and all the SRH batsmen were desperate to force the pace with the required run-rate soaring.
Eventually, they could add nothing and were bundled out with more than one over to spare. While Kagiso Rabada returned with the figures of 4/22, Paul and Chris Morris shared six wickets equally. The Capitals have now climbed to the second position in the points table with five wins to their name and are looking a team to beat.
Here's how Twitter reacted:
and with that result, exactly half the number of games of #IPL2019 have been completed! #SRHvDC

— Gaurav Kalra (@gauravkalra75) April 14, 2019
Rabada is a STAR! Big win for #DC. Gives fillip to prospects of winning the title. Beating #SRH not easy & on their turf even more difficult. Hyderabad didn't plan run chase properly. Undecided on how much and who to attack. Also Bhui batting ahead of Shankar?!

— Cricketwallah (@cricketwallah) April 14, 2019
2nd place here we come – Yeh Hai NAYI DILLI – runs by Axar and Paul critical – superb bowling and fielding display – fantastic captaincy – come on @DelhiCapitals you beauty!!!!! @SGanguly99 and Ricky Ponting. #ThisIsNewDelhi

— Parth Jindal (@ParthJindal11) April 14, 2019
Dei Sunrisers what are you doing? You just delhi-ed yourself after 10 overs in that Chase! #ipl2019

— maxdavinci (@maxdavinci) April 14, 2019
15 runs, 8 wickets – the last 23 balls… #IPL2019

— Innocent Bystander (@InnoBystander) April 14, 2019
What a win Delhi, 10 points on the table…. Rabada has brought so much fortune to this side and they've now won 4 consecutive games, move to the second in Points Table.#IPL2019 #SRHvDC pic.twitter.com/34gEffGspu

— Abhijeet ♞ (@TheYorkerBall) April 14, 2019
@KagisoRabada25 is the real speedster. #IPL2019

— Anant Sharma (@anants838) April 14, 2019
8 wickets for just 16 runs. Is this even SRH? #IPL2019

— Rushabh hingwala (@rushabh71998) April 14, 2019
#SRH is the only team who play with only 2 batsmen 😂#SRHvDC #IPL2019

— 🇮🇳 ρ૨αƭყ ᏟՏᏦ 🇮🇳💞⚔💞 (@Pratyush_Raj_) April 14, 2019
Kagiso Rabada takes three catches and four wickets…

Keemo Paul takes two catches and three wickets.
Proper all-rounder show! #IPL2019

— IPL 2019 (@IPL_T20_2019) April 14, 2019
Think this might be the epitome of a batting collapse #SRHvDC #IPL2019 #IPL pic.twitter.com/ggKFugeHvC

— Sporting Comments (@Sp0rtingComment) April 14, 2019
SRH middle order be like -👇👇👇#SRHvDC #IPL2019 pic.twitter.com/CyfN5fxmes

— Gaurav Gambhir (@GauravGambhir16) April 14, 2019
RABAADAAAAAA!!!
MORRRISSSS!!
KEEEMMO!@DelhiCapitals!!!!!! 🔥🔥🔥🔥

WHAT A WIN! SECOND SPOT, HERE WE COME!!! #DC #IPL2019

— Shubh AggarWall (@shubh_chintak) April 14, 2019
Hey @SunRisers, Bring back experienced player like yusuf pathan in playing 11. He may not be consistent but he can win matches for your team on his days. #SRHvDC #IPL2019

— Sohail (@sohailrocks11) April 14, 2019
#SRHvDC #IPL2019
SRH middle order these days ……. pic.twitter.com/5NHKYaiZ5c

— Sunny Saharan (@SunnyS_111) April 14, 2019
RCB gives free Points to opponents and Our #SRH gives free Wickets + ree Points… Wotta big 💓👏 @SunRisers #SRHvDC #IPL2019 #VIVOIPL2019

— Furqan Sheikh (@im__furqan) April 14, 2019
101/3 to 116 runs All out….
Anchor – "what's reason behind the back to back wickets?"

Kane – "Bhai Kal subah 6:30 baje uthakar #GameofThrones dekna hai"#SRHvDC #IPL2019 #ValarHotstar

— Dhavan Kadia (@dhaone110) April 14, 2019
The young, underrated, underdogs (Delhi Capitals) have decimated 3 top favourite teams this year! All because of good team effort and having a strong belief.. #IPL2019 @DelhiCapitals #SRHvDC
the table is open!

— Atharv Patil (@imatharvpatil19) April 14, 2019
@DelhiCapitals at number 2 in points table😁 #IPL has evolved #SRHvDC #IPL2019 #DCvSRH pic.twitter.com/yHyvyQ6yQh

— Deepak (@imdeepak1599) April 14, 2019
Earlier Tahir, now Rabada and Morris. South Africans are just rocking in bowling performances. Great to see them #SRHvDC #SRHvDC #IPL2019

— Shivam Ojha (@Shivamsd777) April 14, 2019
Imran Tahir running with the purple cap and Rabada chasing him down has been the story of this IPL.#Rabada #Tahir #SRHvDC #IPL2019

— B.E.ing Engineer (@brightbharath) April 14, 2019
This is amazing!
21 balls
15 runs
8 wickets#ThisIsNewDelhi #DelhiCapitals #IPL2019 @SGanguly99 @DelhiCapitals
Game of @IPL #IPL12

Unbelievable
I thought it was a bad captaincy but not
👍👌👏👏

— Naved Alig (@Navedali1988) April 14, 2019
Jonny + Warner = 92 runs
Total Hyderabad runs= 116 🤭
Worst middle order in THIS #IPL2019 #SRHvDC

— #PKMKB (@madmax29580547) April 14, 2019
Kagiso Rabada once again proved why he is one of the best in all forms of cricket. He is one of the fewest out there who is actually bowling Yorkers in the death overs while most of the bowlers seem to have forgotten what Yorkers are!! #SRHvDC #IPL #IPL2019

— Kaushik Dasari (@KaushikDasari) April 14, 2019
Incredible bowling performance!
8 wickets have fallen inside 16 runs.

Delhi's pace bowling attack is probably the best in this season.#SRHvDC #IPL2019

— Amrinder Singh Juneja (@18AmrinderSingh) April 14, 2019
This @DelhiCapitals side are the dark horses for this IPL. Coming out on top with another fine victory. A young squad and captain with some fantastic talent there. Not to forget the management. #SRHvDC #IPL2019

— Avee Sekhar (@avee_united) April 14, 2019
For the first time since #IPL season 1, I feel like telling the world that I am a #Delhi Capitals fan.#SRHvDC #SRHvsDC #DCvSRH #DC #IPL2019

— IntelliJester (@IntelliJester) April 14, 2019
Follow us on Google News