Twitter Reactions: Jaydev Unadkat goes to Rajasthan Royals in the auction
He was listed at a base price of INR 1.5 crore.
Updated - Dec 18, 2018 5:04 pm
426 Views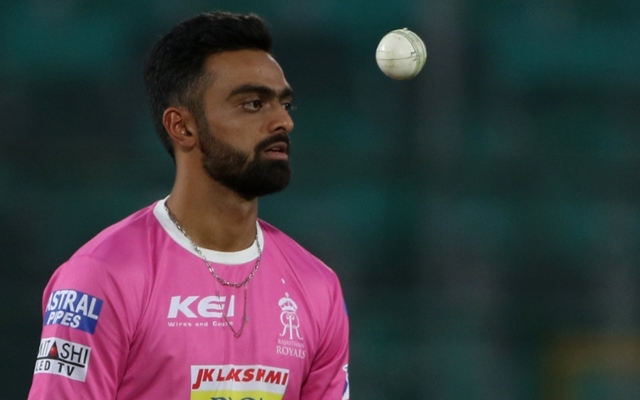 Follow us on Google News
In the 2017 edition of the Indian Premier League (IPL), left-arm fast bowler Jaydev Unadkat played brilliantly for Rising Pune Supergiant, captained by Steve Smith. His superlative performances with the ball caught the eyes of the selectors and he was drafted into the Indian national team as well. However, he couldn't quite replicate his performance in Indian colours.
Thereafter, he was listed in the auction at a base price of INR 5 crore and teams went all out for the Porbandar-born speedster. Rajasthan Royals, captained by Ajinkya Rahane, shelled out a humungous 11.5 crores for him. However, he couldn't live up to expectations by any stretch of the imagination. The pacer played 15 matches and could only manage 11 wickets.
Unadkat goes big again
Most importantly, he conceded runs at an alarming economy rate of 9.65. Ahead of this year's auction, the Royals decided to release him. He was subsequently listed at a base price of INR 1.50 crore and bearing in mind his show last year, he wasn't expected to attract significant bids this time around, However, the 27-year-old yet again for a massive price.
Delhi Capitals and the Royals started the bidding for Unadkat. After his price went to 4.80 crores, Chennai Super Kings (CSK) went after him. After a while, Kings XI Punjab (KXIP) also joined and they gave the Royals a run for their money. Following an intense bidding war for quite some time, the Royals eventually picked him up for a colossal INR 8.4 crores.
He also became the costliest player by then. Unadkat is currently plying his trade for Saurashtra in this year's Ranji Trophy and he has done reasonably well with his figures of 7/86 against Chattisgarh being his best bowling figures. Following his huge bid, the supporters on Twitter shared their opinions on the massive bidding.
Here is how Twitter reacted
We live in a world where malinga goes for 2 crore, and Jaydev Unadkat goes for 8.4 crore #IPLAuction

— #AUSvIND Indian cricket (@CricketTweetsIN) December 18, 2018
Rajasthan Royals and Jaydev Unadkat are like Hrithik Roshan and Sussane Khan. You think they are done with each other, but they are not. #IPLAuction

— SAGAR (@sagarcasm) December 18, 2018
Rajasthan Royals buying Jaydev Unadkat for 8.4 cr…#IPLAuction pic.twitter.com/U8dYtpT0eX

— Chinmay Jawalekar (@CricfreakTweets) December 18, 2018
Why on earth jaydev unadkat is back in @rajasthanroyals #IPLAuctions #rr

— Sibin Mathew (@sibin_mathew25) December 18, 2018
8.4 cr for Jaydev Unadkat is simply unbelievable..🤷🏼‍♂️🤔 #IPLAuction

— Madan (@FullFaceOfBat) December 18, 2018
The way Jaydev Unadkat & Axar Patel are going, they'll become billionaires just by appearing in these auctions. #IPLAuction

— Nimit (@nimitarora1991) December 18, 2018
Rajasthan tried to bid for Ishant and shami and failed, but they managed to bid for jaydev unadkat for 8.4 crores, 🙄 you could have bought both in it #IPLAuction

— pammy (@PammyWani) December 18, 2018
Jaydev Unadkat 8.40 CR.
Unadkat ne Pkka Koi jadu-tona kra h RR pr 🙄😂#IPLAuction

— Prince 🇮🇳 (@iPrince55) December 18, 2018
Economy of 9.65 during IPL 2018
Average of over 44
11 wickets in 15 matches
Jaydev Unadkat gets sold for 8.4 Crores.

IPL, you drunk, bro?

— अर्बन बुकरैत (@Badka_Bokrait) December 18, 2018
Rajasthan Royals gets Jaydev Unadkat for 8.40 crores#IPLAuction #IPL2019Auction pic.twitter.com/2CLIGMZsOL

— Luke (@LukeCrain_) December 18, 2018
Jaydev Unadkat mein aisi kya aatishi takat hai bhenchho ??? Rs. 8.4 Crore 😳😳😳#IPLAuction #IPL2019Auction #IPLAuction2019 #IPL2019 #IPL

— Chirag Bhaiya (@chiragbhaiya) December 18, 2018
Jaydev Unadkat'e economy in IPL is 9.2. his bidding price of 8.4cr just fell short of that! Horrendous! @cricbuzz #IPLonCricbuzz #IPLAuction

— Anupam Singh (@Singh24Anupam) December 18, 2018
Jaydev Unadkat has been sold for a price which is almost equivalent to the budget SRH had for IPL 2019.

— Varun Parkal (@VarunParkal) December 18, 2018
Jaydev Unadkat comes back to Rajasthan Royals for 8.4 crores, You have got to be kidding me?! 😬😣 #IPLAuction

— Arjun (@LifeIsAnElation) December 18, 2018
Decent bowler like Ishant Sharma is sold for 1.1 cr and maha ghatiya bowler like Jaydev Unadkat is sold for 8.4 cr. What a scam !! #IPLAuction

— Funnily Serious (@notionalview) December 18, 2018
RR released Jaydev Unadkat for 11.5cr and got him back for 8.4cr. Well played RR. What has he done to deserve that? #IPL2019 #IPLAuction

— Pavit (@pavitkohli28) December 18, 2018
I find Jaydev Unadkat to be very overrated player. The left-arm pacer goes to @rajasthanroyals for 8.40 cr.#IPLAuction #IPLAuction2019 #IPLAuctions

— Bhartendu Sharma (@Bhartendulkar) December 18, 2018
Why too much? #IPLAuction Jaydev Unadkat:

2018 Auction: 11.5cr to RR

2019 Auction: 8.4cr to RR

— Sandeep One8 (@Deep_SanOne) December 18, 2018
Rajasthan Royals to Jaydev Unadkat#IPLAuction pic.twitter.com/FE9KOFB68F

— neshu (@connect2ns) December 18, 2018
What's all the rage with Jaydev Unadkat? #IPLAuction

— Nishant Sabnis (@nishant_cricket) December 18, 2018
Follow us on Telegram