Twitter sees the lighter side of the banter between Tim Paine and Rishabh Pant
"I tell you what, big MS (Dhoni) is back in the One-Day squad, we might get (Pant) down to the Hurricanes, this bloke," Paine said to Pant.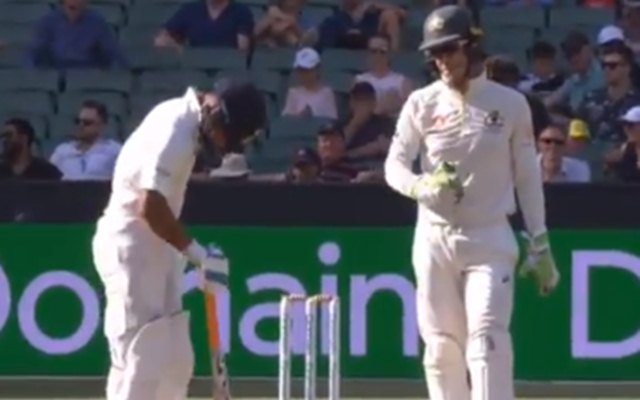 Follow us on Telegram
The Indian tour of Australia has generated a lot of buzz. Both teams have produced tremendous entertainment to the crowd with regards to the on-field performances as well as a bit of sledging. While the Baggy Greens managed to reduce India to 54/5 at stumps, the visitors still have an upper hand with a lead of 346 runs.
Throughout the tour, we have seen a lot of exchange of words between players from both the teams. Earlier, Virat Kohli engaged in a mouthful in the previous game. Rishabh Pant has also been chatting a lot behind the stumps. In spite of all the banter, the good thing about it is nobody has crossed the line.
Tim Paine has been at the center of it when it comes to Australia. Whether it was an attempt to rile up Cheteshwar Pujara or to distract Rohit Sharma, the Aussie captain has not stepped back at all. Indeed he has produced top banter all around. Hence it was no surprise when he decided to go after Rishabh Pant just before stumps on Day 3.
Paine offers a babysitting role to Pant
The Australian captain offered him to play the Big Bash League (BBL) since he was left out of the One-Day International squad while also asking him to come over for dinner and take care of his kids.
"I tell you what, big MS (Dhoni) is back in the One-Day squad, we might get (Pant) down to the Hurricanes, this bloke. We need a batter. Fancy that, surely, extend your little Aussie holiday, Beautiful town Hobart too. Get you a nice apartment on the waterfront. Have you over for dinner you Babysit? I'll take the wife to the movies one night and you'll look after the kids," Paine was heard saying to Pant on the stump mic.
The banter induced different reactions from the Twitter community. While most of them enjoyed it, few weren't in the mood to accept it. However, it was good to see everything happening in good spirits with some harmless sledging. With Tim Paine expected to come out to bat in the fourth innings, it will be interesting to see how Indian players retaliate.
Here's the video:
"Big MS Dhoni is back in the one-day squad. We might this bloke down at the @BBLHurricanes."@tdpaine36 had a lot of fun with @RishabPant777 out in the middle 😂😂😂 pic.twitter.com/2WbivIuMWd

— Telegraph Sport (@telegraph_sport) December 28, 2018
Here are some of the tweets:
Hey @MClarke23 do you see the banter between Paine and Pant? Much better than "get ready for a broken arm". Less shameful on the country to.

— Flashpoint (@Flashpo14772698) December 28, 2018
Tim Paine wants pant to show his 20 20 game here
Then pant hits four 😂😂

— 007 (@Chaitu_jalsa) December 28, 2018
Tim Paine offers Rishab Pant a @BBL contract, an apartment and a babysitter role. 😂😂😂 https://t.co/MOWNuoqqTS

— Farhan Bashir (@I_m_Farru) December 28, 2018
Tim Paine and Rishabh Pant should do stand up comedy when their careers are over . I do love the chit-chat behind the stumps . #AUSvsIND

— Aristidis Sialepis (@Sialepis69) December 28, 2018
I love test cricket 🏏🏏🏏 listening to Tim Paine sledging Pant 😂🤣 #AUSvsIND

— Apiwe Fali (@alfali44) December 28, 2018
Love the way Paine & Pant did commentary in this test series!

Better than all Commentators 🤣

Future preparation is going good..#AUSvIND

— HappY 🇮🇳 (@Cricketician_) December 28, 2018
Hope Pant gives Paine some Delhi banter. Babysitting rates you know?
Paine's only commendable achievement in his 8 year old career is being stand in captain..

— Shivam (@simplyshivam08) December 28, 2018
Didn't find the latest Paine sledge against Pant funny..

— Harisankar (@harish_staycalm) December 28, 2018
Tim Paine is a big comedian he invites Rishabh Pant to #BBL as he is dropped from ODI team.#BBL08 #AUSvIND

— Ram's 🇩🇪 (@ChefDhungel) December 28, 2018
Paine's almost put the mockers on Pant. Gets him to loft one down the ground after dishing it out on the stump mic.

"Guess what, MS is back in the ODI squad, time to get him for the Hurricanes. Do you babysit?"#AUSvIND

— Srinath (@srinathsripath) December 28, 2018
Pant and Paine, some good banters from behind the stumps.😂🔥 #INDvAUS

— Adlee Sharon (@adlee_sharon) December 28, 2018
Tim Paine offering to look after Pant's kids so he can take his wife to the movies if Pant comes to Hurricanes 😂😂 #AUSvsIND

— Cecil Terwilliger (@sam_dennis1) December 28, 2018
Sorry, Rishabh Pant – you're terrific.
But Tim Paine is now my favorite commentator.#AUSvIND

— Sorabh Pant (@hankypanty) December 28, 2018
I'd pay everyday of the week just to hear Rishabh Pant and Tim Paine on the stump mic…..#AUSvIND

— Bhanuprakash (@bm_bhanuprakash) December 28, 2018
I have a feeling that Tim Paine will get a babysitter job after the match is over.
Kohli will ensure justice for Rishabh Pant#INDvAUS

— Mighty Smiter (@mightyysmiter) December 28, 2018
Tim Paine:

Expectations: Six from Rohit to support Mumbai Indians.

Reality: Six wickets took by another Mumbai Indian Bumrah 😃

— CricBeat (@Cric_beat) December 28, 2018
What Tim Paine does could be great banter if he didn't do it all the time within every batsman's earshot. Poking fun is okay but messing with Pant on the pitch talking about Dhoni coming back is in poor taste. Take that conversation to the bar & see how Pant reacts. #AUSvIND

— Abhiusive (@AbhishekGureja) December 28, 2018
Paine is an recruitment manager in his spare time? 😂 https://t.co/hSfJV1DJET

— Kailash (@FakeTackler) December 28, 2018
Paine may not bat, captain that well but he surely does sledge well.

— Nikhil 🏏 (@CricCrazyNIKS) December 28, 2018
Kohli after Paine's banter: pic.twitter.com/3qkwyEKDQW

— Abhishek (@absycric) December 27, 2018
Haha. I reckon Paine definitely supports Mumbai now after Bumrahs 6fer. #LOLstralia #AUSvIND

— ░S░I░M░🏏🏈 (@SimUKCricket) December 28, 2018
Am thinking Paine would ask Pant for a Delhi contract in private even though he offered a Hobart contract for the world to hear.

— Russel Arnold (@RusselArnold69) December 28, 2018
For Indians to get sledged Tim Paine needs to speak slowly . Currently only the Aussie commentators are laughing 🙂 I had to hear it thrice to get the joke ! #INDvAUS

— Vikram Sathaye (@vikramsathaye) December 28, 2018
Tim paine's best performance in the series is talking and provoking the Indians , he can easily become a politician in pakistan. #AusvInd

— BING (@ya_jhakaas) December 28, 2018
Rohit Sharma should go near Tim Paine and whisper: "I didn't hit a six, because Mumbai doesn't need support of a school team captain. "

— Silly Point (@FarziCricketer) December 28, 2018
[interaction id="5c24e4e500cc6bb56adc3aa9″]
Follow us on Google News