Virat Kohli hates to see kids spend more time on gadgets
At an event, Virat Kohli spoke at length about how he spent his time during his childhood.
Updated - Sep 11, 2017 11:30 pm
237 Views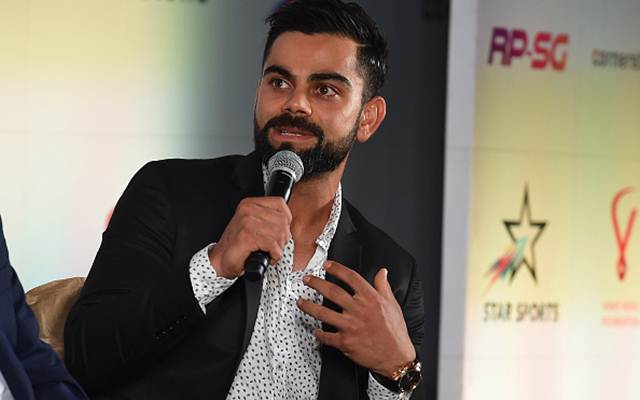 The man touted as the favorite to eclipse the legendary Sachin Tendulkar, Virat Kohli has attained great stardom at such a young age. The Indian skipper across all formats has been in terrific form recently and he managed to score his 30th ODI ton, equalling the immortal Ricky Ponting's centuries tally. Another hundred for the lad and he will be the second best on that list and he is highly likely to get in the coming series. 
Whilst there are so many things which are going well in favor of the 28-year-old, there's something which has been annoying Kohli a lot. He spoke at length in an event about children of this generation prioritizing gadgets over many productive things and aspects of life. This indeed has been a serious issue over the last few years and the Indian captain has expressed his displeasure as well.
Kohli hails from a generation where kids spent a lot of time playing in the sun, which benefits the kids a lot in the long run. This not only helps them maintain their physical fitness but also allows their mind to open up and eradicates laziness. Kohli said he loved spending time with his friends in the parks and streets playing various games.
"Kids nowadays spend more time on phones and i-Pads. In our days, we used to be out and spend more time playing on the fields, streets, and parks. I remember in my childhood if any one of my friends had a video game, we had to plan out when we all will gather at his house to play that game," Kohli said.
Kohli to launch "Indian Sports Awards"
Virat Kohli also announced in this event that his foundation will be conducting the "Indian Sports Awards" this November in collaboration with Sanjiv Goenka, the chairman of RP- Sanjiv Goenka group. They will be felicitating all sports persons from India who managed to bring laurels to the country with their spectacular renditions in various sports.
He also promised great financial aid to all these sports persons as well. The Virat Kohli Foundation will be providing a sum of Rs. 2 Crore annually to these athletes. The categories in which the awards will be presented will be out soon and the presentation will take place on November 11.