Virender Sehwag replies to birthday wishes in a hilarious way
Sehwag also hinted that he was grateful for the support his former captain Anil Kumble gave him during their playing days
Updated - Oct 20, 2017 10:28 pm
3.2K Views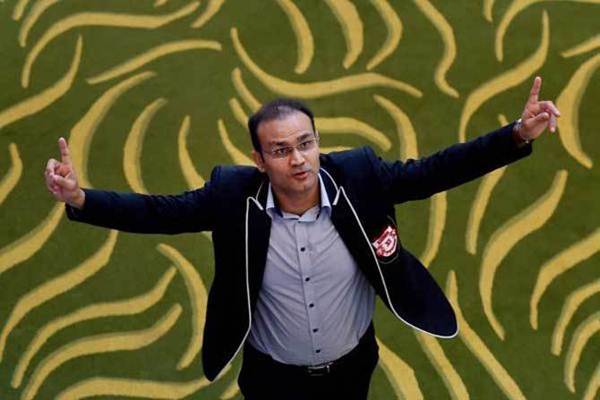 Virender Sehwag celebrates his 39th Birthday today (October 20)) and while the wishes started pouring in from early morning for India's most explosive opening batsman, he was his usual cheeky self while thanking fans and former team-mates for their wishes. From Sachin Tendulkar to Ajinkya Rahane, from Suresh Raina to Chris Gayle, Sehwag had something to say for everyone.
Sehwag christened Parthiv Patel as "chhota chetan" (a famous movie title) while he asked a neglected Suresh Raina to continue working hard as he said, "lage raho." Sehwag also hinted that he was grateful for the support his former captain Anil Kumble gave him during their playing days. "Owe a lot to your support," is how Viru responded to Kumble.
Before retiring in October 2015, Sehwag played 103 Tests for India and scored 8,586 runs with 23 hundreds, 32 fifties at an average of 49.34.  Sehwag scored his Test runs at a strike rate of 82.33, while his 8273 ODI runs in 251 matches came at a strike rate of 104.33. In totality, he had 15 ODI hundreds and 38 half-centuries.
Known as one of the most destructive batsmen of all times, the 'Nawab of Najafgarh' holds the Indian record for the highest number of Test double-hundreds, and came within seven runs of becoming the only first batsman to score three triple-tons.
His swashbuckling ways are not limited to just on-the-field, it extends off-the-field. He has revolutionized the social media game like no former cricketer has and is vocal about his opinions. His Hindi commentary has also won him many loyalists who use his one-liners on Twitter.
Also read: Cricketers wish Virender Sehwag on Twitter as he turns 39
Most of the wishes were an attempt to replicate his own quirky tweets, but he once again showed how he's far ahead in the social media game than anyone else as he replied to all of the wishes laced with wit.
See some his replies to birthday wishes here:
Many happy returns of the day virupa..keep shining…#legend @virendersehwag pic.twitter.com/aikuXgbsHd

— parthiv patel (@parthiv9) October 20, 2017
Thank you dearest Chota Chetan ! https://t.co/i9P2Q8UXyj

— Virender Sehwag (@virendersehwag) October 20, 2017
Happy b'day to some1 whose name is synonymous with d word destruction. Always a nightmare for d bowlers Wish u d best @virendersehwag paaji pic.twitter.com/bmRSVcqdRY

— Suresh Raina (@ImRaina) October 19, 2017
Thank you Suresh. Lage raho , waqt zaroor aayega ! https://t.co/scJfm3Jt7O

— Virender Sehwag (@virendersehwag) October 20, 2017
Many Happy returns of the day @virendersehwag . Have a great year ahead! pic.twitter.com/XStvJLNJgX

— Anil Kumble (@anilkumble1074) October 20, 2017
Thank you Anil Bhai. Owe a lot to your support. https://t.co/mx24b1I3OX

— Virender Sehwag (@virendersehwag) October 20, 2017
Happy birthday legend, @virendersehwag may the lord bless you to see many more. ????

— Chris Gayle (@henrygayle) October 20, 2017
Thank you very much Universe Boss @henrygayle https://t.co/0wVYAQE9cT

— Virender Sehwag (@virendersehwag) October 20, 2017
Happy bday @virendersehwag Thanks for teaching us the meaning of the word Fearless!Wish I could have seen one 300 from the non strikers end!

— ajinkyarahane88 (@ajinkyarahane88) October 20, 2017
Thank you very much Ajinkya ! I wish and hope that you yourself score one and I watch from the commentary box ! https://t.co/bKiQNe8OBV

— Virender Sehwag (@virendersehwag) October 20, 2017
.ǝɯ ɯoɹɟ ǝuo s,ǝɹǝɥ os ˙?pןǝıɟ uo noʎ pןoʇ ǝʌɐɥ ı ʇɐɥʍ ɟo ɐʇןn ǝuop sʎɐʍןɐ ǝʌ,noʎ ˙ɹɐǝʎ ʍǝu ǝɥʇ oʇ ʇɹɐʇs ʇɐǝɹƃ ɐ ǝʌɐɥ ¡nɹıʌ 'ʎɐpɥʇɹıq ʎddɐɥ pic.twitter.com/L1XTzhzoiU

— sachin tendulkar (@sachin_rt) October 20, 2017
Thank you God ji ??Uparwala sab dekh raha hai, yeh to suna tha, par aaj samajh aaya, woh neeche waalon ke liye likhta kaise hai ! https://t.co/stdodewNuJ

— Virender Sehwag (@virendersehwag) October 20, 2017
Viru Bhai, you keep getting edgier day by day and we love it. Happy birthday @virendersehwag pic.twitter.com/zIYgPboAgB

— Rohit Sharma (@ImRo45) October 20, 2017
Thank you Rohit. Wish even your edges fly over third man. Wish you the best https://t.co/P4EnJsqrCx

— Virender Sehwag (@virendersehwag) October 20, 2017