What happened in the cricket world today – May 4
IPL 2021 has been postponed indefinitely.
Updated - May 4, 2021 9:01 pm
699 Views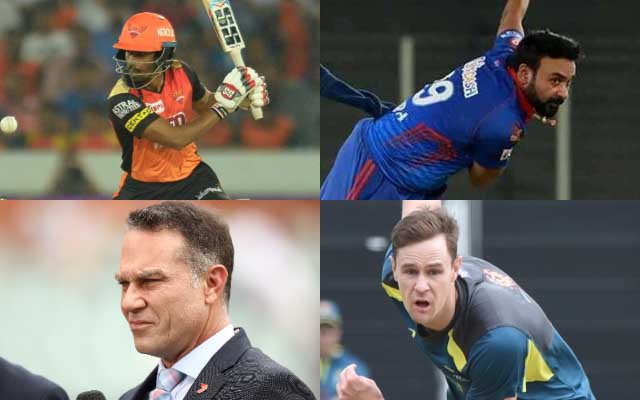 Here are all the news stories that hogged the headlines today.
1. Australian PM responds to IPL commentator Michael Slater's 'blood on your hands' comment
Australian PM Scott Morrison dismissed Michael Slaters's comment as "absurd". In a morning talk show, the PM said that the travel ban is a necessary step to ensure the security of the Australians, and it is only a temporary measure.
2. BCCI grants NOCs to four India women cricketers to take part in The Hundred
In a significant move, the Board of Control for Cricket in India (BCCI) gave No Objection Certificates (NOC) to four  women cricketers to allow them to take part in the inaugural edition of The Hundred.
3. IPL 2021: Wriddhiman Saha and Amit Mishra test positive for COVID-19
The IPL received another blow as it was confirmed that Amit Mishra, Delhi Capitals' leg-spinner, and Wriddhiman Saha, Sunrisers Hyderabad's wicketkeeper-batter, tested positive for the coronavirus.
4. Reports: BCCI turned a deaf ear to governing council's proposal of hosting IPL 2021 in the UAE
A source, on conditions of anonymity, revealed that "UAE was always the first choice of the IPL Governing Council for this year's tournament. But nobody in the BCCI showed the urgency to take the step" to get it conducted there.
5. IPL 2021: BCCI suspends the tournament indefinitely
After multiple reports of players inside the bio-bubble turned positive, the BCCI and IPL Governing Council unanimously decided to suspend the tournament indefinitely. The BCCI called the step as imperative, keeping everyone's security in mind.
6. Jason Behrendorff donates to UNICEF Australia's India COVID-19 Crisis Appeal
After a host of cricketers who have done their bit for India's fight against COVID-19, Jason Behrendorff, the 31-year-old Aussie pacer joined the list as he decided to contribute to UNICEF Australia's India COVID-19 Crisis Appeal, a movement initiated by Cricket Australia in collaboration with the Australian Cricketer's Association and UNICEF Australia.
7. Franchises request PCB in a letter to shift the remainder of PSL 2021 to UAE from Karachi
All six participating members of the Pakistan Super League tournament in a collective letter to the Pakistan Cricket Board urged to shift the curtailed tournament to the UAE instead of Karachi due to the rising cases of Covid-19 in the Asian nation in the last month.
8. Clouds of uncertainty over T20 World Cup after IPL 2021 postponed indefinitely
After the abrupt halt of the IPL, there is uncertainty rising over the fate of the T20 World Cup. The multi-country tournament is scheduled to be held in India in October. The cancellation of the IPL has messed up cricket calendars again. Meanwhile, there are speculations that the T20 WC will be shifted to UAE.
Follow CricTracker for all the latest cricket news from around the world