Yellow Strikers – Suresh Raina's team in iB Cricket Super Over League
The Yellow Strikers have got three of the best T20 players in their side.
Updated - Mar 7, 2019 12:24 pm
2.3K Views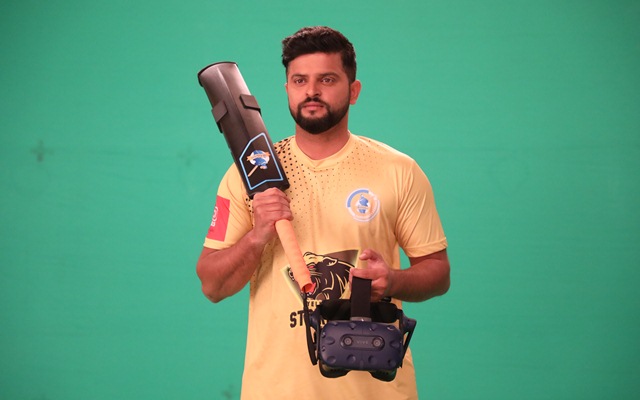 The iB Cricket Super Over League is set to take the cricketing world by a storm. The world's first ever Virtual Reality cricket league will commence from 15 March 2019 and is expected to catch the imagination of the fans all across the globe. Yellow Strikers is one of the four teams that will be taking part in the tournament and is led by India's Suresh Raina.
Each team will have three players and they will play one-on-one against each other in the league stages. The players who don't feature in the game will either be the commentators or will be rested. Even though it will be a VR contest, the tournament promises action extremely close to real life scenarios and experience. The Yellow Strikers boast of three of the biggest T20 stars in the world. Apart from Raina, that team has got Chris Lynn and Brendon McCullum on board who can rip any bowling line-up apart.
Yellow Strikers:
Suresh Raina
Suresh Raina is a T20 legend in India. He is at his best in the shortest format of the game and enjoys going after the bowlers. He has been put into super over situations several times in the past and knows the demands of this format. The left-hander has featured in over 300 T20s and scored over 8000 runs. Raina is a quick learner and can adapt to VR cricket within no time.
While his strike rate is the 20-overs format is 139, it is expected to go up manifold when he plays the league game against Harbhajan Singh. This match will be all about a Dhoni boy versus a Ganguly boy. Both these players share a great rapport and this match should be a lot of fun.
Career Stats:
ODI: Matches – 226 | Innings – 194 | Runs – 5615 | Average – 35.31 | Strike Rate – 93.50 | 6s – 120
T20: Matches – 302 | Innings – 286 | Runs – 8009 | Average – 33.23 | Strike Rate – 138.90 | 6s – 302
Chris Lynn
The Australian opener has been one of the hardest hitters of the cricket ball in recent times. Chris Lynn is so powerful that he can clear the ropes with a mere punch. Playing VR cricket should be an enjoyable experience for him and he will look to hit every ball out of the park.
Lynn will be playing the last league game of the season against Andre Russell. This should easily be one of the best contests of the season as two big hitters face each other. One could expect a lot of runs being scored in the two overs of this game.
Career Stats:
ODI: Matches – 4 | Innings – 4 | Runs – 75 | Average – 18.75 | Strike Rate – 84.26 | 6s- 3
T20: Matches – 149 | Innings – 142 | Runs – 4020 | Average – 32.68 | Strike Rate – 142.20 | 6s – 229
Brendon McCullum
The former New Zealand skipper has struggled with his form in recent times. With age, McCullum is not as powerful as he was earlier and doesn't play those breath-taking shots off the front foot much nowadays. iB cricket will provide him with a wonderful opportunity to remind his fans of the good old days. McCullum has hit nearly 500 sixes in T20 cricket alone along with 200 in ODIs and 107 in Tests.
McCullum will bring his innovation into the league when he plays the first match against Virender Sehwag. Both of them are fearless in their approach. They can find the gaps easily as well as clear the ropes at will. This Indo-Kiwi battle of the retired cricketers will sure take the fans back in time.
Career Stats:
ODI: Matches – 260 | Innings – 228 | Runs – 6083 | Average – 30.41 | Strike Rate – 96.37 | 6s- 200
T20: Matches – 370 | Innings – 364 | Runs – 9922 | Average – 29.97 | Strike Rate – 136.49 | 6s – 485
Match details of the Yellow Strikers:
| | | | |
| --- | --- | --- | --- |
| Match No | Date | Player 1 |            Player 2 |
| 1 | March 15, 2019 | Virender Sehwag (Blue Blasters) | Brendon McCullum (Yellow Strikers) |
| 3 | March 18, 2019 | Suresh Raina(Yellow Strikers) | Harbhajan Singh (Black Thunders) |
| 6 | March 30, 2019 | Chris Lynn(Yellow Strikers) | Andre Russell (Orange Chargers) |
Get the latest Cricket News and updates from iB Cricket Super Over League, Match Predictions, Fantasy Cricket Tips and lots more on CricTracker.com.