Aakash Chopra, Mohammad Kaif divided over controversial 'Mankad' rule
Both former Indian cricketers had a heated discussion on Twitter.
Updated - Feb 1, 2020 4:36 pm
939 Views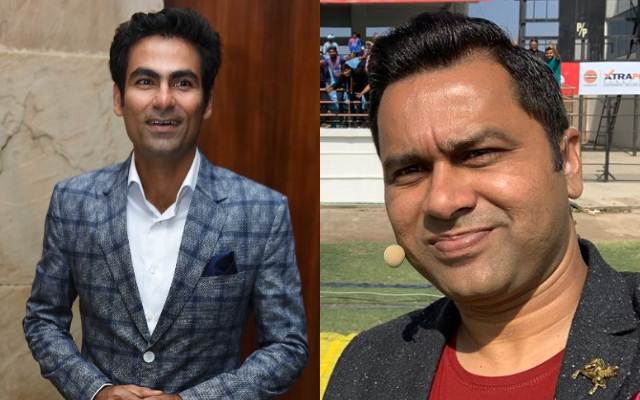 Follow us on Google News
The ever-lasting 'Mankad' controversy has surfaced yet again, this time in the ongoing U19 World Cup in South Africa. At the Willowmoore Park in Benoni, Pakistan beat Afghanistan by six wickets and progressed the semi-final of the Super League stage in the mega event. The controversial scenario took place when Rohail Nazir's Pakistan were tracking down 190 runs.
Mohammad Huraira, who made his debut, was looking ominous, having scored 64 off 76 with eight fours and one six. Pakistan had lost three wickets, but needed 63 runs in the last 22.3 overs. Noor Ahmad, Afghanistan's chinaman, was high on confidence after picking two wickets at crucial stages. But then, he ran Huraira out at the non-striker's end to spark the controversy.
Thereafter, Ian Bishop, one of the commentators, supported Ahmad's antics, saying that it wasn't out of the laws. In the meantime, former Indian cricketers, Aakash Chopra and Mohammad Kaif had a heated argument on Twitter, regarding the Mankad rule. Kaif is against the rule and said that he didn't encourage bowlers to do so. He also reckons that the ICC should look into the Mankad rule.
He took to Twitter and wrote, "Have never been a fan of this mode of dismissal, didn't ever encourage my bowlers to do this, neither at the U19 WC nor while captaining my State side. This may be legal, but so was the Trevor Chappell underarm, right? Reckon the @ICC will have to look at the law at some point,"
Here is Kaif's first tweet on Mankad
Have never been a fan of this mode of dismissal, didn't ever encourage my bowlers to do this, neither at the U19 WC nor while captaining my State side.
This may be legal, but so was the Trevor Chappell underarm, right?

Reckon the @ICC will have to look at the law at some point. https://t.co/PmB1HE5C1L

— Mohammad Kaif (@MohammadKaif) February 1, 2020
Chopra reverted, saying that the batters shouldn't leave their crease until the ball is bowled. He wrote, "On the contrary, @ICC has already looked into it multiple times and defined Laws accordingly. Isn't taking a start before the ball is bowled shortening the pitch to take unfair advantage for running between the wickets?"
Here is Chopra's reply
On the contrary, @ICC has already looked into it multiple times and defined Laws accordingly. Isn't taking a start before the ball is bowled shortening the pitch to take unfair advantage for running between the wickets? https://t.co/m8XZRPE8AL

— Aakash Chopra (@cricketaakash) February 1, 2020
Replying to Chopra, Kaif wrote, : "Dear Aakash, a stable cricket Law would not invite such contentious debates every time it is invoked. The fact that an incident like this inevitably divides opinions, implies that it may need a relook. Hence, my suggestion,"
Here is Kaif's reply
Dear Aakash, a stable cricket Law would not invite such contentious debates every time it is invoked. The fact that an incident like this inevitably divides opinions, implies that it may need a relook. Hence, my suggestion. 😊

— Mohammad Kaif (@MohammadKaif) February 1, 2020
But Chopra believes that 'the right thing should be done'. Also, he put forth that cricket is mostly a batsman's game. He wrote, "Brother, unfortunately, we still haven't evolved as a cricket audience. Debates are good. But eventually, the right thing should be done and adhered to. It's already too much of a batsman's game,"
Here is Chopra's reply
Brother, unfortunately, we still haven't evolved as a cricket audience. Debates are good. But eventually, the right thing should be done and adhered to. It's already too much of a batsman's game 🤗☺️

— Aakash Chopra (@cricketaakash) February 1, 2020
Follow us on Telegram