Arjun Tendulkar left out of U19 squads for Challengers Trophy
The tournament is scheduled to be played from November 10 to 16 in Lucknow.
Updated - Nov 4, 2018 2:24 pm
452 Views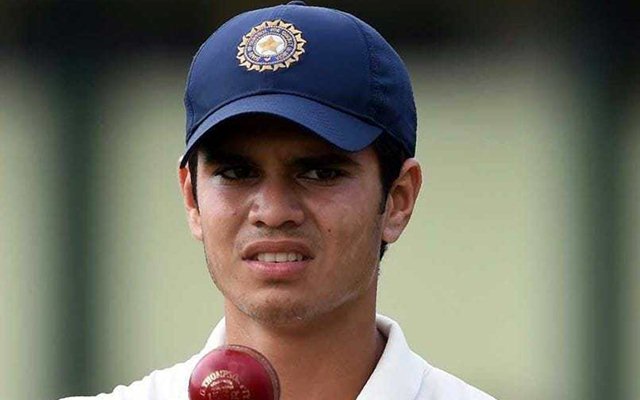 Left-arm fast bowler Arjun Tendulkar, also the son of the legendary Sachin Tendulkar, has been making the headlines for quite a while now. He has been straining of late to get into the India U19 teams. He made his debut against Sri Lanka, but only played the first-class fixtures and wasn't a part of the limited-overs team. The same was for the reason that he won't be eligible to play the 2020 U19 World Cup.
However, he has been decent with the leather in recent times. The 19-year-old picked up a five-wicket haul, representing Mumbai in the match against Gujarat in the Vinoo Mankad Trophy. His incredible spell of bowling carved a nine-wicket victory for his team. He carried over his impressive form in the  KC Mahindra Shield U19 tournament where he played for Vijay Merchant XI.
More misery for Arjun
The speedster churned out six wickets and conceded 70 runs in the match against Vijay Manjrekar XI. Nevertheless, it has recently been learned that Arjun has been ignored for the U19 teams once again. Recently, the Board of Control for Cricket in India (BCCI) announced four different squads- India Blue, India Red, India Green, India Yellow- for the upcoming U19 Challengers Trophy.
The junior selection committee selected the team and the tournament is scheduled to be played from November 10 to 16 in Lucknow. Arjun is not a part of the Mumbai domestic team either, which is currently playing their first match of the 2018-19 edition of the Ranji Trophy against Railways at Karnail Singh Stadium in New Delhi.
Here are the squads
India Blue
Pradosh Ranjan Paul (C), Qamran Iqbal, Swastik Samel, Irfan Ali, Yara Sandeep, Akash Raj, Dhruv C Jurel (WK), A S Sandhu, Arun Mozhi, Prashant Kumar Bhati, Trilok Nag, Ravi Bishnoi, Mandhar Mahale, Hangegekar
India Red
Vedant Murkar (C & WK), Y Jaiswal, Arjun Azad, Shashwat Rawat, Nayan Chavan, Abhishek Selva Kumar, SV Joshi, Venkatesh M, Harsh Dubey, AM Singh, Shushant Mishra, Piyush Kumar Singh, Kishan Kumar, Harsh Raj
India Green
Nitish Kumar Reddy (C), Vaibhav Sharma, Aryan Sethi, Nehal Wadhera, S.A. Ahuja (WK), Rishab Chauhan, Vathsal, Atharva Ankolekar, R.A. Choudhary, Manish Babberwal, Anirudh Choudhary, Atharva Poojari, Rohit Dattatray, Manishi
India Yellow
Shubhang Hegde (C), Thakur Tilak Verma, D.R. Gajraj, Priyansh Arya, Varun Goud, Shubham Shatrujit, Sonu Yadav, Rahul Chadrol (WK), Amit Shukla, Jaymeet Patel, Tekan, Prabhat Maurya, Prayas Ray Burman, Durga Kumar