IPL 2020: David Warner reacts to the wide controversy involving MS Dhoni and umpire Paul Reifell
Warner, sitting in the dugout, wasn't happy with the decision.
Updated - Oct 17, 2020 6:44 pm
7.8K Views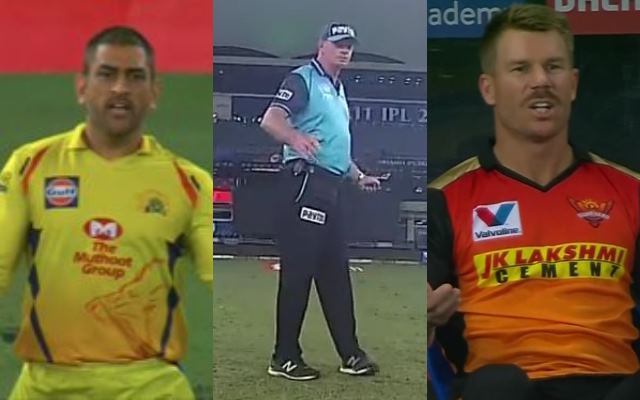 Follow us on Telegram
Chennai Super Kings (CSK) resurrected their Indian Premier League (IPL) campaign somewhat in the previous game winning against the Sunrisers Hyderabad (SRH). The 20-run margin victory is good enough on any day in the T20 format but it doesn't tell the drama and tension in the middle during the match. Rashid Khan's superb hitting in the 18th over of Karn Sharma brought things close in the chase.
Shardul Thakur was handed over the crucial 19th over to bowl. Running in to bowl the second ball, the pacer delivered it wide of the batsman which was close to or rather beyond the tramline. Rashid Khan shuffled in his crease and eventually missed it. The straight umpire, Paul Reifell, soon after the ball went to MS Dhoni deemed it to be wide and was almost stretching his hands to call it.
However, Thakur and especially Dhoni, the CSK skipper, was furious looking at the umpire. However, much to everyone's surprise, Paul withdrew his decision and decided not to call it a wide. The SRH skipper David Warner sitting in the dugout was not happy. But he had refrained from reacting much over the incident on the day. However, ahead of SRH's next game against KKR, he has opened up on the matter.
David Warner questions change of mind from umpire
David Warner felt that the umpire changed the decision after looking at the opposition captain's body language which shouldn't have happened. The southpaw cleared that he isn't saying it as the man reacting was MS Dhoni as at some point, the captains show their frustrations on some of the decisions. According to the SRH skipper, the right decision should've been made irrespective of the reaction and reckoned that it was a clear wide delivery.
"That day with MS (Dhoni), I know he would have been frustrated had it been called a wide. But the simple fact is it was a wide and the umpire was going to call a wide. And he changed his mind by looking at the opposition captain's body language. I am not saying this because it was MS Dhoni but because the captain was in the sight of the umpire right behind him.
"He is behind there as wicketkeeper, so he can see that, he has shown his frustration. We all do that, at times, as captains, we all show our frustrations but at the end of the day, they can make their calls, how they make it. We just gotta respect that. So there is no point of arguing," Warner said while speaking to India Today.
Follow us on Google News