Michael Clarke pleased with the way BCCI, CA handled the DRS gate
Updated - Mar 15, 2017 12:53 am
43 Views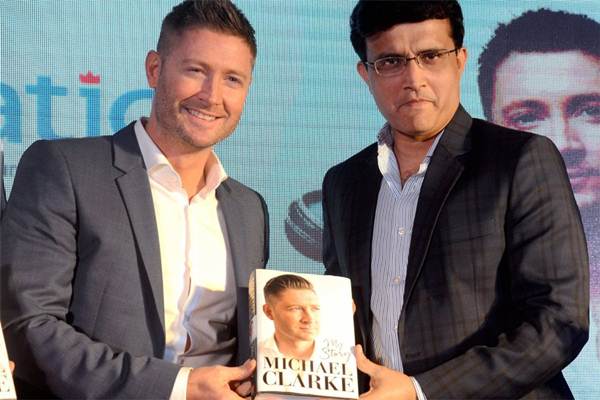 Former Australian skipper Michael Clarke recently had his India launch of his autobiography titled 'My Story'. On the occasion of the book launch, the world cup winning skipper reflected back at some of the controversial incidents that happened in his career. Before he could go down the memory lane, he opted to shower his words of praise for the two cricketing boards of India and Australia.
In the Bengaluru Test, Aussie skipper Steve Smith was found violating the laws of the DRS when he tried to seek help from the dressing room. This did not go down well with his opposition number Virat Kohli, who later blasted Smith for his actions. Things were turning sour and it was just then that both BCCI and CA decided to curb the matter then are there itself and move on with the series.
Praising the move, Michael Clarke quoted, "Look at the Steve Smith incident, it's the right way. They have handled it really well. We know we are in for great Test series. We focus on the next match. (It) does not matter how hard you are on the field or who you play against, you should hold highest respect for each other."
"Whatever happened is in previous Test and it's gone. They come out in Ranchi, that was very smart. They might have sat somewhere in CCI and taken a decision to not take it any further," he added.
Another big controversy that had grappled the India v Australia series in the past was the 'Monkey Gate' back in 2008 when India toured Australia. Andrew Symonds was said to be racially abused during the Sydney Test. Reflecting back at the episode, Clarke noted that the matter should have ended soon but was unnecessarily extended for longer durations.
"I would be very honest about where I saw the situation at SCG at that time. I was very close to Andrew Symonds. I asked him whether he was racially vilified. It was not only about the racial vilification of Andrew. It should have ended right there, continuing with the spirit of the game," quoted Michael Clarke.
Another moment that he regrets from the same series is during his batting against Anil Kumble. Clarke recalled that he opted not to walk back despite having edged the ball to the slips. He cited that the desire to do well for the team was so intense that it overcame all other spirits in him.
"In the same series (2007-8), when I was batting I edged a Kumble wrong'un at the slip. But I didn't walk blatantly. I should have walked. That was one of the mistakes I made. I loved to represent my country so much. I really wanted to perform. I didn't want to go and was so disappointed. I've made plenty of mistakes in my career," he quoted.
"But I always believe I played the game with right spirit, with utmost importance to represent my country, my franchise. I would never try and cheat. I don't think it's fair to look back on one, two three individual incidents in my career but I have played the sport with utmost dignity and held respect for my country," Clarke concluded.