Sachin Tendulkar reveals he wasn't interested to play his role in his upcoming biopic
The movie is expected to reveal some interesting facts of Sachin's life which not many people would have known before.
Updated - May 19, 2017 11:32 pm
382 Views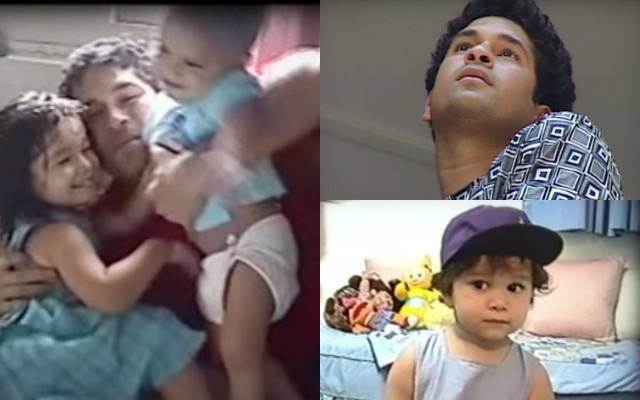 The upcoming biopic on arguably the most celebrated cricketer of all time Sachin Tendulkar is all set to hit the theatres on 26th May but with 6 days to go for the movie to release, Tendulkar revealed that he wasn't ready to enact his own role in Sachin: A Billion Dreams. Most of the characters in the film will play their own roles but it took a while for the producer to convince Sachin to enact his own role.
As we all know Tendulkar is a very private person who loves keeping personal stuff within himself so it was a tough ask to convince him for the biopic. The movie is expected to reveal some aspects of Tendulkar's life which his fans and supporters wouldn't have known before. The movie has been in the making for the last 5 years and is directed by James Erskine.
Tendulkar's first reaction when he was approached for the film was "But I am not going to act." The producer of the film who met Tendulkar in 2012 finally managed to convince him for the film. "When Ravi (Bhagchandka, producer) met me in 2012, his idea was that the life of other sports personalities has been covered so there should be a film on my life. My first reply was: 'But I am not going to act'. It took me a while to say yes," Tendulkar was quoted as saying by PTI during an interview in Delhi.
Tendulkar conceded that fictionalising his life wouldn't have been possible as everyone is aware of each and every whereabouts of the cricketer. "In my case it (fiction) cannot be possible because everything is real life. Everyone knows what has happened to me. If I have scored 55 runs, people know that. I cannot turn around and make it 155. Ravi said everything would be captured from real life. So, I was convinced that there would be no retakes here."
It was uncomfortable for Sachin to talk about himself
Tendulkar said that he was slightly uncomfortable to talk about but the movie helped him relive some of the best moments in his life. "I continue to be slightly uncomfortable (to talk about myself). That's why I have got other guys to talk about me. I always wanted to play cricket for India. Rest of the things happened around it. And when I got there, it was about winning the World Cup for India.
"This film is about that. It is about chasing my dreams. My dream was not only my dream, it was a dream shared by a billion-plus people." The Master Blaster added that the film will reveal some of the difficult phases in his life and how he overcame his difficulties and came back triumphant.
"The runs that I scored, the highs and lows, nobody known what is going on in mind in those moments. I have spoken about those moments. My family is talking about myself. My mother, sister, my brothers and Anjali (wife) have spoken about me.
"My relationship with my children has been explored and there are family videos that no one had access to, which are now a part of the film," he added. On asked what made him open up on his story Tendulkar said, "The ups and downs have been there in my life and that's part and parcel of any sportsman's career. This was not something that every sportsman experienced. Whatever I have said, whatever I know, it is there for everyone to see in the film."