Twitter Reactions: KXIP rakes a whopping amount of Rs 8.4 crores for Varun Chakravarthy
He was impressive in TNPL this year.
Updated - Dec 18, 2018 6:22 pm
937 Views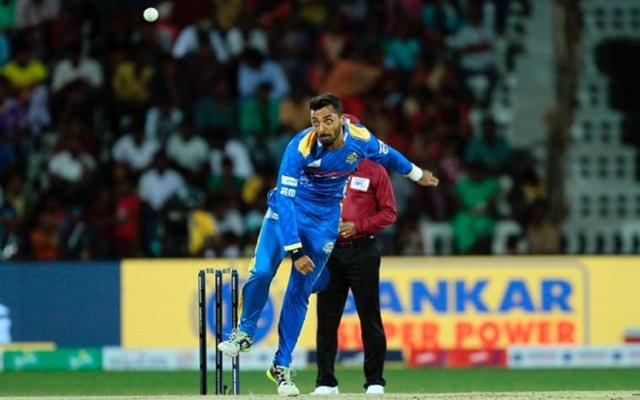 Follow us on Telegram
The Indian Premier League (IPL) auction has laways managed to surprise everyone and even this time around it has lived up to its reputation. While the million dollar baby of the last auction, Jaydev Unadkat once again managed to rake in a lot of bids and was the most expensive player at the start of the event. However, little did anyone knew then that the newbie Varun Chakaravarthy would stun the cricket fans.
The cricketer who set the stage on fire in the Tamil Nadu Premier League (TNPL) this year for Karaikudi Kaalai and since then was on the radar of the franchises it seems. He began an engaging bidding war between the teams even as five teams bid for him. Delhi Capitals, Chennai Super Kings, Kings XI Punjab, Rajasthan Royals and Kolkata Knight Riders bid for the bowler and finally the Punjab franchise managed to secure his services.
Base Price of only Rs 20 lakhs
Varun Chakaravarthy came into the auction with only Rs 20 lakhs base price and if his stats in the domestic cricket and TNPL are considered, he deserves all the amount which he has received. In TNPL this year, Varun bowled as many as 60 overs, completing his quota of four overs almost in every match, and went on to pick nine wickets while conceding runs at an economy of only 4.66.
He was very much miserly with the ball and his variations were tough for the batsmen to pick. Varun then also proved his mettle in the Vijay Hazare Trophy earlier this year scalping as many as 22 wickets in 86.4 overs while playing for his state Tamil Nadu. Even in the fifty-over format his economy was only 4.23 which is extremely good.
Now it will be important for him to live up to the price tag during the actual tournament and Punjab will hope that he continues his great form in the shortest format. Twitterati was stunned to see him raking a lot of money during the auction and Varun was soon trending on social media.
Here's how Twitter reacted:
Had a close look at him last year at CSK nets… This guy Varun Chakravarthy have the potential to play for INDIA.. selectors should keep an eye on him.. he is a fast and furious spin bowler.. another mystery spinner ✅🔥..

— Harbhajan Turbanator (@harbhajan_singh) December 18, 2018
#varunchakravarthy
Base price:- 20L
Sold to @lionsdenkxip for a whopping amount of 8.4Cr…

"42 TIMES THE BASE PRICE!!!"#IPLAuction

— Bhargesh Jatiya 12.. (@BJatiya_12) December 18, 2018
Remember the name #VarunChakravarthy You will scream it later. #IPLAuction #IPL2019Auction

— Ansuman Rath 🇮🇳 (@_AnsumanRath) December 18, 2018
The TN Bowler, #VarunChakravarthy, who was being discussed a lot pre-auctions goes for a whooping 8.4 crores. One year no one knows you and next year the world wants to know who the hell are you for taking so much money home. Beautiful! Well-deserved for him. #IPLAuction #KXIP

— Dakshin Adyanthaya (@upsidedakshin) December 18, 2018
Who is Varun Chakravarthy @BCCI @BCCIdomestic @bhogleharsha #IPL2019Auction #IPLAuctions

— Palash Agrawal (@impalash_95) December 18, 2018
You can say Varun Chakravarthy is smiler to Sunil Nairn. Having 8 different variations!! Believe me one of the Best Buy for @lionsdenkxip #IPLAuction

— SUFI (@Sufi_79109) December 18, 2018
8.4 Crores!!! Unbelievable. Mystery spinners always going for the biggest bucks.

Varun Chakravarthy's captain in TNPL last season said that by the time the opposition starts reading him, his spell would be over.#IPL2019Auction

— Harsh Gupta (@Harshalokgupta) December 18, 2018
Imagine Mujeeb Ur Rahman, Ravi Ashwin and Varun Chakravarthy bowling 12 out of 20 overs.

Good luck, teams. @IPL #IPLAuction

— Vinod Ramnath (@NaanumEngineer) December 18, 2018
Congratulations Varun Chakravarthy!! 8.4 Crores wowwwwww! TN Talent!! #IPLAuction

— பிரேம்😎 (@Premkumar_R) December 18, 2018
Unbelievable!
It's @TNPremierLeague which make Varun Chakravarthy from 20 lakh to 840 lakh. An new record for uncapped player. @lionsdenkxip #IPLAuction #IPLAuction2019.

— Immanuvel JOESH EDISON (@IJ_Edison) December 18, 2018
What A Bidding. It is interesting to watch that many teams are going to a uncapped player. Varun Chakravarthy sold to KXIP in 8.40 Crores 🔥😱😱 #IPLAuction #AuctionOnStar #starsports

— SARCASMIC LAUNDA (@prtsh11) December 18, 2018
Now,who is this #VarunChakravarthy… 😲😲 whom even I don't know 😵😵 May b bcz of exams and all I missed out on something… This guy has got a whopping 8.4 Crores from #KXIP …😱😱😰😰#IPLAuction #IPL2019Auction

— 🅱️🅰️🅱️🅰️….Ⓜ️SDian (@vikshi1311) December 18, 2018
Inspiring story behind #Varun_Chakravarthy #IPLAuction

— AJ 🌟 (@AJ_Star_21) December 18, 2018
Varun Chakravarty.. Inspirational Story for many youngsters.. #NeverTooLate #IPLAuction #IPL2019Auction #Varunchakravarthy

— rkj (@rkjravish) December 18, 2018
Varun Chakravarthy and Shivam Dubey!!! the two names to watch out for in the IPL next season!! #IPLAuction

— NIKHIL (@nikhilvohra) December 18, 2018
First I was Varun Chakravarthy in an @TNPremierLeague. What an amazing buy for Punjab. So the question arises Will Mujeeb and Varun both will play including Ashawin. Will be interesting to see #IPL2019Auction

— SUFI (@Sufi_79109) December 18, 2018
Follow us on Google News