CricTracker Exclusive – After my brother's suicide, the responsibilities on my shoulders have increased: Chetan Sakariya
The 22-year-old left-arm quick has gone through immense emotional turmoil the last few months, after losing his brother to suicide in January.
Updated - Mar 19, 2021 4:32 pm
1.1K Views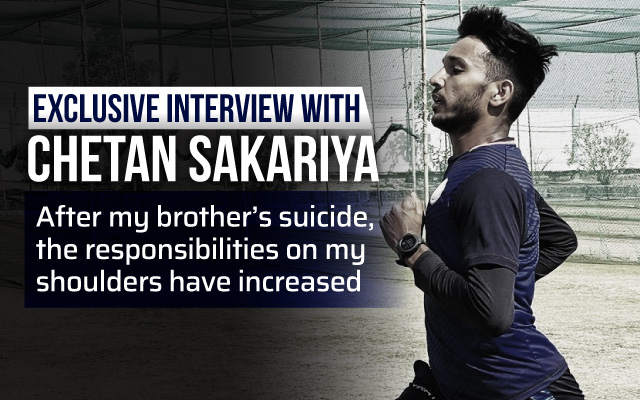 One among the many names that stole the limelight in the IPL 2021 auction is Chetan Sakariya, who was picked by the Rajasthan Royals at Rs 1.20 crore. The 22-year-old left-arm quick has gone through immense emotional turmoil the last few months, after losing his brother to suicide in January. To make matters worse, his father is bedridden after meeting with an accident on the road.
Amidst the difficulties, Chetan's IPL bid has been the reason for little cheer in his family. The young bowler was the sixth highest run-getter in the Syed Mushtaq Ali Trophy 2020-21, on the back of which he earned the lucrative gig with the Royals. This, however, will not be the first time when Chetan will be a part of the cash-rich T20 league. Last year, he traveled to the UAE with the Royal Challengers Bangalore as a net bowler.
CricTracker caught up with the Saurashtra bowler for an exclusive chat ahead of IPL 2021, which commences on April 9.
Here are the excerpts:
Tell us about your formative years and your family
My dad worked as a tempo driver and my mom was a housewife. Back then we didn't earn enough money to meet our expenses. But my maternal uncle used to help us financially, so we were able to sustain ourselves. Those times were tough. As kids, you want to go out, have fun, travel, do activities, but we couldn't do any of these due to financial restraints. We had to compromise on things that were not absolutely necessary to our survival. But things are now improving for us.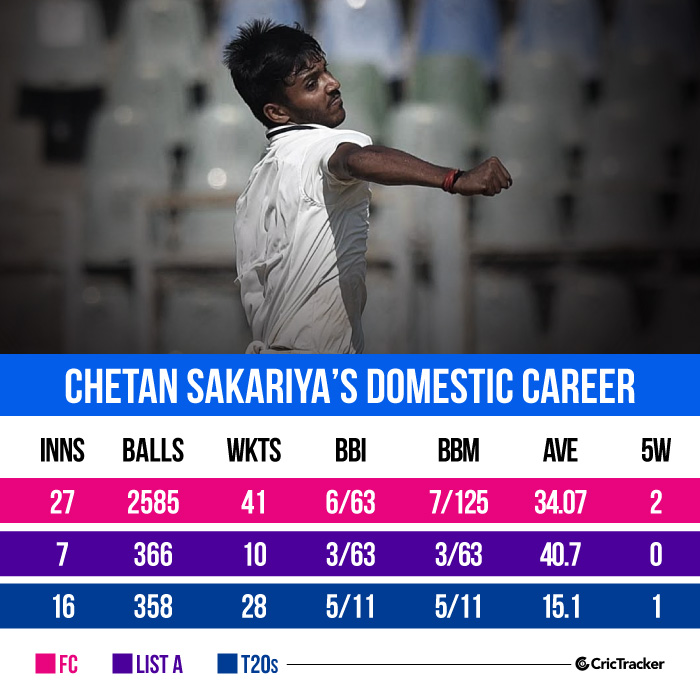 You worked at your uncle's stationery shop. Tell us about that
In my mind, I was convinced that I want to become nothing but a cricketer. So I used to give less attention to my studies. I passed my 12th boards with difficulty because I hardly paid attention to my studies. So my uncle (mother's brother) told me to help him at his stationery shop while pursuing cricket. I worked there for three years as a computer technician – made bills and looked after the export and import activities among other things. But once I got selected in the U19 state team, I quit work and shifted my focus entirely on cricket.
Sheldon Jackson had gifted you a pair of spikes. Take us through that moment
Back then, the starting price of spikes was around Rs. 4,000. I was 16 years of age at that time, so I couldn't afford that kind of money. Neither could I ask my parents to gift me a pair. I used to go to practice with Sheldon bhai (Sheldon Jackson). He knew I didn't own sports shoes, so he told me that if I dismissed him in the nets, he would gift me a pair of spikes. So that's how I got the spikes from him after dismissing him. That was his way of encouraging me to give my best in the nets.
Not only to me, but Sheldon Bhai has also been kind to many young cricketers. He encourages them to work hard and rewards them with cricket equipment.
Are you the breadwinner of the house?
Right now I am the breadwinner of the house as my dad is bedridden. Even if he does work in the kind of health he is, we will not like it. So it is best he takes rest. Till the time my brother was alive, the responsibilities on my shoulders were not much. But ever since we lost him to suicide two months ago, most of the responsibilities are on me. My brother used to help with buying and bringing the groceries, paying the house rent and a lot more. But after his demise, things have become very difficult because of everything my mother has to do as I hardly stay at home. My sister goes to college and dad as I said, is not well.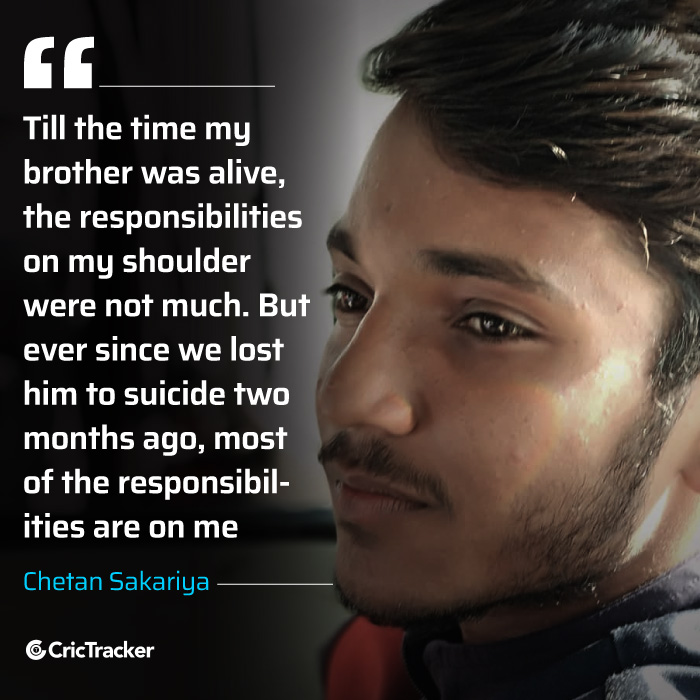 What have you thought of doing with the 1.20 crore that you earned from IPL?
With the contract money, my first aim is to settle down with my parents in a new house. As of now, I am very confused about the location for the new house. You have to keep in mind the area, surroundings and everything. So I have not yet taken a new house, but that is what I will do with the money I will get from Rajasthan Royals. My sister will be able to study well in the new house and my mom and dad will be able to live peacefully.
Tell us about your experience of training under Glenn McGrath at the MRF Pace Foundation in Chennai
I went to the MRF Pace Foundation in 2017-18. I did possess talent but did not have in-depth knowledge of bowling. But after completing a four-month camp there, my bowling improved a lot. My bowling speed increased along with my fitness levels. The strength of Glenn McGrath sir has been his line and length.
In his playing days, he'd bowl a lot of long spells. So he always asked us to work on fitness and bowl in one place because if you keep bowling in one place, the batsman will get irritated. I am trying to incorporate these tips into my game.
What did you learn from your stint as a net bowler for RCB in IPL 2020?
Cricket is mostly T20 now. The goal of RCB support staff was to groom the net bowlers and not just make them bowl in the nets. They made us learn from their trainer, physio, bowling coach. Mike Hesson sir (the consultant) also used to talk to us a lot. Also learned a fair bit from legends in the team like Dale Steyn. We were taught strategies specific to T20 cricket – the field plan, the weakness and strong points of batsmen, and a lot more. RCB also planned our workload, workout and so much more. This was a career-changing experience for me.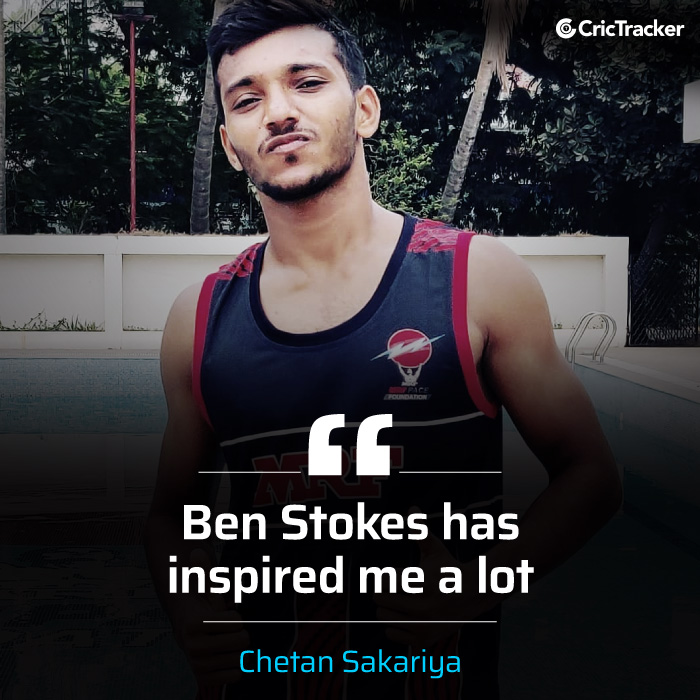 In IPL 2021, whose brain do you want to pick from the RR team?
Brain toh kisika pick nahi kar sakta, brain mera hi pick karoonga! (Can't pick someone else's brain, will pick mine only) But as for learning from someone, it will be Ben Stokes, as he has inspired me a lot. He was the reason why England lost the 2016 T20 World Cup final, but he made a tremendous comeback and helped England win The Ashes as well as the ODI World Cup. Only someone with a very positive attitude and never-die spirit can do this. So that is something I'm looking to learn from Stokes.
Growing up, Junaid Khan was your idol. Did you ever try to copy his bowling action?
As a kid, you start idolizing anyone who plays well and is famous. In 2010 when Pakistan came to India, Junaid Khan bowled really well, even though we had players like Virat Kohli, Virender Sehwag, Rohit Sharma, and MS Dhoni. But Junaid dismissed them all. So I became his fan and tried to copy his run-up. If you noticed, he used to take a small jump before approaching the crease. I wanted to bowl just like him, but couldn't copy his entire action. In the attempt to copy his action, my own action got formed. However, I did copy the jump!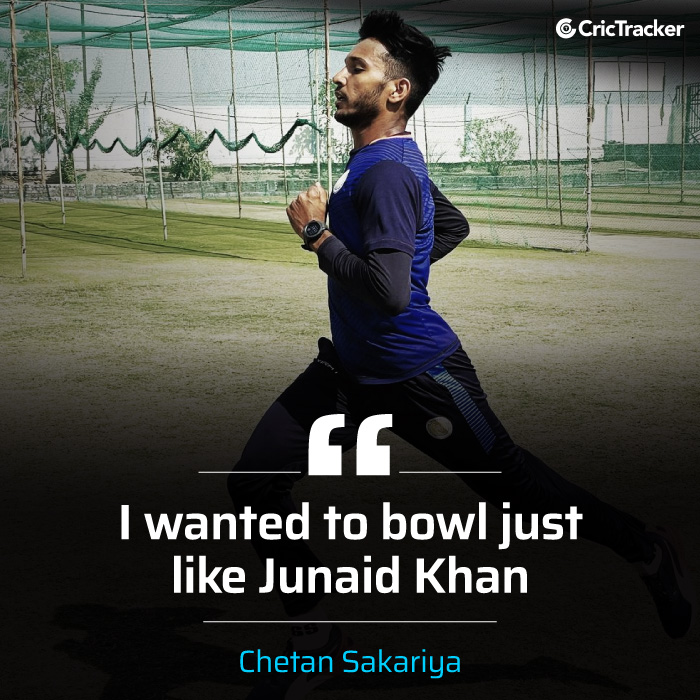 Your all-time favourite bowling spell?
Since I am a left-arm bowler, I try to watch the bowling of as many left-arm bowlers as possible. I remember watching Mitchell Johnson's bowling in the 2013-14 Ashes Series, where I think he picked up as many as 37 wickets. This inspired Australia to regain the coveted trophy for the first time since 2006-07. So that spell is my favourite so far.