Australian youngster slog sweeps every ball in the over for a six
The New South Wales Metro skipper smashed a breathtaking knock of 207 runs from just 115 balls.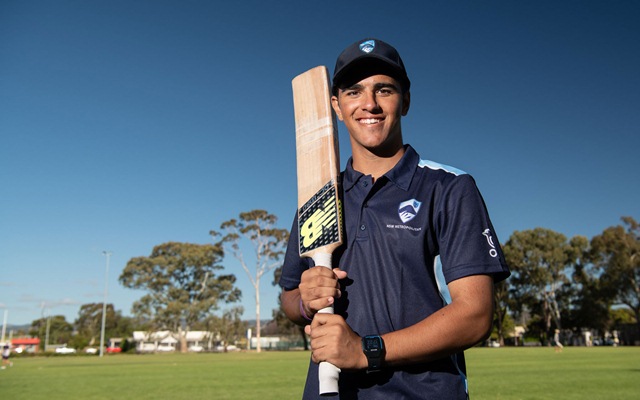 The art of hitting sixes has become quite a common sight in modern-day cricket. With bigger bats and emergence of the T20 format, the batsmen have developed new and innovative ways of sending the ball out of the ground. Power hitting has become a necessity in modern day cricket no matter what the format. In the ongoing U19 Male National Championship in Australia, a youngster went on to slam six sixes in an over.
The Australian also completed a double century in the process. The last time someone achieved the feat was way back in 2001-02 when Jason Krejza registered a double ton. Ollie Davies who was captaining the New South Wales Metro smashed a breathtaking knock of 207 runs from just 115 balls. His team thus posted a mammoth total of 406/4.
Davies hit the six sixes in the 40th over and was on a roll as slogging every ball for a maximum. That was not all, he hit a total of 17 sixes in his innings. The youngster immediately grabbed headlines for his sensational batting. Ollie Davies asserted that he already had a premeditated mindset to hit every ball to the fence after the first couple of deliveries.
"I was looking to hit the good balls for one and then anything loose was looking to pounce on and take over the fence. After the first two sixes I had in the back of my head that I wanted to give it a crack and it paid off at the end. I was just trying to target forward of square and cow corner, getting down on the back leg before it was even bowled and trying to slog sweep," he told ESPNCricinfo.
Here is the video of Ollie Davies slog sweeping six sixes:
Ball 1: Slog-swept for 6
Ball 2: Slog-swept for 6
Ball 3: Slog-swept for 6
Ball 4: Slog-swept for 6
Ball 5: Slog-swept for 6
Ball 6: Slog-swept for 6

Six balls in an over slog-swept for sixes 😲 https://t.co/uvh9ND4O9H pic.twitter.com/K5NtaCQmdP

— ESPNcricinfo (@ESPNcricinfo) December 3, 2018