MS Dhoni reveals the best learning he gained during the victorious IPL 2018 campaign
'There is nothing called common sense'
Updated - Jul 9, 2018 12:23 pm
223 Views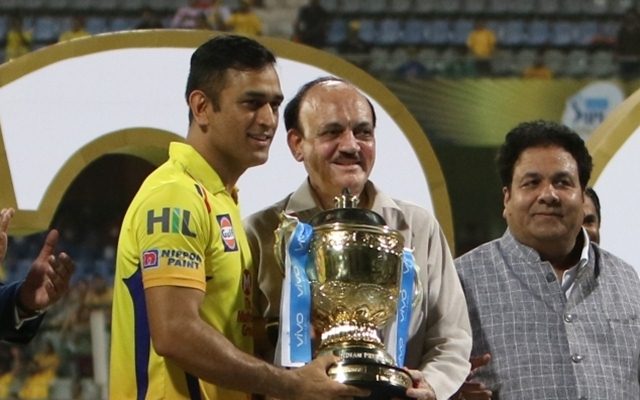 The Chennai Super Kings (CSK) were by far the most balanced and experienced line-up in the recently concluded edition of the Indian Premier League (IPL) and thus the MS Dhoni led side played an exciting and dominating brand of cricket throughout the tournament to win their third IPL title. Recently the former Indian skipper celebrated his 37th birthday and Dhoni shared some learnings and his all-round experience with the CSK unit. He also revealed the best knowledge which he received while leading CSK towards a victorious campaign in IPL 2018.
What is the learning?
The CSK skipper mentioned in an interview recently that during his recent IPL captaincy stint, he probably figured out that there is nothing called the term 'common sense'. Mostly many captains all around the world presently or in the past have backed their instincts along with their way of reading the game of cricket in different situations and conditions. However, Dhoni has always been a skillful and smart leader who has tackled many pressure situations with his street-smart knowledge, but he gained a new learning for future in this year's IPL.
"The biggest learning during my tenure as a captain was, that a lot of time, I used to think that this is common sense. But no, there is nothing called common sense. You think, 'Oh, I don't need to say' or like 'Yeh batane ke cheez nehi hai', but in a team environment, you need to say," said Dhoni in a recently broadcasted show on the occasion of his 37th birthday on Star Sports.
The wicket-keeper batsman mentioned that there will always be some players in a team who are not required to be told or narrated things all the time. On the other hand, there are also some players who need to be instructed and handled in a different manner in order to get the best possible results from them.
"There will be a few who are intelligent and they will be like 'Areh yeh kya bol raha hai, yeh zaroorat nahi hai' (Why is he telling this, we know this). But it's not for them. They can figure things out. "It is for the person who does not understand. But, at the same time, it is very bad to address it to one person, because then he will know that 'accha yeh toh mujhe hi bol raha hai' (Okay he has singled me out)." he added.
It is very important to spend some time with the boys: Dhoni
Dhoni also revealed that it is very important to have some conversation with all the players especially the guys who are not getting to play a lot in the long campaign. He explained that for him to manage a certain players in a team is to get a definite feedback from him about what is running in his mind and for that freedom in communication and sharing everything with the skipper is very much required.
"We try to spend time in an environment where you feel very comfortable. You need to break that ice, unless he gives me his feedback, unless he talks to me I won't really know what is going around in his mind. … For me to understand the individual I need to spend time with him. Unless you know the individual it's very difficult to advise that individual as to what he needs to do. And also the fact that you get to get inside his mind because everybody is different." concluded the CSK skipper.
Keep following CricTracker for more news and updates.