Nathan Lyon is a role model and a mentor of mine: Stephen O'Keefe
Updated - Jul 19, 2016 12:32 pm
26 Views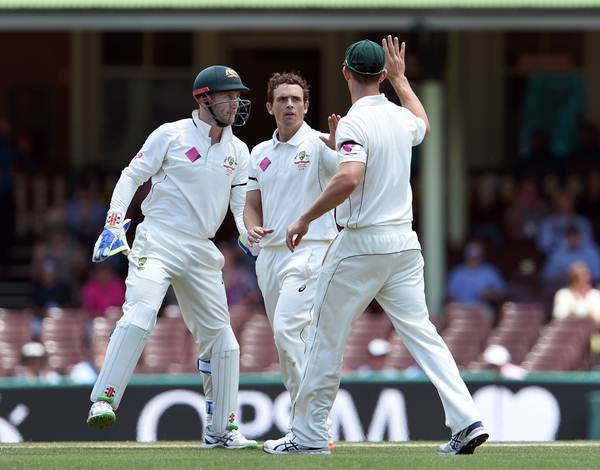 Follow us on Google News
Left-arm spinner Stephen O'Keefe has expressed his delight about playing with his mentor Nathan Lyon. He says that playing with him will be an opportunity to take the benefits of all the experience his senior finger spinning teammate has.
"I spoke to Nathan (during the day) and the ball's coming out beautifully, it has been for the last few days," O'Keefe said at the end of Day 1 on Sunday (July 17).
Stephen O'Keefe was the pick of the bowlers for Australia in their only practice game played ahead of the first Test which begins next week. Left-arm spinner claimed 5 for 43 in 12 overs and helped the visitors bowl out Sri Lanka Board XI for a paltry 229 at the P Sara Oval in Colombo.
Meanwhile, Nathan Lyon went wicketless in his 13 overs. The reason can be the illness he suffered during the weekend.
"He's been battling a little bit of sickness which hasn't helped him, but that certainly hasn't been a dampener on the way that he's bowling," pointed out O'Keefe. "He's bowling beautifully, he's got that lovely shape on it, he's got plenty of revs as he does and he spins it which is a bonus."
O' Keefe says that the off-spinner, who will most likely become the fist finger spinner to claim 200 test wickets for Australia, is a role model to him.
"He's a bit of a role model of mine and a bit of a mentor when it comes to spin bowling. I've always looked up to him in his career and how he's gone about his business," he said. "He's verging on a couple of hundred Test wickets now (currently 195) so there's a truckload of experience and knowledge that I try to get out of him.
"He's in a good place and I feel extremely privileged to bowl with him at the other end."
O'Keefe also acknowledged how helpful Muttiah Muralitharan has been over the last few days. The former Sri Lankan spinner joined the Australian squad as a bowling consultant at the start of the tour to help them figure out the conditions before the first Test in Kandy.
"The beauty of Murali (is) he's always got something to say to you. He's always got feedback, he'll come up after each session and spell, and give you hints whether it be about the field or how they (opposition batters) might play," he reckoned.
"So, he's been a massive help along with Sri (Sriram) and you can't underestimate what it's like having a guy like that who's played a majority of his career in these (subcontinent) conditions and also some pointers on how to go about business.
"We're used to bowling with the Kookaburra (brand ball) but I think the game changes as the ball goes from hard to soft," he concluded.
Follow us on Telegram