'This is terrifying' – Cricketing fraternity mourns explosion in Lebanon's capital city Beirut
Reportedly, close to 4000 people are injured while more than 70 have lost their lives.
Updated - Aug 5, 2020 12:13 pm
1.9K Views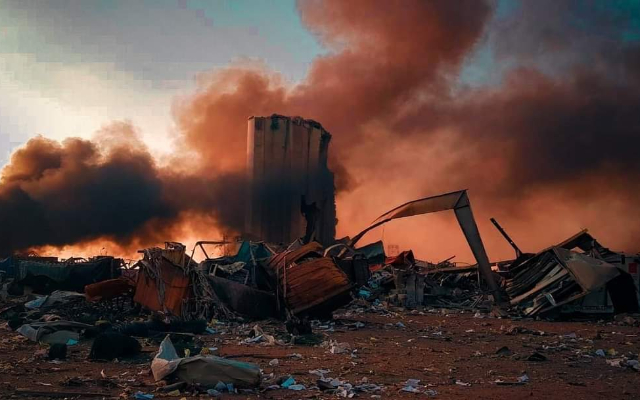 Follow us on Google News
Lebanon, a nation for decades crippled by chaos and conflict, is in mourning after a massive explosion ripped through Beirut's port on Tuesday killing more than 70 people and injuring around 4,000. The full scale of the calamity was laid bare when the capital woke on Wednesday with rescue teams searching through the debris of ruined neighbourhoods for the missing, and hospitals struggling to cope with the influx of casualties.
A three-day mourning period has been declared in Lebanon following the incident. The government has also said that it would release 100 billion lira (£50.5m; $66m) of emergency funds after a catastrophic incident.
Soon after the incident, the videos of the explosion went viral on social media. Footage shared on social media captured the explosion as it rocked Beirut. The explosion caused massive damage to the surrounding area and sent a huge cloud of red smoke over the city. 
Devastating and heartbreaking – Yuvraj Singh about the incident
The cricket fraternity paid tribute on Tuesday to the victims of massive, deadly twin blasts in Beirut, as condolences poured in. As the video of the explosion surfaced on social media, Indian cricketer Yuvraj Singh took to Twitter to express his grief seeing the upsetting images and videos. He mused over the devastation already caused by 2020 and mentioned that the world needs healing.
"Devastating and heartbreaking visuals from #Beirut. Can't even fathom what the locals would have witnessed and gone through. I pray for those who lost their lives and for the injured. 2020 has really brought us to our knees. Our world needs healing," the 38-year-old WorldCup champion tweeted.
Pakistan cricketer Kamran Akmal was also shocked and was heartbroken to see the devastating scenes in Lebanon. He prayed to god for quick recovery of the country from this disaster. "It's Tragic, devastating and heartbreaking horrific scenes from #Beirut. Praying for #LebanonExplosion May Allah Almighty, help them to overcome from such a tough & difficult tragic time. May Allah have mercy upon them Ameen #BeirutBlast," he tweeted.
The likes of Ian Bishop, Hasan Ali, Dimuth Karunaratne, Aakash Chopra, Deep Dasgupta among many others also expressed grief and prayed for the injured people to recover soon.
Here's how Twitter reacted:
#Pray for Beirut, Lebanon right now. Pray for those injured. Pray for those worried about their families.

Pray 🙏🏻🙏🏻🙏🏻#Beirut #BeirutBlast #prayforbeirut pic.twitter.com/K4hcJJ2KxD

— 𝑫𝒊𝒎𝒖𝒕𝒉 𝑲𝒂𝒓𝒖𝒏𝒂𝒓𝒂𝒕𝒉𝒏𝒂 (@IamDimuth) August 5, 2020
This is terrifying #BeirutBlast https://t.co/yElOA3cgae

— Deep Dasgupta (@DeepDasgupta7) August 5, 2020
— Hassan Ali 🇵🇰 (@RealHa55an) August 5, 2020
Horrific and tragic scenes from #Beirut
Lives lost, 100s injured and 1000s missing.
My thoughts and prayers are with #Lebanon today.
Almighty we seek your mercy #BeirutBlast #YaAllahReham pic.twitter.com/o10l9L4fhU

— Sikandar Raza (@SRazaB24) August 4, 2020
It's Tragic, devastating and heartbreaking horrific scenes from #Beirut. Praying for #LebanonExplosion May Allah Almighty, help them to overcome from such a tough & difficult tragic time. May Allah have mercy upon them Ameen #BeirutBlast pic.twitter.com/t2mJrJCw0Z

— Kamran Akmal (@KamiAkmal23) August 4, 2020
Ohhhh myyyyyy lord… 😱😢😢 https://t.co/bkg9V5hJ1D

— Danny Morrison (@SteelyDan66) August 4, 2020
Devastating and heartbreaking visuals from #Beirut. Can't even fathom what the locals would have witnessed and gone through. I pray for those who lost their lives and for the injured. 2020 has really brought us to our knees. Our world needs healing 🙏🏻

— Yuvraj Singh (@YUVSTRONG12) August 4, 2020
Really scary videos and footage of the explosions coming in from #Beirut #Lebanon , thoughts and prayers with those affected 🙏🏻

— S.Badrinath (@s_badrinath) August 4, 2020
My gawd😱😱😥😥😥 https://t.co/JW4cPcEwAr

— Ian bishop (@irbishi) August 4, 2020
OMG 😮 https://t.co/nrG3Iy2cec

— Aakash Chopra (@cricketaakash) August 4, 2020
Frightening….☹️ https://t.co/s3TfPNxW1e

— Jason Gillespie 🌱 (@dizzy259) August 4, 2020
Holy hell.. crazy as hell..#beirut #whatshappening #disaster https://t.co/ep6Lj5E0Lp

— Hemang Badani (@hemangkbadani) August 4, 2020
Follow us on Telegram