Twitter Reactions: A glittery ton from Steve Smith helps Australia win the thriller
Australia had a great warm-up game against England and won the match by 12 runs.
Updated - May 25, 2019 11:10 pm
3.1K Views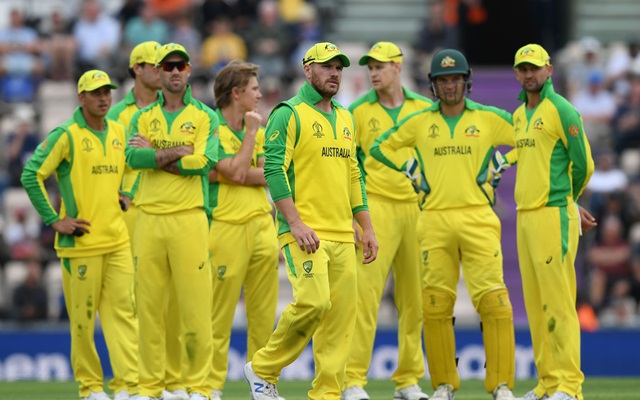 A thrilling contest greeted the fans when two of the biggest teams in World Cup 2019 faced each other. The game between England and Australia was thoroughly entertaining. Fortunes kept swinging either way right till the end after England won the toss and opted to bowl first. Although they played a game against the Windies, this was the first official warm-up game for the returning duo of Steve Smith and David Warner. While skipper Aaron Finch and Shaun Marsh scored 14 and 30 runs respectively, Warner got out for 43.
Though, this game was a fairytale comeback for Steve Smith. He was greeted with the chants of 'cheat' when he entered the ground. This same crowd rose up in applause by the time he finished his innings. He looked extremely determined and went about his business in a professional way. He scored 116 runs from 102 balls in an innings that included 8 fours and 3 sixes. 31 and 30 runs scored by Usman Khawaja and Alex Carey helped Australia finish with a score of 297/9 in 50 overs.
Australia bowl exceptionally in the middle overs and at the death
England lost Jonny Bairstow early in the chase for 12 runs. His partner, Jason Roy also failed to make the most of his start and perished after getting 32 runs. At this stage, James Vince and skipper Jos Buttler came to the rescue. The former played a great knock and accrued 64 runs. The stand-in captain, though, was aggressive in his approach and took just 31 balls to score 52 runs. Even though England seemed to be in the driver's seat at this point in time, some tight overs and few wickets catapulted the pressure back to them.
The Aussies were clinical in the middle overs. But their team was always 10 or 15 runs short. However, the 'Men in Yellow' kept plugging in with regular wickets and applied great pressure on the home team towards the end. 15 runs were required off the last over. Liam Plunkett tried to hit the first ball out but holed out to Glenn Maxwell at deep mid-wicket. England's innings culminated with Jofra Archer's run-out in his maiden outing with the bat for England.
Twitterati couldn't control the happiness after watching Steve Smith get to triple figures. The fans felt that it couldn't have been a better comeback for the former captain and want him to carry the momentum forward. Finch was brilliant with his captaincy and field changes as well. The bowlers were cheered for their efforts.
Here is how Twitterati reacted to Australia's win over the hosts:
Well @Gmaxi_32 may not have been playing but he still finds a way to make an impact!

And of course it's just a warm-up game but being on the right side of a close match is always good. Aussies not perfect by any means but looking on the right track #ENGvAUS

— Milo the 😼 (@Milo_Fluff) May 25, 2019
So top favorites India and England lose their warm up matches. No need to read too much into it, these matches are to ensure players get acclimatized and players are tested in match scenarios.
Intensity will be back when the cup formally starts.#CWC19 #IndvNZ #ENGvAUS

— Mohammed Arif Khan (@mdarifkhan87) May 25, 2019
England lose while chasing a score..
India lose while setting up a score..

Stick to your strengths guys. #INDvNZ #ENGvAUS #CWC19

— whodunit (@pushpesh4u) May 25, 2019
Australia beating England lol. The aussies are back #AUSvsENG #ENGvAUS #ENGvsAUS #CWC19 #CWC2019 #CricketWorldCup

— Cric mama Ⓜ️ (@SrinimamaTrolls) May 25, 2019
Well the top two favourites of the tournament have been beaten in their 1st warm-up games…this world cup will see many ups and downs#CWC19 #ENGvAUS

— Lipsa Sharma (@Shristiiiiiiiii) May 25, 2019
I think the limited-overs series wins against India gave them that same belief that they used to have. Outstanding cricket from Australia. #ENGvAUS @cricketworldcup

— Anirudh Guru Dutt (@AnirudhDutt) May 25, 2019
The 3 favourites have all lost their warmup games: India , England and Pakistan! 🤔🤔 #CWC19 #ENGvAUS #INDvNZ #PakVsAfg

— Qasim A. (@qa_sima) May 25, 2019
Very good win for Australia,

After beating India, Pak at their home, performance completely changed, super WC team #ENGvAUS#INDvNZ

— Shahzain Khan (@Yarhussainy) May 25, 2019
Australia 🇦🇺 win by 12 runs

They know how to do it in World Cup 👊

Both No.1 and No. 2 Ranked Teams lost on the same day#CWC19 #ENGvAUS pic.twitter.com/NZmP3BxOza

— Abhijeet ♞ (@TheYorkerBall) May 25, 2019
@SarfarazA_54 brother can we take something from #ENGvAUS game the way they bowl at the last overs if we can take some from the way they bowl I guess we will not consider so many runs in last 10 overs

— JERRY🇧🇩 (@J_JERRY_O) May 25, 2019
Australia Without Starc And Cummins Have Defended This Target #ENGvAUS

— Chatil Panditasekara (@ChatilPandi) May 25, 2019
So both favs lose their warm up games. Don't go handing that trophy out yet. #CWC19 #INDvNZ #EngvAus

— Rahul Puri (@rahulpuri) May 25, 2019
So two of the favourites of the tournament have tasted the defeats, thankfully when it doesn't matter. #ENGvAUS #CWC19

— 🏏tan(05) (@fast_hostile) May 25, 2019
Steve Smith ANOTHER 100. Goodness me this is ominous 🙌🏽 #CWC19

— Trent Copeland (@copes9) May 25, 2019
If this warm up is anything to go by,it's going to be a fun WC. So far,what we saw in the Pak Eng ODI series scores over 340,had three warm up games with all scoring under 300,the fresh pitches ofc could be a diff story altogether!

— zainab abbas (@ZAbbasOfficial) May 25, 2019
Rashid and Archer – who aren't playing – are now batting together for England. Good luck scorers. Good luck.

— George Dobell (@GeorgeDobell1) May 25, 2019
AUSSIE ARE GONNA WIN THE WORLD CUP!!! #cwc19 #engvaus

— Innocent Bystander (@InnoBystander) May 25, 2019
Australia pull off annarrow win with splendid bowling in the death. So teams ranked no1 and 2 both lose their warn up matches. How much should one read in these results? I'd say it suggests a very open World Cup

— Cricketwallah (@cricketwallah) May 25, 2019