Virender Sehwag has a 'golden' message for the Indian Weightlifters in CWG
Sehwag was delighted for Venkat Rahul Ragala as he won the fourth gold for India in Gold Coast.
Updated - Apr 7, 2018 6:06 pm
605 Views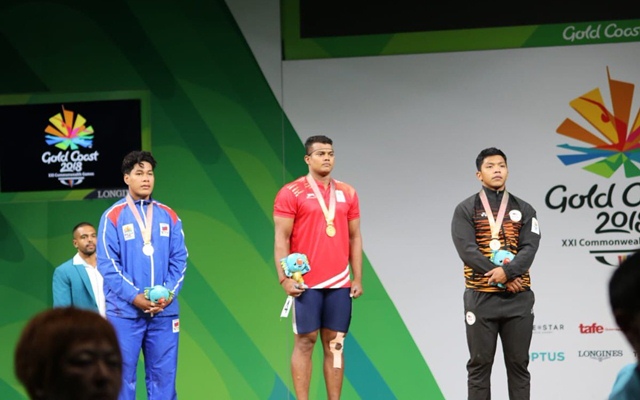 Follow us on Google News
While the fever of the Indian Premier League (IPL) is starting to settle in the country, the athletes of the country are rocking in the ongoing Commonwealth Games in Gold Coast. Interestingly, their efforts are not going unnoticed as the whole of India is following the event thereby proving their increasing interest in other sports as well. The tri-colour is being hoisted for four times so far in Australia's east coast and the recent one was courtesy Venkat Rahul Ragala who won the gold medal in Weightlifting for India only to be hailed by Virender Sehwag.
It was a close affair between him and the athlete from Samoa but Venkat prevailed in the battle as India bagged their fourth gold medal in the event. Moreover, all the Gold medals have been won by the Weightlifters so far which proves that the sport in the country gone to the different level now.
Sehwag's heart-winning tweet
Virender Sehwag, much like the whole country, was watching Venkat Rahul Ragala battle for his country in the 85 kg men's category in Weightlifting in the anticipation of another gold. However, Venkat didn't disappoint the whole country and lived up to the expectations as Twitter flooded in with the wishes for him. Even Sehwag was thrilled after his victory and like he does every time, took to Twitter and wrote a special message for the Weightlifters in Gold Coast.
He added the image of Venkat with the Gold medal and captioned it as, "And number 4. Our weightlifters have taken it upon themselves to carry all the weight on their shoulders. Heartiest congratulations #VenkatRahulRagala for winning another gold for India in #CWG2018 in 85kg category of weightlifting."
Meanwhile, the former Indian cricketer is gearing up his men at Kings XI Punjab for the upcoming season of the IPL as their opening encounter is on Sunday against Delhi Daredevils.
Here's Sehwag's tweet:
And number 4. Our weightlifters have taken it upon themselves to carry all the weight on their shoulders . Heartiest congratulations #VenkatRahulRagala for winning another gold for India in #CWG2018 in 85kg category of weightlifting. pic.twitter.com/chCOR4y9Fz

— Virender Sehwag (@virendersehwag) April 7, 2018
Here's our video of the day:
Follow us on Telegram