T20 World Cup 2022: SWOT analysis of Australia Squad
Australia have a chance to become the first nation to win the illustrious trophy as hosts at the iconic Melbourne cricket ground on November 13.
Get every cricket updates! Follow us on
In October 2021, the five-time ICC World Cup champions travelled to the deserts of UAE in an attempt to win their first-ever T20 World Cup title.
From warm, breezy conditions in Australia to hot and humid weather in UAE, they weren't given much chance to go all the way under unfamiliar conditions once they stepped into unchartered territory. Possibly a very low percentage would have put their money on them even to have a deep run after their defeats to Bangladesh and the West Indies in T20I bilateral series.
"I'll say it now; I don't give Australia much chance. In T20 cricket, they've struggled. Glenn Maxwell's exceptional, so he will have to have an incredible tournament. But I don't see the Aussies doing too much. England, India, West Indies, New Zealand, one of those four and maybe Pakistan because of the conditions," Vaughan said on BBC Test Match Special on October 19, 2021.
The Australian team suffered a heartbreaking defeat when they were completely outplayed in all three departments by the Three Lions midway through the competition, putting their campaign in jeopardy and forcing them to win the final two games to advance to the semis.
But life's a small circle, and cricket is a funny game, and there's no better sight in sport than a world champion having their back against the wall and forced to defy the odds. Little did the world know that Australia would go on to clinch their first-ever T20 World Cup title just by dropping one game. But life's more than just winning; talent and skill are measured by how one sustains supremacy.
Strengths:
From U15s to the World Cup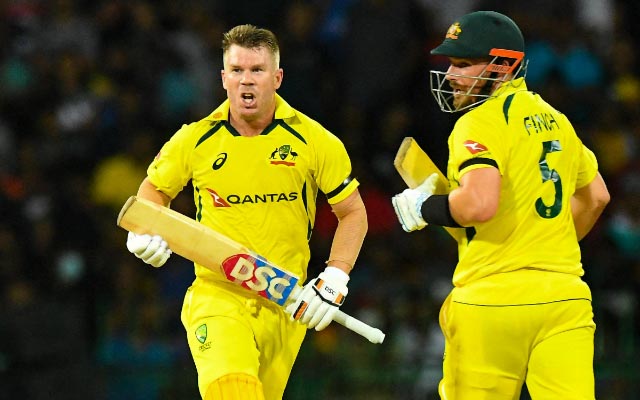 David Warner and Aaron Finch will go down in history as one of the most pernicious pairings the cricketing world has ever seen. From boys to men, the Finch-Warner pairing had its first face-off at a county ground in Melbourne almost two decades ago. Later, the two little boys would go on and break records for Australia together. The pairing in the last ten years has scored 1544 runs with an average of 40.63 in 41 innings in T20Is.
One of Australia's greatest strengths is their top pairing, a couple of bullies in the truest sense of the word. When Warner and Finch are in the mood, there's no reprieve for the bowlers. Unfortunately, it is the case most of the time for majority of the bowlers. The pairing lays the groundwork in the powerplay, putting up swift runs by complementing one another, and have four 100-run partnerships and six 50-run partnerships to their credit.
Firecrackers to illuminate the night sky?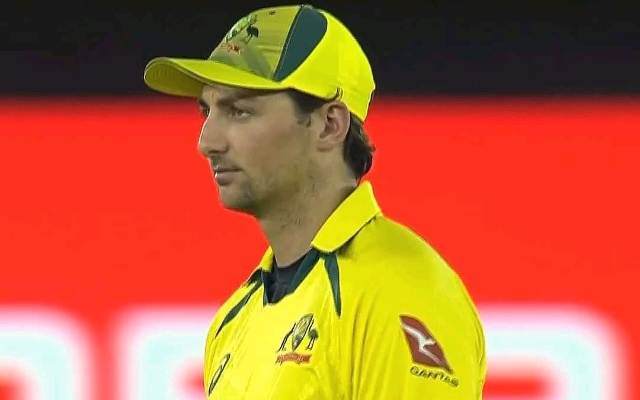 T20 is a fickle format, and the success rate can take a drastic hit with variable fluctuations if momentum is not going one's way. It's a tough code to crack, but one which is within reach. The success rate significantly depends on runs and coherence, making batters who deliver both in tandem the heart of any T20 side around the globe.
With the ever-evolving T20I format, a side needs batters tonking the ball at a good rate and also among the runs. It again comes down to the balance and how batters complement each other within the 20 overs. For example, If a batter is averaging 27 with a strike rate of 130 and isn't partnered by a batter striking at over 170, things can go from the top to the bottom very quickly in the format.
The Australian side is loaded with such swift batters, players who can take games away out of the opposition's grasp in little more than the span of a solitary over or even in a couple of deliveries time. From Mitchell Marsh to Marcus Stoinis and Matthew Wade, one name that has caught the eye, is that of the shining star from the green streets of Singapore.
Tim David has taken the world by storm recently with the kind of cricket he has played. An unorthodox route to the Australian national team has worked magic for David. Scoring at over 160, David has excelled in the limited opportunities he has got thus far. In 135 T20s, he has scored 2881 runs at an average of over 30 and at a whopping strike rate of 163.32.
---
Weaknesses:
When talent doesn't meet expectation: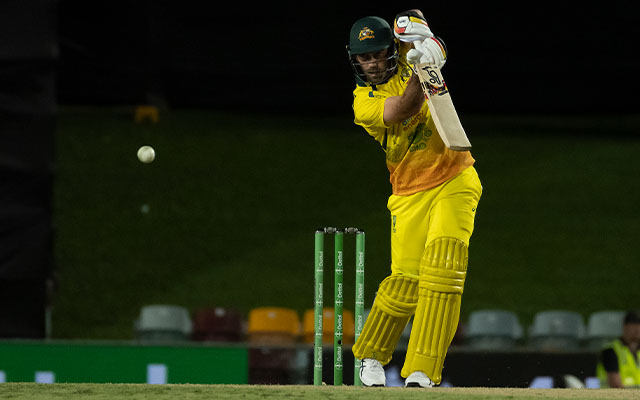 A few top edges, an erratic reverse sweep and a miscue to long on. These shots have raised a few eyebrows about Glenn Maxwell's form going into the World Cup. Another miscue to long off on October 14, Friday night against England off Chris Woakes drew the spotlight on his worrying record. In his last 14 T20I innings, his form does not make for a pretty reading. A total of 197 runs in 14 innings - not something any batter would be really proud of.
And for someone of Maxwell's stature, his T20I strike rate in 2022 being 113.83, is not something to celebrate. This adds to Australia's worries as one of their stars isn't matching the teams' expectations.
Maxwell's gutsy and effective off-spinners bolster his chances significantly, particularly given the Australian spin bowling arsenal. But with players like Maxwell, one as a team should be ready to take the good and the bad, and if it's one of his heydays, Maxwell could get a 35-ball ton and win the game for his side when they need 70 off five overs.
How much cricket is too much cricket?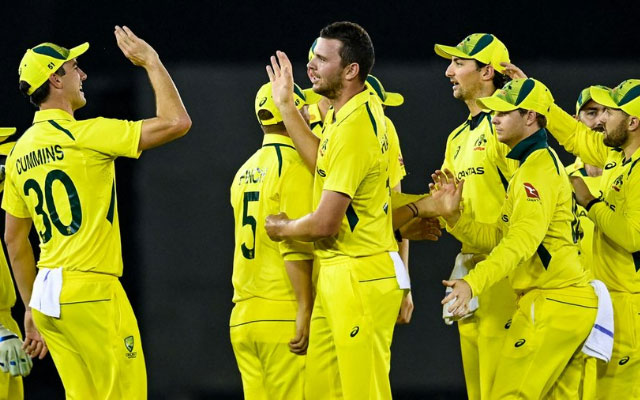 Australia were on the verge of another defeat in the Australian capital before the rain gods came to their rescue and prevented a 0-3 whitewash against arch-rivals England. It meant the three-match T20I series ended 0-2 in England's favour. In the last three months, the Australians have played ODIs against Zimbabwe and New Zealand, three T20Is in India, and five home T20Is against the West Indies and England.
With results not going Australia's way in the recent past and also with the number of games played, physical and mental fatigue could come in and hamper their chances of going deep into the tournament, and the chances of the team running out of steam look likely.
But with Australia and ICC tournaments, a match made in heaven, it could go either way with the World Cup buzz in the air, juices flowing, and as the World has seen, Australians thrive under immense pressure.
---
Opportunities:
Does history await the team Down Under?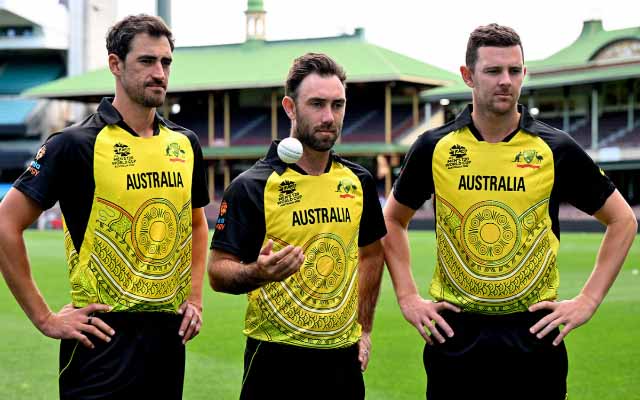 The cricketing fraternity has witnessed seven editions of the ICC T20 World Cup so far, and none of the host nations have been able to lift the title in their backyard. From the Wanderers in Johannesburg to Lord's in London, the World Cup has seen several iconic venues. This summer, the T20 World Cup games have finally made their way to the streets of Australia for the very first time.
The eighth World Cup final will take place at the scintillating and jaw-dropping Melbourne Cricket Ground, in East Melbourne. Australia, the hosts, have a chance to become the first nation to win the illustrious trophy on home soil.
Spin it to win it?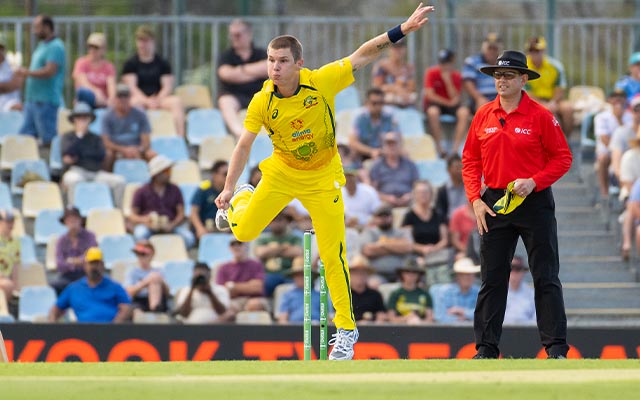 The spin department comprising Ashton Agar and Adam Zampa has played a crucial role in Australia's rise to the top. Zampa carries a lot of weight on his shoulders in the current Aussie set-up with Maxwell summoned when needed to get a few quick overs in, especially when the games are in Australia.
Regardless of the surface, spin plays a significant role, and it becomes important to have a lethal spinner in your arsenal. Over the last five years in Australia, Zampa has picked 25 wickets in 21 innings averaging 20.76 with an economy of just over 6.6.
In the last edition of the T20 World Cup, Zampa played a significant role in taking Australia to their first title triumph picking up 13 wickets in seven innings with an exceptional economy of under six. Zampa, this time around, has a great opportunity to become Australia's most lethal weapon with the ground dimensions suiting the bowlers; it could be a test and an opportunity for Australia's go-to option to pull off yet another rabbit from his hat for the hosts.
---
Threats:
Expectations lead to disappointments!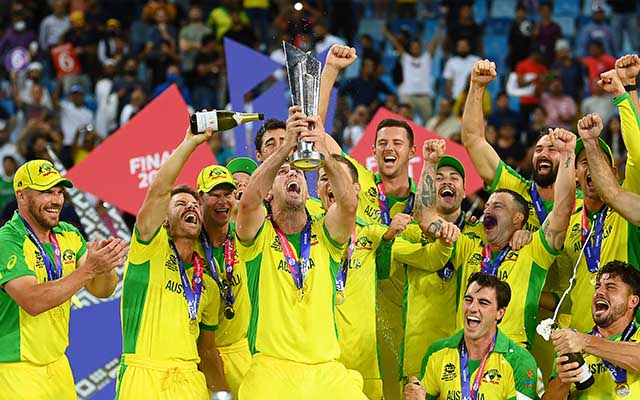 Expectation has been one of cricket's most powerful drivers and culprits since the advent of the game. If little to nothing is expected out of a team, they can't disappoint really. But if a lot is desired, then the room for disappointment broadens and at times becomes inevitable.
In the modern cricketing age, there seems to be an awful lot of expectations that lead to disappointments when the goals are not met. It's a result-driven world, and sometimes progress means absolutely nothing.
'Everything excess in life, is poison', but could one say the same about flair and ability? With tons of talent and skill in the Australian set-up, it could all go downhill if the team just doesn't find the right balance to their recipe of success. With the inclusion of Cameron Green into the T20 World Cup squad after Josh Inglis' freak injury, it becomes even more challenging to stage a perfect XI.
It is easier flowing with the current but taking up a star-studded change room takes a lot of guts, especially when you being the captain are looking for some form. When no one really gave them a chance, Australia won hearts in a mesmerizing run of attacking cricket in the last edition of the T20 World Cup to clinch their first title.
With Australia expected to defend their crown in home conditions, can they go back-to-back? This time with a lot of expectations from the fans. With all the hype and the attention?