Nidahas Trophy 2018: Indian team's flag gesture wins many Sri Lankan hearts
The Nidahas Trophy was held to commemorate the 70th year of Sri Lanka independence.
Updated - Mar 21, 2018 11:56 am
1.2K Views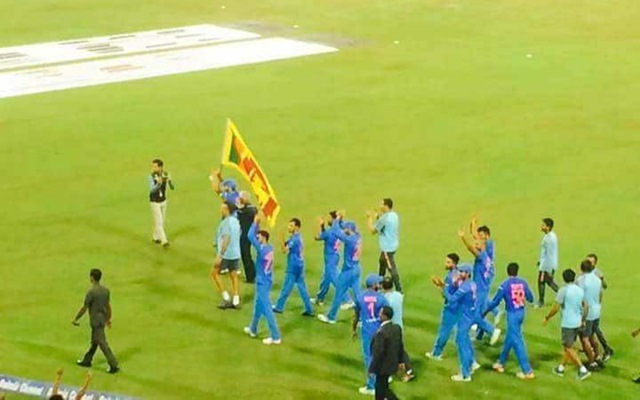 Riding on the back of Dinesh Karthik's game-changing cameo of 29 that came in just 8 deliveries, the disappointing Sri Lankan fans salvaged some pride as the men in blue comfortably defeated Tigers in the final of Nidahas Trophy 2018. Earlier, it was a heart-breaking encounter for the home fans which saw an unlikely behavior from the men in green after they pipped the Sri Lankans to book a spot in the final against the Indians. As a consequence, fans came in huge number to lend their support to Rohit and his team on a Sunday evening.
It was an unexpected end to the game prior to the final which despite a nail-biting finish saw much exchange of words between the players from both the teams. The Bangladeshi captain, Shakib Al-Hasan nearly fortified the game asking his players to leave the field pertaining to a no-ball decision that he felt was incorrect.
Indian team takes a lap of honour
It was the Indians who got benefited from that verbal spat as they received huge appreciation from the crowd after winning the final. The team wasn't reluctant as they took a lap of honour, in a way thanking the crowd for their immense support in the game. The lap saw the Indian players waving at the crowd along with the Sri Lankan flag which was carried by the Indian captain for few seconds.
In the post-match presentation, the Indian skipper didn't fail to recognize the support, "(It was a) brilliant game, brilliant for the crowd who have come out in numbers. The support we got here from this crowd was brilliant, it would be a bit different if we were playing Sri Lanka but I would like to thank them for their show tonight, " Rohit said.
Shakib and his men faced a hostile crowd
This was on the expected lines as the Tigers much due to their cruel behavior on the field, were on the receiving end in the final. Even while the post-match presentation, fans booed the losing captain, depicting their hostility towards the Shakib led side. The crowd cheered for every shot that the Indians played or a wicket that they took, in a way punishing the men in green for their on-field behavior the other day.