Hanuma Vihari's personality helped him look so comfortable and secure in his debut Test
Vihari scored a fifty in his maiden Test knock in the 5th Test against England.
Updated - Sep 10, 2018 3:37 pm
941 Views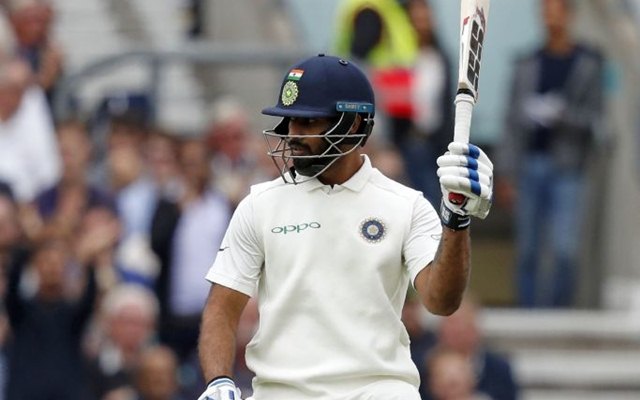 Follow us on Google News
The rise of a young batsman through the ranks in India is a huge challenge in itself. Since more often than not it is a journey which not only involves the runs he gets but is about a lot more than that. It is his first-class average of 59 that most people talk of but not how Hanuma Vihari had to deal with personal losses, changing a team after spending more than half a decade there and through all that continue piling on the runs.
In 2016-17 his coach Sanath Kumar asked him to take a risk, move out of Hyderabad and join the Andhra team. It was a big decision for him. Amidst all the adversities the coach did promise young Vihari that if he stays committed to the task for another 3 years he will be wearing the Indian jersey.
"I am not getting into the particulars but enough to say that the entire experience was unpleasant," Sanath was quoted as saying by Indian Express. "You are not going to do anything silly like quitting the game or anything like that. I promise you this: give me three years of cricket and I think you will play for India. You are that good. And if things don't work out there (Andhra), I will take you wherever I go," he added.
The transformation
That was the time when Vihari transformed himself. There is something about Hyderabad players and wrist work. He is predominantly a leg-side player and has a beautiful on-drive.  That was the shot his father had asked him to master having watched another Indian cricketer from the region Ambati Rayudu bat.
He has also developed a really good temperament, mental composure, the understanding of what is required of him and the ability to deliver that. "I remember he was so happy and told me right away that he would totally plunge himself back into the game. No self-doubts. No more confusion," the coach further stated.
"I can confidently say that Vihari was one of the primary reasons we turned around. The dedication and focus he showed rubbed on to the other players. He would constantly speak to them, get them to train properly and became the leader. He had great captaincy traits."
Mental strength
He had a tough start to his innings, was a bit nervy, top-edging attempted pull shots but once he set in there was a lot more certainty. He didn't look uncomfortable, a debutant appearing as if he belongs here is an ideal scenario for both the player and the team.
The English players even tried to get under his skin with Ben Stokes hurling a few sledges but Vihari wore a poker face didn't react and the fact that he had the skipper Virat Kohli at the other end to keep him pumped yet in checked worked in his favour as well.
"He is very strong mentally," Sanath says. "He has seen enough in his life to be upset with all this." Personal tragedies and cricket politics he has shrugged off to focus on cricket. "The best thing about his batting is how early he picks the length of the ball. You haven't seen his on-driving yet or the punch off the back foot."
Follow us on Telegram