Ranji Trophy 2018-19, Round 2, Day 1: Round up
Yusuf Pathan was unfortunate to have got out on 99 on the day.
Updated - Nov 12, 2018 5:56 pm
11.4K Views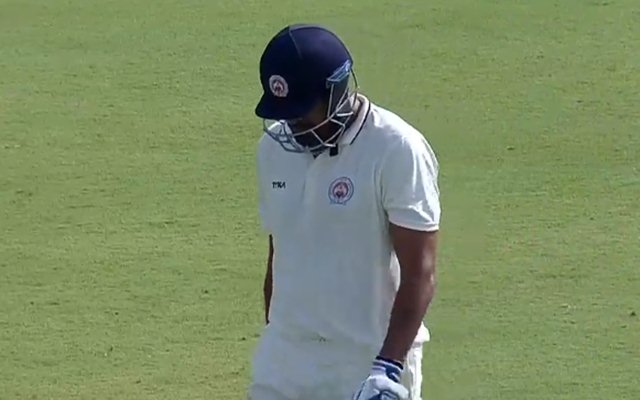 All-rounder Ravindra Jadeja has begun his preparation for the Australia tour with a brilliant four-wicket haul in round two of the Ranji Trophy 2018-19. His heroics helped Saurashtra bowl out the Railways for just 200 runs. Furthermore, he came into bat at a juncture when his team was under immense pressure and was unbeaten on 33 at the close of play on day 1.
Andhra batsman Ricky Bhui continued with his rich vein of form. He notched up his second consecutive century this season with a 109 against Kerala. Gujarat's Manprit Juneja, Hyderabad's Akshath Reddy, Bengal's KB Ghosh, Puducherry's Paras Dogra were the other centurions of the day. Yusuf Pathan, unfortunately, couldn't get to the three-figure mark and fell for 99. It was a counter-attacking knock from a position where Baroda were being dominated by Maharashtra bowlers.
Jharkhand bowled Haryana out for just 81 runs which is another highlight of the day. Although many picked up four-wicket hauls, it was Uttarakhand's Deepak Dhapola who stole the show with a 7-wicket haul against Manipur. Karnataka's skipper Vinay Kumar picked one wicket thus far in his 100th Ranji Trophy match.
Brief Scores – Day 1, Round 2
Group A
Baroda vs Maharastra
Baroda, 1st innings: 322/9 in 83 overs (Yusuf Pathan 99, Swapnil Singh 79, SS Bachhav 4/81)
Gujarat vs Chattisgarh
Gujarat, 1st innings: 260/3 in 78 overs (Manprit Juneja 102*, B Merai 60, Sumit Ruikar 1/47)
Saurashtra vs Railways
Railways, 1st innings: 200/10 in 64 overs (Mahesh Rawat 46, Faiz Ahmed 38, Ravindra Jadeja 4/58)
Saurashtra, 1st innings: 82/4 in 27 overs (Ravindra Jadeja 33*, Jaydev Shah 19*, Avinash Yadav 2/24)
Vidarbha vs Karnataka
Vidarbha, 1st innings: 245/8 in 87 overs (G Satish 57, Wasim Jaffer 41, Abhimanyu Mithun 3/32)
Group B
Delhi vs Himachal Pradesh
Delhi, 1st innings: 305/8 in 89 overs (Dhruv Shorey 88, H Dalal 79, Mayank Dagar 3/57)
Kerala vs Andhra
Andhra, 1st innings: 225/8 in 89.3 overs (Ricky Bhui 109, Siva Charan Singh 45, KC Akshay 4/56)
Tamil Nadu vs Hyderabad
Hyderabad, 1st innings: 249/3 in 90 overs (Akshath Reddy 114*, Bavanaka Sandeep 74*, RS Shah 1/54)
Bengal vs Madhya Pradesh
Bengal, 1st innings: 246/4 in 82 overs (KB Ghosh 100, AR Easwaran 86, Avesh Khan 1/49)
Group C
Tripura vs Assam
Assam, 1st innings: 268/4 in 84 overs (P Aziz 88, RK Das 70, AK Sarkar 2/87)
Odisha vs Uttar Pradesh
Odisha, 1st innings: 256/10 in 68.1 overs (Subhranshu Senapati 87, Sujit Lenka 46, Yash Dayal 3/62)
Uttar Pradesh, 1st innings: 42/1 in 18 overs (M Saif 24*, Madhav Kaushik 16*, Basant Mohanty 1/15)
Goa vs Jammu & Kashmir
Goa, 1st innings: 216/2 in 90 overs (S Amonkar 69*, SK Kamat 57, Irfan Pathan 1/30)
Haryana vs Jharkhand
Haryana, 1st innings: 81/10 in 41.3 overs (Rohilla 36, H Rana 25, A Yadav 4/24)
Jharkhand, 1st innings: 120/6 in 32 overs (Ishan Kishan 23*, Anukul Roy 22*, Ashish Hooda 4/32)
Rajasthan vs Services
Services, 1st innings: 228/10 in 64.5 overs (A Gupta 54, Vikas Hathwala 49, TM Ul-Haq 4/61)
Rajasthan, 1st innings: 45/1 in 17 overs (Chetan Bist 22*, Mahipal Lomror 15*, Diwesh Pathania 1/14)
Plate Group
Mizoram vs Arunachal Pradesh
Arunachal Pradesh, 1st innings: 220/10 in 66.2 overs (Akhilesh Sahani 65, Kshitiz Sharma 49, T Kohli 3/62)
Mizoram, 1st innings: 93/2 in 22.4 overs (Akhil Rajput 57, Lalhruaizela 22, Subhash Sharma 1/10)
Nagaland vs Sikkim
Nagaland, 1st innings: 179/10 in 52.5 overs (Jonathan R 86, Tahmeed Rahman 33, Ishwar Chaudhary 4/65)
Sikkim, 1st innings: 120/5 in 35 overs (Milin Kumar 78*, Ashish Thapa 17, Pawan Suyal 5/34)
Puducherry vs Meghalaya
Puducherry, 1st innings: 269/7 in 90 overs (Paras Dogra 101, D Rohit 61*, Gurinder Singh 2/58)
Uttarakhand vs Manipur
Manipur, 1st innings: 137/10 in 42 overs (Yashpal Singh 38, Deepak Dhapola 7/50)
Uttarakhand, 1st innings: 123/5 in 46 overs (KV Kaushal 45, VA Saxena 27, BS Konthoujam 3/41)