Indian Premier League (IPL) 2020: A timeline of all the happenings
Here is a timeline of how this year's IPL journey has unfolded.
Get every cricket updates! Follow us on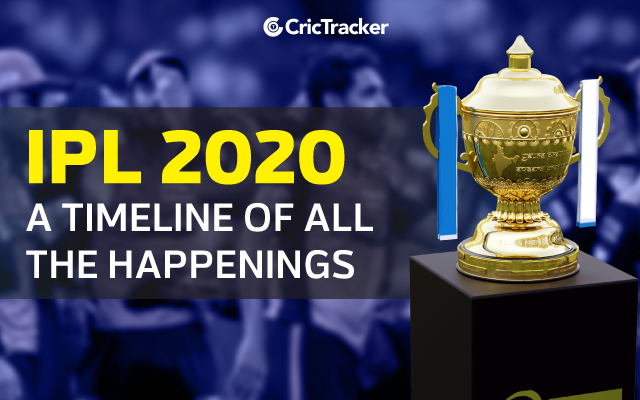 The IPL hullabaloo has been now on for the last 5 months. With the tournament scheduled to be played from 19th September to 10th November, here is a timeline of how this year's IPL journey has unfolded.
19 December 2019- SOLD!… IPL Auctions
Pre-Corona times! IPL auction takes place in December with 332 players going under the hammer for 73 vacant slots. (Read full story)
27 January 2020- Mumbai to host the final
The BCCI President Sourav Ganguly states "There will be no change in the timing of IPL night games. It will start at 8 pm like earlier years. There was a discussion about 7:30 pm but it's not happening. We will have only five doubleheaders (4 pm and 8 pm) this time. IPL final will be held in Mumbai," (Read full story)
16 February 2020- All-stars game announced
The IPL All-Stars game is announced by the BCCI President Sourav Ganguly. The game would have seen franchises belonging to the South and West part of India- Chennai Super Kings, Mumbai Indians, Royal Challengers Bangalore, and Sunrisers Hyderabad lock horn with the players belonging to the North-East based franchises- Kolkata Knight Riders, Rajasthan Royals, Kings XI Punjab, and Delhi Capitals. (Read full story)
18 February 2020- BCCI announces schedule
BCCI announces schedule for the IPL 2020 with the opening clash between Mumbai Indians and Chennai Super Kings. (Read full story)
20 February 2020- "All-stars" goes in the dump box…
All-Star game gets called off due to the reluctance of the franchises who were not informed about the game before Sourav Ganguly announced it publicly as well as because of management fearing potential injuries to players before the start of the season. (Read full story)
All-stars return!
The IPL Governing Council Chairman Brijesh Patel confirms that the fixture has been postponed and will now take place at the end of the IPL 2020 season. "We are not calling it off, it has just been postponed to the end of the tournament. We wanted to see how the players are performing, and on the basis of that, form the teams for the All-Star match," (Read full story)
27 February 2020- Warner takes charge of the Orange army
While most fans were expecting Kane Williamson to lead the side, Sunrisers Hyderabad announces the news on Twitter "Orange Army will be led by David Warner in the upcoming edition of Indian Premier League." (Read full story)
29 February 2020- "Welcome ladies!" BCCI announces four-team Women's T20 Challenge
"2020 aims to be no different and this edition will see a 4th team added to the tournament. The WT20 Challenge this year will feature some of the world's best women cricketers and will have 7 matches played during the IPL Playoff week at Sawai Mansingh Stadium, Jaipur. Like the previous editions, this year's Women's T20 Challenge too promises to be an exciting prospect," Jay Shah said in the statement. (Read full story)
4 March 2020- Mr. President rules out Corona-threat
BCCI President Sourav Ganguly rules out threat to the IPL. "Nothing in India. Not even discussed it (Coronavirus)" Ganguly states, as Brijesh Patel, the IPL governing council chairman corroborates. (Read full story)
Players loan in the picture
The BCCI introduces a few changes to the IPL including the third umpire calling the front and back foot no-balls through a circular sent to all the stakeholders. It is further stated that the capped and overseas players could be loaned during the tournament this season. (Read full story)
Bring us the money!… Prize slash upsets franchises
IPL's prize money gets slashed. BCCI decides to reduce the prize money for the IPL. The board has proposed an almost 50% reduction in the prize money and reportedly, the franchises are not at all pleased with it. "None of these moves were discussed with us. We being stake-holders, BCCI should involve us before making these decisions," a top franchise states. (Read full story)
10 March 2020- Chants of "Cancel IPL" by Karnataka Government
The Karnataka Government writes a letter to the central government requesting for the IPL to postpone or suspend IPL amid coronavirus threat; denies hosting the IPL matches. (Read full story)
11 March 2020- The chants get louder. Knocks on the doors of the court
A plea is filed in the Madras High Court seeking a direction to the central government not to allow the BCCI to conduct IPL games due to the coronavirus outbreak. The petitioner points the unavailability of medicine for coronavirus as he urges the court to stop the Indian cricket board from staging the tournament. (Read full story)
12 March 2020- Overseas players' IPL participation in doubt
"All existing visas, except diplomatic, official, UN/International organizations, employment and project visas, stand suspended till 15th April 2020. This will come into effect from 1200GMT on 13th March 2020 at the port of departure," reads the government statement. (Read full story)
Murmurs of IPL behind closed doors
"We are not stopping the game. We are just telling to ensure that there is no mass gathering. The precautionary step is very important for the health of the country. Health of the nation is more important than anything. If matches happen the organizers would need to put in place all infrastructure including screening machines. You cannot hold a match without that", states Kiren Rijiju, India's Minister of State for Youth Affairs and Sports. (Read full story)
Go IPL… IPL Go… MEA suggests to scrap the IPL!
"I think it is for the organizers to decide whether to go ahead with it or not. Our advice would be to not do it at this time but if they want to go ahead, it is their decision." States the Ministry of External Affairs (MEA). (Read full story)
13 March 2020- IPL postponed to mid-April
BCCI suspends the IPL 2020 till 15 April 2020 as a precautionary measure against the ongoing coronavirus pandemic. (Read full story)
14 March- Ness Wadia moots cancellation
"There can be no compromise for even one human life. If we cancel the IPL and end up saving one life, it will be worth it. That is my personal opinion. It is better to be safe than sorry," says Kings XI Punjab's co-owner Ness Wadia. (Read full story)
"We care": BCCI clarifies stand
"The BCCI along with all the IPL franchises have reiterated BCCI's stand of putting the safety and well-being of fans, athletes and employees as a priority. The board will continue to monitor and work closely with the Government of India, state governments and other state regulatory bodies to decide on the future course of action in the best interest of public health," clarifies BCCI. (Read full story)
25 March- Lockdown increases IPL's woes!
"If the Olympics can be postponed by a year, IPL is a much smaller entity in that regard…. With a 21 day lockdown, it is virtually impossible that things will return to normalcy by April 14. It might improve but a lot of restrictions will be in place. So it will be foolish not to cancel the league," states a BCCI official. (Read full story)
31 March 2020- Curtailed IPL? No foreigners? Speculations on September-November window…
The stakeholders look at the September-November window to make the IPL 2020 season happen. The organizers express keenness on having a go even with a curtailed season without the foreign players. (Read full story)
14 April 2020- IPL postponed sine die
BCCI officially suspends IPL 2020 till further notice over health concerns regarding COVID-19 and lockdown measures implemented by the Government of India. (Read full story)
16 April 2020- Sri Lanka's shows interest
Sri Lanka Cricket (SLC) proposes the Board of Control for Cricket in India (BCCI) to host the Indian Premier League (IPL 2020) in Sri Lanka. (Read full story)
5 May 2020- "Lives more important", feels Bhajji
"Honestly, even if IPL doesn't happen for the first time in 13 years I think that is fine. We can't force to have cricket seeing the serious situation we all are in. Human life comes first, cricket can wait" states Harbhajan Singh. (Read full story)
7 May 2020- "Can't see it happening", opines Mohammad Shami
"I don't think there will be time left to hold the IPL because the (T20) World Cup is also there and everything has stopped. IPL will have to be re-scheduled but looking at the current scenario, I don't think the IPL will be possible," Mohammad Shami Shami states in an online video chat. (Read full story)
10 May 2020- UAE offers to host the IPL 2020
Emirates Cricket Board (ECB) offers to host the IPL 2020. "The UAE has offered to host the IPL if we want them to. But right now when there is no international travel, there is no question of taking a call on that," Arun Dhumal, BCCI treasurer states. (Read full story)
4 June 2020- UAE Premier League! BCCI contemplates moving IPL 2020 out of India
"If it is safe for our players to play IPL in India, then it would be our first preference but in case the situation does not permit and we are not left with any choice and a window is available then we can look at moving IPL 2020 out of India," states Arun Dhumal. (Read full story)
9 June- See ya next year… Asia Cup postponed!
Asia Cup 2020 scheduled in September 2020 gets postponed till June 2021; the possibility for IPL 2020 increases. (Read full story)
11 June 2020- Ganguly's work on "all possible options"
The BCCI chief gives a big update and states that the Indian board is searching for every possible option to organize IPL. "The BCCI is working on all possible options to ensure that we are able to stage the IPL this year, even if it means playing the tournament in empty stadiums," Sourav Ganguly states. (Read full story)
12 June 2020- "Ready to go out of here", says Mr. Chairman
"We are ready to go ahead with the IPL. But we can start planning the schedule formally only after the official announcement is made on the T20 World Cup. On our part, we've already earmarked the September-October window for the tournament to be played… We have to watch how things are going to play out over the next one month from a COVID perspective. We don't mind shifting the IPL to another country, either in part or in full. There are other aspects to be considered here," states Brijesh Patel, the IPL governing council chairman. (Read full story)
20 July 2020- ICC T20 World Cup 2020 postponed
ICC postpones the 2020 T20 World Cup in the wake of the COVID-19 pandemic in the IBC board meeting. The pathway for IPL 2020 gets cleared. (Read full story)
21 July 2020- IPL approaches for government nod
Brijesh Patel, the IPL governing council chairman, confirms that the BCCI has written to the Indian government for permission to host outside India. (Read full story)
24 July 2020- IPL gets green signal
The IPL 2020 dates are released to be September 19 with the final to be played on November 8 in UAE. (Read full story)
27 July 2020- Emirates Cricket Board confirms receiving 'Letter of Intent' from BCCI
The BCCI sends an acceptance letter to the Emirates Cricket Board (ECB) for hosting the 13th edition of the Indian Premier League (IPL 2020). Earlier, ECB had shown willingness to host the 2020 edition of IPL by writing an official letter to the Indian board. (Read full story)
WHAT, HOW, WHEN!: Franchises seek answers to many questions…
The IPL franchises seek answers about venues, travel plans, bio-secure bubble, dates of match, flying players to UAE, travel of their family, travelling overseas players there, players loan system, replacements due to injury, and none availability, policy for isolation. (Read full story)
28 July 2020- BCCI shares detailed plan of IPL 2020
"In all these years of IPL, the responsibility of accommodation, hospitality, travel, etc. – during the IPL – has been of the team owners. Nothing is going to change this year. The only change will be in the SOPs with regards to COVID," states Brijesh Patel while confirming dates for the upcoming meetings. (Read full story)
30 July 2020- IPL final shifts to November 10
Reports suggest that the final earlier slated for November 8 is likely to be postponed to November 10 in order to utilize the Diwali week. (Read full story)
South-Africans set to miss the start
Declaration from the South African government hampers the chances of South African players to participate in the tournament right from the start. (Read full story)
1 August 2020- Lankan Premier League; England versus Australia series to hinder player participation
Reports state about Lasith Malinga and Isuru Udana to miss the first week of the 2020 edition of the Indian Premier League due to the inaugural season of the Lankan Premier League (LPL) in to be held in the month of August and September.
Further, ECB released the schedule of Australia's tour of England for a three-match ODI and T20 series with the last match to be tentatively played on September 16. Therefore, raising speculations about a handful of capped England and Australian players to also miss the first few days. (Read full story)
2 August 2020- BCCI gets Sports ministry's nod for November 10 final; Evening matches to start at 7:30 PM; 10 double-headers
"We have decided to go up till November 10 and so the final will be held on a weekday for the first time. Also, to ensure that there are enough gaps between games considering the travelling and the bio-secure environment and keeping all these things in mind, we will have 10 double-headers this season," a BCCI official states. The evening matches to start at 7:30 PM IST. (Read full story)
3 August 2020- BCCI decides to continue with Vivo as a sponsor
Vivo's association with the Indian Premier League as the title sponsor goes in jeopardy due to the rising tension between India and China after the border standoff. However, a BCCI official reveals that the matter has been discussed and VIVO will continue as title sponsor. (Read full story)
BCCI receive fans' flak
However, BCCI's decision receives fans' flak with people bashing the Indian government and the BCCI for not being 'Aatmanirbhar' and leading the way. (Read full story)
The social bashing: "Chinese Premier League" trends…
After BCCI's call, a hashtag by the name of the 'Chinese Premier League' started doing the rounds on social media. (Read full story)
4 August 2020- Adios, says Vivo; pulls out as a sponsor
VIVO pulls out as the title sponsors of the 2020 edition of the Indian Premier League (IPL) after the social outrage. While the BCCI decides to retain all the sponsors. (Read full story)
6 August 2020- Franchises receive Standard Operating Procedures from BCCI
Testing protocols, travel plans, bio-secure bubble guidelines, and families of players. The 16-page document answers it all! (All you need to know)
And, what if a player tests positive in the middle of the tournament? Contact-tracing to be initiated as soon as a case comes to the fore. The IPL Medical manager upon receiving any information from the team doctor will immediately take charge and the person will be treated in coordination with hospitals and treatment centers equipped with COVID-19 testing. (Read full story)
10 August 2020- Final written approval
After an 'in principle' go-ahead from the government, the BCCI also receives formal approval by both the Ministry of Home Affairs (MHA) and the Ministry of External Affairs (MEA). (Read full story)
BCCI calls for a bid for IPL 2020 title sponsorship
The BCCI invites bids for the title sponsorship of the 13th edition of the Indian Premier League (IPL 2020), moments after the Indian government gave a green signal to the tournament. (Read full story)
Shocker for the franchises: No IPL mega-auctions!
The franchises won't be able to rebuild their side next year due to the shortage of time and the lack of planning won't be beneficial for the teams ahead of the mega auction. "What's the point in doing a mega auction now and not have enough time to plan it properly? IPL might as well go ahead and finish the 2021 edition of the tournament and then see how it wants to go about it," states a source. (Read full story)
11 August 2020- ECB receives BCCI's official clearance
The ECB Chairman Sheikh Nahayan Mabarak Al Nahayan expresses and acknowledges BCCI's official clearance. "This is undoubtedly the highest-profile cricketing-event to be held in the UAE and our team will continue to support all facets (of the tournament) and work toward delivering a successful event for the enjoyment of all sports-fans; here in the UAE, in India and across the world." (Read full story)
12 August 2020- RR's fielding coach tests positive
"Dishant is currently in his hometown Udaipur and has been advised to get admitted to hospital for his 14-day quarantine. Post 14 days, Dishant will be undergoing two tests as per the protocols of BCCI. On return of two negative reports, he will be allowed to join the team after self-isolating for 6 days and receive 3 further negative tests upon his arrival in the UAE,", the franchises states. (Read full story)
13 August 2020- Jadeja misses CSK's conditioning camp
The camp is organized for the fitness of the players along with some cricket training. Other than Jadeja, all the prominent Indian players which include the likes of MS Dhoni, Suresh Raina, Ambati Rayudu, Harbhajan Singh confirm their presence in the camp. (Read full story)
Karun Nair recovers from COVID 19
Nair clears the COVID-19 test after being in self-isolation for over two weeks. (Read full story)
15 August 2020- Six companies show interest in the IPL 2020 title sponsorship
Tata Group, Reliance Jio, Patanjali, Dream11, Byjus, and Unacademy meet the deadline for submitting Expression of Interest (EOI). (Read full story)
The "turbanator" misses CSK's training camp
Harbhajan seeks permission to stay back and be with his unwell mother. "Harbhajan and Thakur had a few personal commitments and we understand that. However, they have already started training on their own. So we aren't worried about them missing our camp. They're expected to join the camp on August 19." states a source. (Read full story)
18 August 2020- Tadaa! Dream 11 IPL!
The leading Fantasy platform, Dream11 bags the title sponsorship of the IPL for 2020 for a whopping amount of INR 222 crore. (Read full story)
20-21 August 2020- KKR, RR, KXIP, MI, CSK, and RCB reach UAE; IPL gets a new logo
Three franchises- KKR, RR, and KXIP- reach on 20th August while the remaining three on 21st August. Later, the official Instagram handle of the IPL uploads a picture of the new logo with the hashtag "#Dream11IPL". (Read full story)
King Kohli reaches the UAE
Kohli travels separately; shares the news of his arrival in Dubai on social media. (Read full story)
22 August 2020- Ab de Villiers, Dale Steyn and Chris Morris reach Dubai; England-Australia players not to miss out the start; SRH, DD reach UAE
South African trio AB de Villiers, Dale Steyn, and Chris Morris join the Royal Challengers Bangalore unit in the UAE. (Read full story)
"The BCCI protocols have been updated in the last few days, and I'm pleased to say our English and Australian stars playing in the series pre IPL should be available for our first IPL match. Either way, we have a quality squad with the depth to manage any situation," states the COO of Rajasthan Royals Jake Lush McCrum. (Read full story)
24 August 2020- Future Group pulls out as a central sponsor
The retail conglomerate Future Group pulls out as the central sponsor of the IPL. (Read full story)
25 August 2020- NADA to carry out 50 tests during the IPL
National Anti-Doping Agency (NADA) comes up with its final plan to be carried out during the course of the fancy T20 league. The agency states the plan of collecting 50 samples of cricketers during the tournament. (Read full story)
26 August 2020- Harry Gurney ruled out of the IPL
Notts Outlaws medium-pacer Harry Gurney is ruled out of the 13th edition of the Indian Premier League due to a shoulder injury. (Read full story)
27 August 2020- Jason Roy ruled out of the IPL
Jason Roy is set to miss the tournament due to a side strain. Daniel Sams is named as the replacement. (Read full story)
BCCI mulls over two-phased IPL
Reports state that the BCCI is planning to divide the IPL 2020 into two legs due to local protocols and that is why the delay in releasing the official schedule. (Read full story)
28 August 2020- A dozen CSK members test positive
A massive blow to the tournament and the CSK camp comes in the form of this news. The names of the player, support staff, and officials are not revealed. (Read full story)
29 August 2020- Double blow to CSK as Chinna Thala pulls out
"Suresh Raina has returned to India for personal reasons and will be unavailable for the remainder of the IPL season. Chennai Super Kings offers complete support to Suresh and his family during this time," reads CSK's statement on Twitter. (Read full story)
Deepak Chahar and Ruturaj Gaikwad test COVID positive
Two players- Ruturaj Gaikwad and Deepak Chahar- test positive for Corona along with other infected support staff. (Read full story)
IPL's schedule delayed
Considering the above development, the BCCI decides to put the schedule announcement of the IPL 2020 on hold. (Read full story)
Unacademy becomes the central sponsor
BCCI ropes in Bengaluru-based Edu-tech firm 'Unacademy' as a new central sponsor for the IPL for three years. "We are pleased to have Unacademy on board as the 'Official Partner' of the Indian Premier League 2020 to 2022," states IPL chairman. (Read full story)
30 August 2020- BCCI speaks on COVID 19 testing
"A total of 1,988 RT-PCR COVID tests were carried out from August 20-28 across all participant groups in the UAE. These groups include players, support staff, team management, BCCI staff, IPL operational team, hotel and ground transport Staff," BCCI states in a release. (Read full story)
NO CSK vs MI! Changes in IPL opening clash?
The Indian board decides to make some amendments in the schedule to provide CSK with some time to deal with the ongoing crisis in their camp. (Read full story)
CSK's No. 3 conundrum
"In T20s, most teams employ leg-spinners to trouble the right-handers. But then, a left-hander could negotiate with leggies easily. So the loss of such an established batsman like Raina would hurt CSK. But they have a utility player in Curran and could send the southpaw up the order. He can bat at No. 3 and give CSK those useful runs" states Laxman Sivaramakrishnan. Apart from Curran, the names of Ambati Rayudu and Ruturaj Gaikwad have been suggested to fill Raina's spot. (Read full story)
Harbhajan raises CSK's heartbeats…
"Harbhajan is due to join the team on Tuesday. But the situation with Chennai Super Kings currently has left him very worried. He may rejig his schedules or even decide to skip the IPL this year," a source close to the player states. (Read full story)
31 August 2020- Zampa in, Richardson out
"We're thrilled to welcome Adam Zampa in RCB colours. He replaces Kane Richardson. Let's #PlayBold Adam Zampa. #PlayBold #IPL2020 #WeAreChallengers" announces RCB. (Read full story)
1 September 2020- Some smiles in the Yellow camp…
Two of their significant names, Faf du Plessis and Lungi Ngidi, land in UAE. (Read full story)
2 September 2020- Williamson's Corona concerns
"Obviously that's bad news. You don't want to hear anybody [has] COVID. I hear they are predominantly asymptomatic, so hopefully, through another lockdown period, they can come through and we'll be okay. There's a little bit of apprehension, certainly, as you get nearer to the time…you start thinking you do have to be extremely vigilant and disciplined." Williamson states. (Read full story)
Chinna Thala to return?
"I have a young family back home and I was concerned about the fact that if something happened to me, unka kya hoga? (what'll happen to them). My family is most important to me and I am really concerned for them during these times. I haven't seen my kids for more than 20 days, even after coming back, since I am in quarantine… "I've been training even while quarantining here. You never know you might see me in the camp there again" states Raina. (Read full story)
CRED joins as an official partner
The Board of Control for Cricket in India (BCCI) brings in CRED as one of the official partners for the 2020 edition of the Indian Premier League (IPL). (Read full story)
Malinga yorks MI, Pattinson blocks!
Mumbai Indians' official website confirms the news of Lasith Malinga's unavailability for the whole season. " There is no denying the fact that we will miss Lasith's cricketing acumen this season. Lasith is a legend and a pillar of MI's strength. However, we fully understand Lasith's need to be in Sri Lanka with his family during this time.
"James is the right fit for us and adds to our pace attack options available at hand especially for the conditions we will play in this season. Mumbai Indians is founded on the values of 'One Family' and for us the members of our squad and their well-being will always hold utmost importance. We welcome James to our One Family" states Akash Ambani. (Read full story)
4 September 2020- Ganguly's plan to open "closed doors"
"Because of Covid and the infection, you don't want people to be too close to each other, but very soon you will see there will be 30% people in the ground with social distancing. They will be properly tested and allowed to enter the ground. But I think that is going to happen over a period of time," states Ganguly. (Read full story)
Troubles continue for CSK as Bhajji says "Bye"
The veteran spinner cites personal reasons to corner himself from the league. (Read full story)
5 September 2020- "IPL Schedule" loading…
"The schedule will be released tomorrow", states Brijesh Patel. (Read full story)
6 September 2020- The wait ends, BCCI releases the schedule
Teams, dates, venues, time. (All you want to know)
Mark the dates! Team-wise schedules for IPL 2020
CSK, MI, RCB, KKR, RR, SRH, KXIP, DC
7 September 2020- DC's physiotherapist tests COVID positive
The Delhi franchise issuES a statement as an assistant physiotherapist tests COVID 19 positive. "He was yet to meet with, and had not been in contact with any players or staff of the franchise," the franchise states. (Read full story)
Ben Stokes likely to miss the initial leg
"It is only logical that if he has just completed his quarantine, he would not be available for the first part of the IPL and that is completely understandable. The franchise will not even call Ben as this is not a priority at the moment. Let him spend quality family time and any discussions on his availability can happen only after that," states a source. (Read full story)
9 September 2020- Dada flies to the UAE
"My first flight in 6 months to Dubai for IPL…crazy life changes", Sourav Ganguly posts on his official Instagram handle. (Read full story)